This season's watch auction at Christie's New York – titled "Important Watches of Exceptional Provenance" – is expected to deliver record-breaking sales, estimated to be in excess of US$14 million. A total of 137 lots will be presented, including the third installment of The Kairos Collection, comprising 68 Patek Philippe watches. The live evening sale sessions are scheduled for June 8 and 9, while the watches will be on exhibition from June 3 to 8.
There is good reason for the bullish optimism. On May 24, Christie's held this season's second set of live watch auctions in Hong Kong. It included part-three of The Champion Collection titled "The Artistry of Complications," and part two of The Kairos Collection. The sale attracted global participation from 20 countries across four continents, and generated total sales of HK$299,004,780 (US$38,269,921) – that's 139% above the low estimate. No less than 21 world auction records were broken across the two sale sessions.
Rare treasures from Patek Philippe, in particular, witnessed fierce competition, often selling multiple times above estimates. The star of the show was a magnificent and extremely rare 1948 Patek Philippe Ref. 605HU – an 18k gold world-time pocket watch with an enamel world map on the dial. It set a record for the reference at US$2,054,256.
The New York edition of Christie's watch sale will also be spread over two evenings. On the first evening, on June 8, Christie's will present Lots 1 to 68, exclusively comprising watches from The Kairos Collection – one of the most comprehensive collections of Patek Philippe timepieces amassed by a single, anonymous collector over a period of around 35 years.
Of the total 128 examples on offer this season, 30 pieces were offered on May 9, at Christie's Geneva sale. Highlights include grand complications such as a Ref. 5959R-001 Split-Seconds Chronograph in rose gold with black dial, and a Ref. 5074R-001 Minute Repeater Perpetual Calendar in the same livery. Another 30 pieces were offered in Hong Kong. Here are some of the highlights from The Kairos Collection to be offered in New York.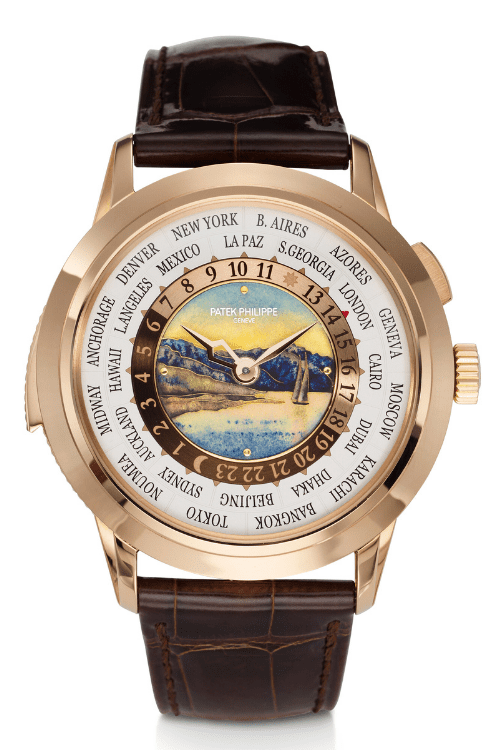 Lot 58: Patek Philippe Ref 5531R-012 Lake Geneva
Estimate: US$ 1,000,000 – 2,000,000
This Grande Complication, a masterpiece of micromechanics, also possesses remarkable outward beauty. Presented at Baselworld 2018, it merges two of Patek Philippe's most emblematic complications: minute repeater (striking for local time) and world time minute repeater. The 18k rose gold case is adorned with a hand-guilloché hobnail pattern. The dial centre in cloisonné enamel depicts the Lavaux vineyards on the shores of Lake Geneva, revealing the quintessence of Métiers d'Art tradition and craftsmanship at Patek Philippe.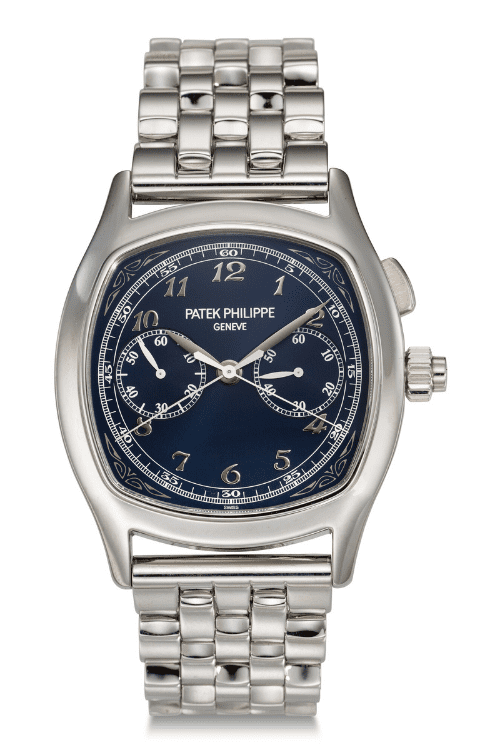 Lot 64: Patek Philippe Ref 5950/1A-010
Estimate: US$ 300,000 – 500,000
This steel cushion-shaped split-seconds single-button chronograph wristwatch with blue dial and bracelet comes from a limited series of just ten examples. Launched in 2010, it is powered by the calibre CHR 27-575 PS. Not only is this movement the first example of chronographic calibre completely realized in-house by Patek Philippe, but it is also the thinnest manually wound column-wheel split seconds single button chronograph movement ever designed by any manufacturer.
The calibre is housed in an art deco-style case inspired by the very first split-seconds chronograph wristwatches of the 1920s. It has a typical dial layout: the outer railway with fifth-of-a-second divisions, two horizontal subsidiary dials, the Breguet numerals, and the engraved motif at the corners of the dial.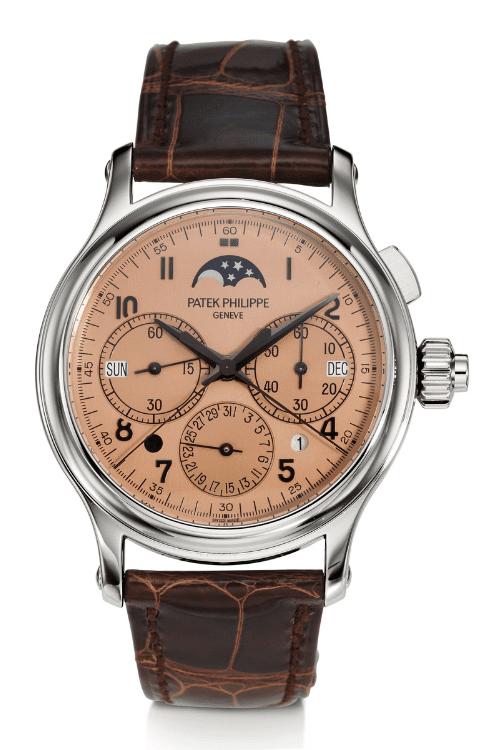 Lot 61: Patek Philippe Ref 5372P-010
Estimate: US$ 200,000 – 400,000
This wristwatch, introduced in 2017, is a mono-pusher split-seconds chronograph perpetual calendar with moon phase. It has an incredibly complicated layout to start with, but properly calibrating the chronograph with a single pusher system is an engineering prowess.
Presented in platinum, this reference was offered in two dial options – blue and rose gold, although publications have referred to the latter colour as "Salmon." Patek Philippe timepieces featuring the "Salmon" dials are among the most desirable and collectable the firm has created in its modern and vintage eras. The present lot is the chance to own a "Salmon"-hued grande complication made only until early 2022.
Lot 63: Patek Philippe Ref 57401G-001 Nautilus Tiffany & Co.
Estimate: US$ 200,000 – 400,000
This Nautilus is the first example to come to market with a dual signature by Tiffany & Co., and also the first of the Nautilus family to be included in the Grande Complication family of Patek Philippe. This timepiece presents a marriage between the iconic case designed by Mr Genta, and the haute horological craftsmanship that has become synonymous with Patek Philippe watchmaking. It features the ultra-thin calibre 240Q and an updated fold-over clasp mechanism.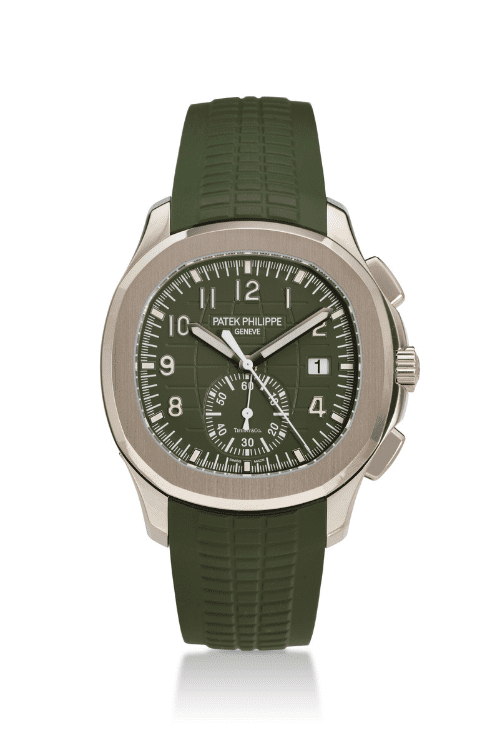 Lot 22: Patek Philippe Ref 5968G-010 Aquanaut Tiffany & Co.
Estimate: US$ 150,000 – 250,000
A fine 18k white gold Fly-Back chronograph wristwatch with date was retailed and signed by Tiffany & Co. The Aquanaut followed in the wake of the Nautilus's 30th anniversary in 1996, which launched the celebrated and now-discontinued Ref. 5711 and the Ref. 5712. The first Aquanaut reference 5060, launched in 1997, borrowed many of its design cues from big brother Nautilus – most notably the rounded octagonal bezel.
On June 9, Christie's New York will offer Lots 69 to 137. The session, titled "Important Watches of Exceptional Provenance," will feature vintage and modern icons. These include several Rolex examples, particularly those of the "Paul Newman" persuasion. For the lovers of all things Patek, there will be more examples on offer on the second day, along with some very rare F.P. Journe examples. Here is a selection of some of the references to keep an eye on.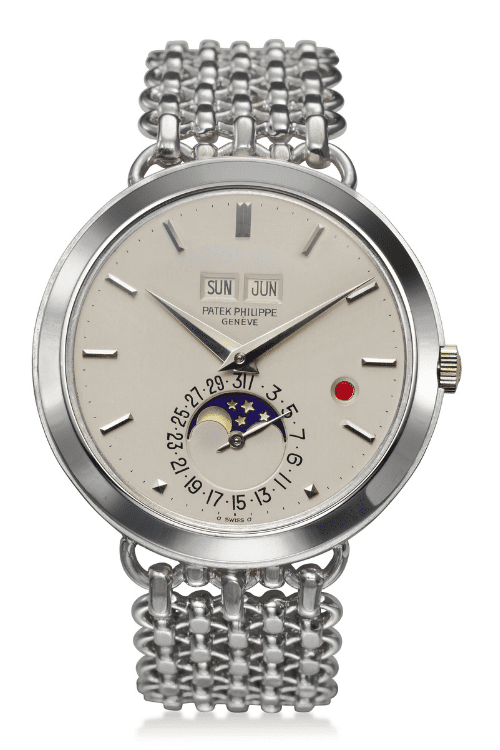 Lot 111: Patek Philippe Ref 3448G Red Dot
Estimate: US$ 800,000 – 1,600,000
This automatic perpetual calendar wristwatch, in 18K white gold, is unique not only because it is the only one of its linage to have a leap year indicator materialized by a small red dot at 3:30, but also because of its rare combination of features and complications: 37.5 mm calibre Cal. 27-460 Q automatic, Geneva hallmark, moon phases, day and date display, perpetual calendar with leap year indicator, 37 jewels, Gyromax balance, 18K gold wheel, matte silver dial, applied gold batons for squared figures, auxiliary edges indicating the date and moon phases. Sold in 1981, this watch has remained the property of the original purchaser's family ever since.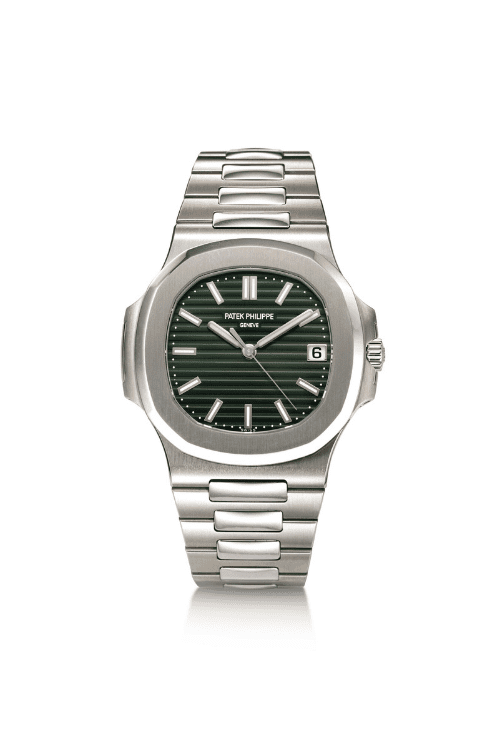 Lot 28: Patek Philippe Ref. 5711/1A-014 Nautilus Green Dial
Estimate: US$ 200,000 – 400,000
Unveiled at Watches & Wonders in April 2021, the "Nautilus with the Green Dial" has become the most desired and covetable steel Nautilus of all time. It is reported that the model will only be produced for one year, which means demand will continue to greatly exceed supply for the remaining production time. Not surprisingly, obtaining the green dial Nautilus requires nothing short of a miracle. The watch on offer, in "immaculate condition," affords a rare opportunity to discerning collectors who insist on obtaining one.
Lot 94: Rolex Ref 6263 Oyster Sotto Paul Newman
Estimate: US$ 600,000 – 1,000,000
This is an extremely rare stainless steel chronograph wristwatch from 1969, featuring the black "Paul Newman Mark 1 Oyster Sotto Daytona" dial. Newly discovered and sourced from the original owner's family, the "Oyster Sotto" dial features the words "Rolex", "Cosmograph", and then "Oyster" aligned vertically on the dial. To the Daytona collector, the Paul Newman Oyster Sotto Daytona is unquestionably one of the true 'holy grail' pieces. Amongst the extremely small number of such watches produced, those with a "Mark 1" dial are undeniably the rarest of the rare, near-unattainable trophies of the Rolex world.
Lot 120 Rolex The Great Escape Ref 3525
Estimate: US$ 200,000 – 400,000
A historically important Rolex watch worn by RAF Flight Lieutenant Gerald Imeson while a prisoner of war. This watch was instrumental in the planning and execution of "The Great Escape," made on March 24, 1944. During captivity, airmen could take advantage of an offer by Hans Wilsdorf, the owner of Rolex, allowing British officers to purchase watches on credit which could be paid when the war was won.
This watch is accompanied by a number of images of F-Lt. Imeson, and images of extracts from his diary during his time as a "POW." These include references to the arrival of his 3525 at camp, and an entry on 24-25 March indicating the "Big Event." aka "the Great Escape."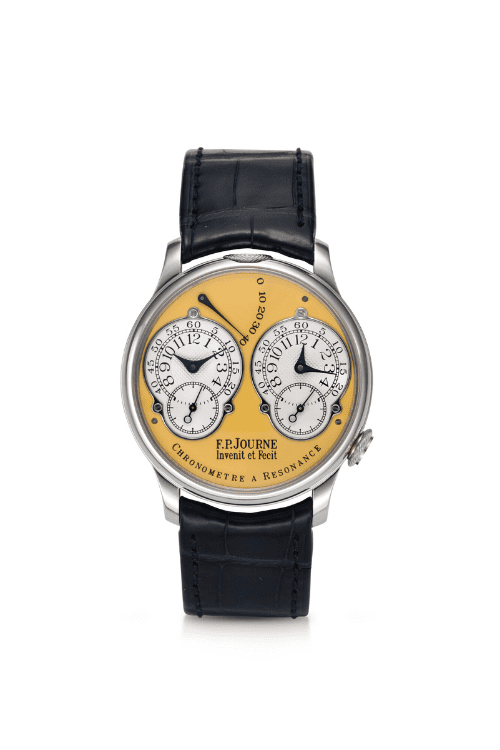 Lot 96: F.P. Journe Chronomètre à Résonance with Brass Movements
Estimate: US$ 300,000 – 500,000
A very important 38mm platinum dual time wristwatch launched in 2000, with dual escapement rhodium-plated brass movement. Around 2,000 early Journe timepieces, between 2001 and 2004, were fitted with brass movements. As a result, Journe wristwatches with brass movements are rare and extremely collectable today.
This example is one of the rare and fascinating wristwatches based on resonance. Its two closely positioned balance wheels synchronize with each other by means of the resonance effect, thus considerably reducing the negative effects of wrist and body movement. Its two dials can display two different time zones, however, many watch collectors have both dials displaying the same time to remain true to the original theory of resonance.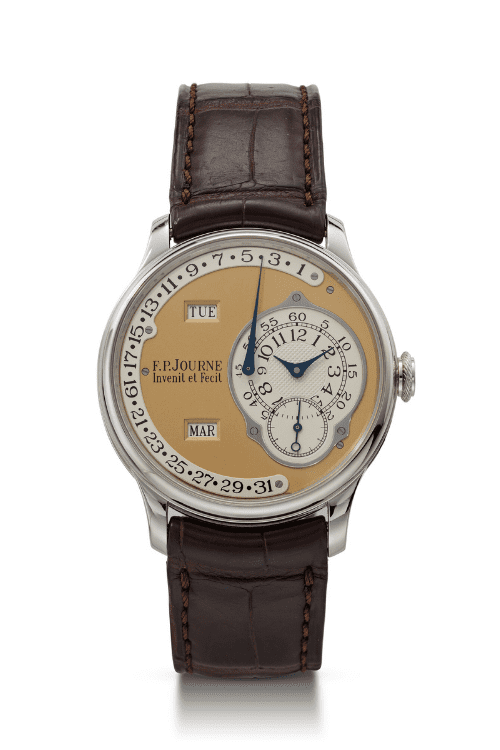 Lot 97: F.P. Journe Octa Calendrier with Automatic Brass Movement
Estimate: US$ 200,000 – 300,000
This is a very fine 38mm platinum annual calendar wristwatch with automatic brass movement and retrograde date. It is another example of the rhodium-plated brass movement, and thus, extremely collectable.
The Octa Calendrier is the third complication to be integrated into the Octa automatic calibre. The integration of an annual retrograde calendar while maintaining the dimensions of the movement was another significant horological achievement for the brand. The instantaneously advancing day and month display is self-adjusting for months with 28, 30 and 31 days. The Octa annual calendar requires manual adjustment at the end of February only during the non-leap years.