It is a very rare event in the watch-collectors universe, where rarity is the norm, that a timepiece by Philippe Dufour is offered for sale. Dufour produces so few watches, and of such exceptional quality, that to discerning collectors, the possibility of acquiring a Philippe Dufour is nothing short of a long-held dream-come-true moment.
This autumn, Christie's Geneva will present one of these very rare moments, when a one-of-a-kind Philippe Dufour Simplicity watch will be offered by a private collector.
Philippe Dufour is regarded among the greats of modern watchmaking, some even qualifying him as the greatest master watchmaker of our times. A Philippe Dufour watch has clean, classic lines, and is powered by exceptional in-house movements. Every component of the watch, irrespective of whether it is visible or not, is beautifully hand-finished to the highest standards.
A Dufour watch is designed and constructed to stand the test of time. In fact, Dufour insists that his watch should be easily repairable even a century after its made. Every watch is customisable as per the client's wishes, making each one unique. These qualities combine to make a Philippe Dufour watch highly sought after by watch enthusiasts, and for which they are willing to wait for years.
Dufour usually works alone in his spacious atelier, a former schoolhouse in le Solliat, a village in the Vallée de Joux – the epicentre of Swiss watchmaking. The atelier doubles as a working museum to Dufour's lifelong work. One can find his drawings, archives, customized watchmaking tools, prototypes,the watches he is working on, and his collection of pipes. These days, he has the company of his youngest daughter Danièla Dufour, an accomplished watchmaker, who intends to carry on her father's legacy.
Philippe Dufour was born in 1948, in a small Vallée de Joux village. After he had completed middle school, at the age of 15, Dufour decided to become a watchmaker instead of perusing higher education. After he had finishing his training at Ecole d'Horlogerie de la Vallée de Joux, he was hired by Jaeger-LeCoultre in 1967. Like many other greats in the field, he began his career by restoring antique watches. While working on these historical timepieces, he learnt how the old masters of horology made their intricate complications using relatively unsophisticated tools.
As the years passed, Dufour earned a reputation as a watchmaker of renown, and had worked at several leading Swiss watch manufacturers, including Gerald Genta. In 1982, Audemars Piguet approached Dufour and asked him to produce five Sonnerie movements for pocket watches. He started work on the complications in 1982, and delivered the last of the five in 1988.
Once the Audemars Piguet watches had been delivered, Dufour felt confident enough to set up an independent atelier. Thus, becoming one of the first independent Swiss watchmakers. He presented the first wristwatch to bear his name at Basel World in 1992.
The 'Philippe Dufour Sonnerie' became the world's first minute-repeater grande sonnerie wristwatch. This was an unprecedented feat for an independent watchmaker in those days because chimers are considered, even today, as being among the most challenging complications to put in a wristwatch.
Dufour presented his second model, Duality, in 1996. It became the world's first wristwatch with a double escapement. For this watch, he had to perfect the functioning of two independent balance wheels such that their differential would average out their errors, thus significantly improving accuracy. Only nine examples of Duality were ever produced for clients.
While most watchmakers veer towards greater complexity with the passage of time, Dufour went in the opposite direction. He became enamoured with concepts such as purity and simplicity. Thus, at Baselworld 2000, Dufour presented his third watch called Simplicity. This minimalist masterpiece is considered one of the finest examples of time-only watches ever produced.
According to Claude Sfeir, an eminent watch collector and Dufour's business partner, Simplicity began as a personal design study inspired by the elegant styles of the 1950s and '60s. As the name suggests, this is a simple time-only watch with central hour and minutes hands, and a seconds sub-dial at 6 o'clock. However, it is produced using traditional watchmaking tools and has near-perfect hand craftsmanship. The pièce de résistance of this watch, as always, is the movement featuring decoration the likes of which modern horology had not yet witnessed when the watch was unveiled.
Dufour had planned to produce around 200 Simplicity watches when he presented it at Baselworld, but the demand was such that the entire allocation sold out expeditiously. It took Dufour just over two decades to deliver the 200 pieces, in either gold or platinum, and often customized to the client's wishes. No wonder that the few who possess a Simplicity timepiece are reluctant to part with them.
One example of Dufour's Simplicity watch is exhibited at The Espace Horloger watch museum in Switzerland. Dufour has also gifted a one-of-a-kind steel Simplicity with eastern Arabic markers and a golden "vintage" dial to Claude Sfeir's son Simon.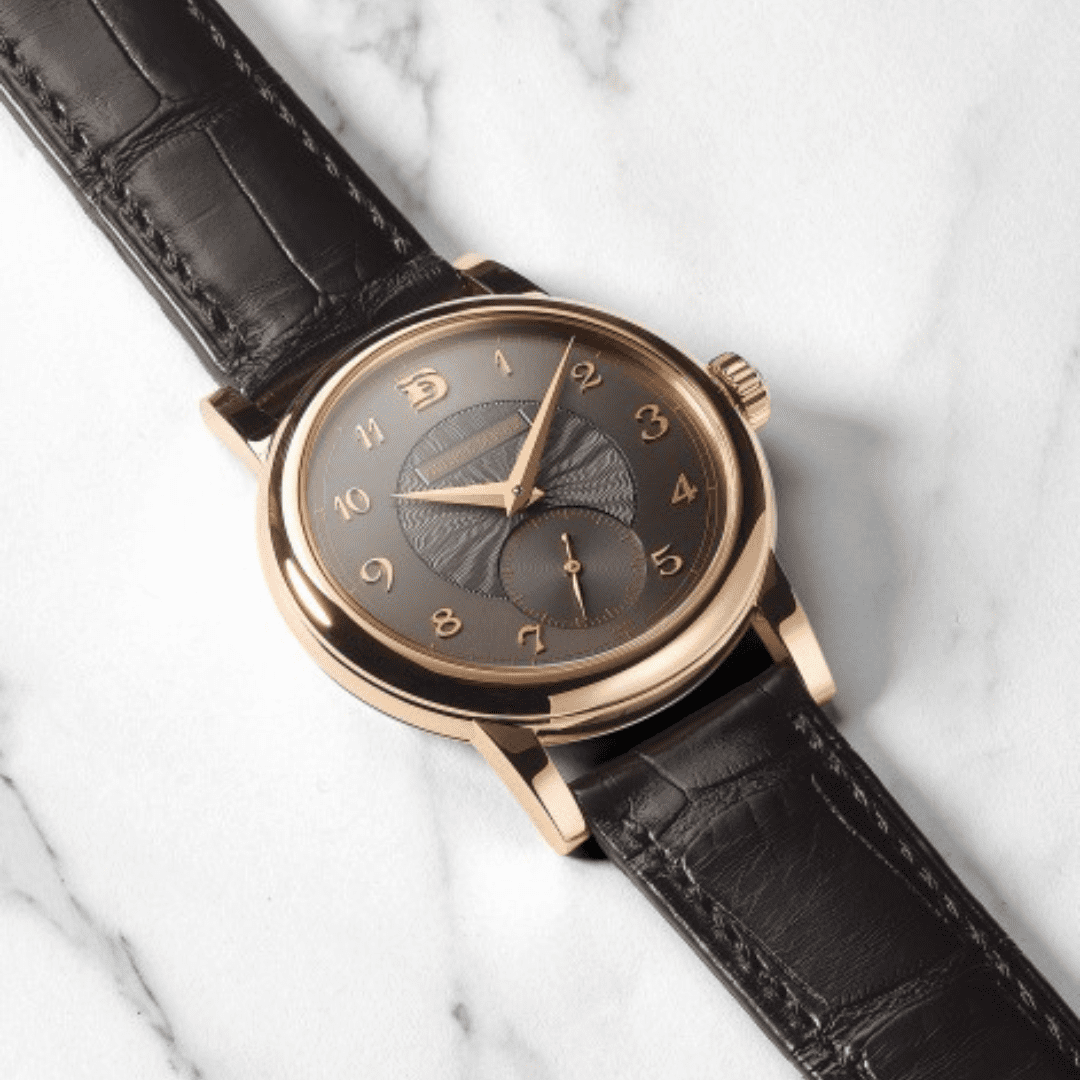 In 2020, to commemorate the 20th anniversary of Simplicity, as well as the completion of the 200-pieces, Dufour announced a 20-pieces special edition Simplicity – seven in pink gold, seven in white gold and seven in platinum. Dufour will be keeping the 21st piece for himself. This anniversary Simplicity has a 37mm diameter case but with a hinged case-back. The crown has the "PD" emblem engraved on it. The dial is guilloché grey with Breguet numerals instead of markers, and the "PD" emblem replaces the 12 o'clock marker.
Like its predecessor, the demand for the anniversary Simplicity was so overwhelming that Dufour and Sfeir decided to allocate ten pieces to known collectors, and allocate the remaining ten based on a draw. One of these anniversary Simplicity watches – with movement Number 00/20 – came up for auction in 2020. It had an estimate of CHF 200,000 – 400,000 (US$ 218,000-436,000), but fetched CHF 1.36 million (US$ 1.5 million).
The Simplicity being offered by Christie's Geneva this autumn is one of the original 200. Its certificate is dated June 3rd, 2021, which happened to be Dufour's 73rd birthday.
This will be the very first Philippe Dufour wristwatch with a steel case to be offered publicly. Its size, at 38mm, sets it apart from the other models, which have either 34 or 37mm cases. The movement has an inimitable rendering of Côtes de Genève. The detail that makes this timepiece stand out visually is on the stunning royal blue dial. As per the client's wishes, this watch does not have a small second sub-dial. Also, it has singular hour markers.
This is probably why Dufour is reported to have said – "this is true simplicity" – when handing over the watch to his client. The combination of all these elements makes this watch truly exceptional, even by Philippe Dufour's standards. It is, therefore, warranted to say that the minimalist blue Simplicity will most likely exceed all estimates when the hammer comes down in Geneva.