Dolce&Gabbana have unveiled a new Special Collection in collaboration with Pelayo Diaz, featuring five exclusive themed prints.
Considered among the bloggers and influencers who pioneer the new digital phenomenon, Pelayo has always nurtured his passion for fashion and style in a very personal and particular way. This has led him to become one of the most followed and appreciated personalities in the fashion industry.
Pelayo Díaz Zapico, a native of Oviedo, Spain, was born into an affluent family and graduated from Central Saint Martins, London. In 2007, he launched his fashion-focused blog called "Katelovesme." After a slow start, the blog gathered momentum when Pelayo began collaborating with leading luxury brands. In 2011, he released his first collection called "Nobody Knows."
By 2014, Pelayo had become a leading fashion influencer on social media, where he had amassed more than a million followers, as well as making his debut on television. He was also a regular on the catwalks and photo shoots of major brands. Pelayo's relationship with Dolce&Gabbana began in earnest in 2017, when he appeared on the brand's catwalk in Milan.
The longstanding relationship between Pelayo and Dolce&Gabbana brings to life a Special Collection inspired by his childhood memories, his most beloved places and the sensations that accompanied him throughout his career, from his youth to his fashion studies. The special Pelayo collection is anchored by five themes, that materialize his memories in five new and exclusive prints.
The first of these feature porcelain cups and plates in a kaleidoscope pattern, evoking the intimate and familiar dimension of breakfast at home. The multiform shell pattern recalls the hidden beaches of the Asturias region of Spain. A third pattern recreates the large wardrobes from Pelayo's family home in Oviedo, which have colourful landscape paintings as door decorations.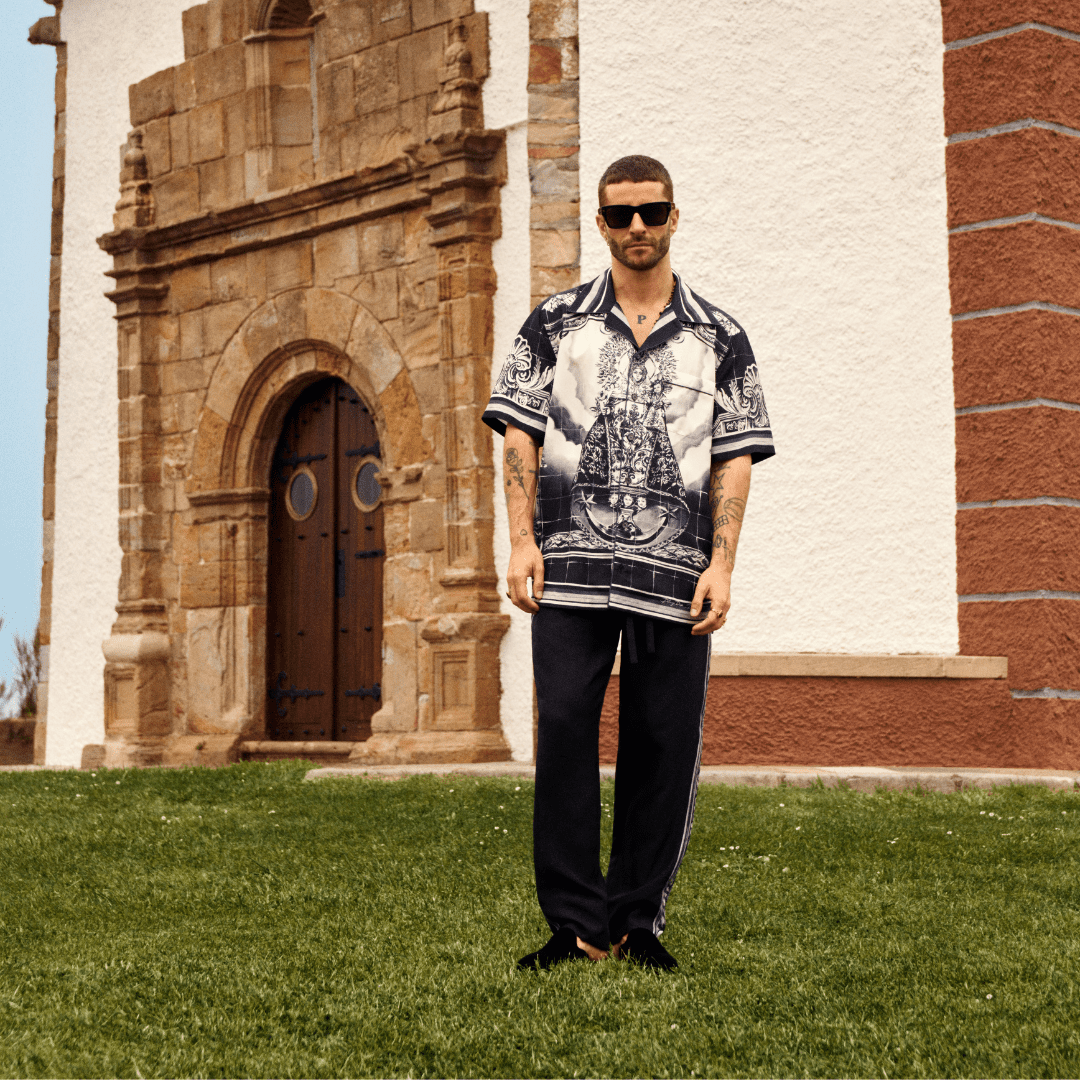 'Postcards from Ribadesella' celebrates the beauty of this fishing village in Asturias and its casas de Indianos – historic mansions built by affluent Spanish migrants returning from South America, who were known locally as Indianos. The fifth print, exploring the region's popular devotion to Virgen de Covadonga, features patterns in sombre black and white tones.
The Special Collection includes pyjamas, shirts, bermuda shorts and robes in habotai silk with an all-over print. It is refined with details such as contrasting piping. This collection is available at the Dolce&Gabbana boutiques in Milan, Madrid, Puerto Banus, London and Miami.