Bang & Olufsen's new Beosound A5 portable speaker was designed in collaboration with the Danish-Italian design duo GamFratesi. Available in two colourways, it embodies a fusion of northern and southern design cultures while possessing B&O's high-quality sound, technology and craftsmanship.
"Beosound A5 is our new high-end portable speaker which combines Bang & Olufsen's long standing approach to timeless design with our vision on sound for the future," says B&O's VP of Product Marketing, Michael Henriksson. "We're excited to collaborate with GamFratesi for the first time, to create two speaker designs that are rooted in a Scandinavian aesthetic with a distinct design signature on their own."
Beosound A5 is available in two colourways. One is in natural aluminium with a woven paper fibre front and a light oak handle, invoking a feeling of the laid-back Scandinavian summers. The second colourway is in black anthracite aluminium paired with a dark oak wood speaker cover and handle. This version seeks to evoke the aesthetic of winter woodlands. Both finishes can sit beautifully inside a home or outside in nature.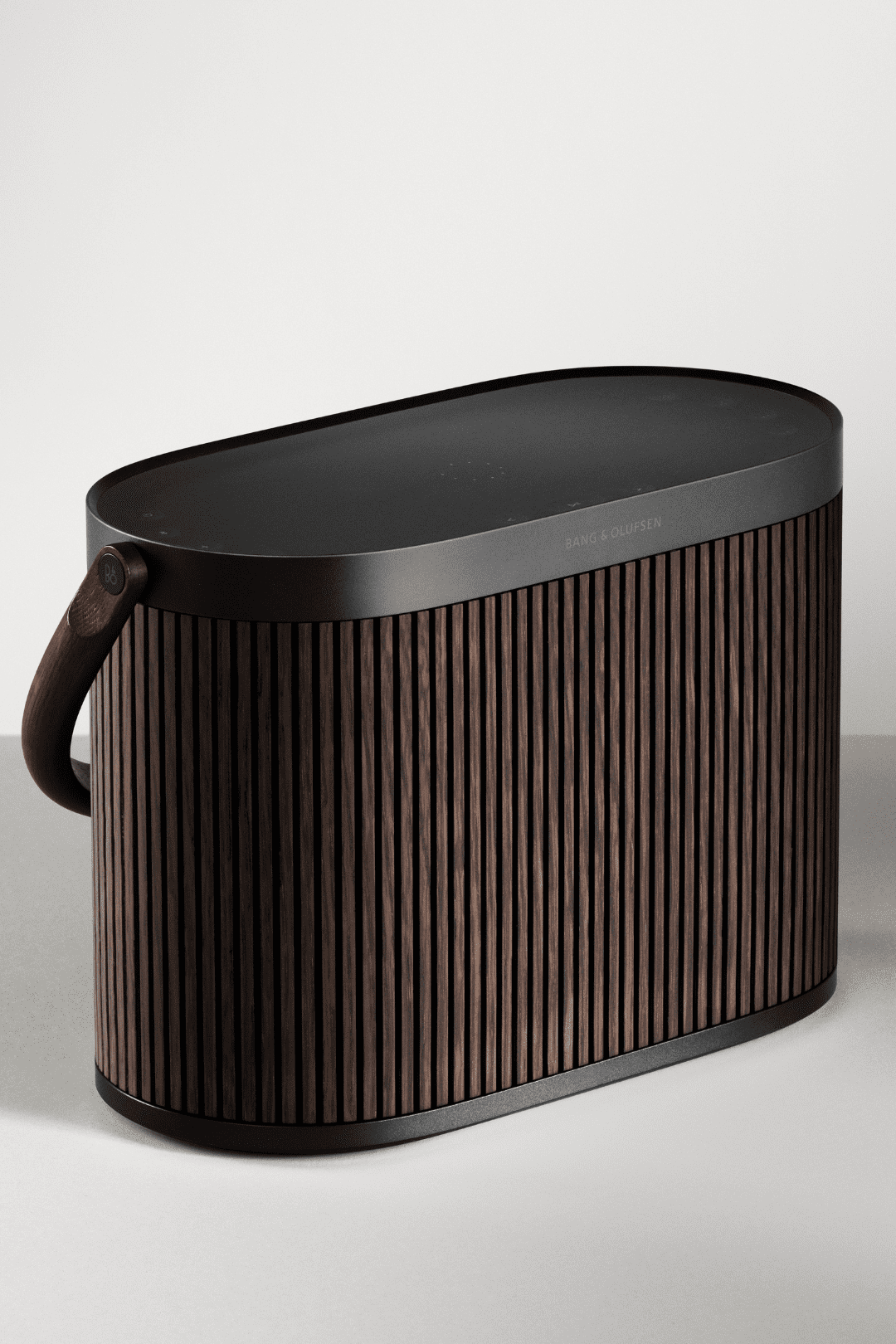 "Our inspiration for Beosound A5 came from many places including the iconic Beolit series as well as natural materials synonymous with the colours and textures found in Scandinavian nature", says a statement from GamFratesi. "From the traditional Panama straw hats worn on beaches, to the hand-woven leather accents of Danish chairs from the 1960s, blends of natural materials applied in experimental ways guided our design journey."
Based in Copenhagen, GamFratesi studio was founded in 2006 by Danish architect Stine Gam and Italian architect Enrico Fratesi. The studio takes its creative drive from a fusion of tradition and renewal, with an experimental approach to its chosen materials and techniques. With their dual traditional background, Gam and Fratesi draw on the classic Danish furniture and craft tradition as well as the classic Italian intellectual and conceptual approach.
The soft organic curves and natural materials of Beosound A5 reference the curved edges and handle from Beolit 607 launched in 1961. The wooden teak finish of the Beolit 800 and Beolit 1000, originally designed by Jacob Jensen between the late '60s and early '70s was also influential in GamFratesi's design process for Beosound A5.
While Beosound A5 takes its aesthetic inspiration from the Beolit series, on the technical side it draws inspiration from the class-leading Beolab 90 and 50 hi-fi speakers. Beamforming technology, an innovation first built into the Beolab series, has been brought to Beosound A5 to control the sound with high precision. This creates an immersive experience far beyond the expectations of a portable speaker.
According to B&O, Beosound A5 is its most powerful portable speaker to date. Its four-way driver setup with four digital amplifiers provides a combined 280 watts of power. Comprising of 1 x 5.25″ woofer, 2 x 2″ midrange and 1 x ¾ tweeter, Beosound A5 can fill large rooms with dynamic 360-degree sound. It is controlled by either a sleek user interface or directly from the Bang & Olufsen App.
Although the Beosound A5 is classed as a portable speaker, in reality, it sits at the junction where portable and home audio meet. The solid oak handle allows the speaker to be carried from room to room with ease, whether placed on the floor, shelf or table. Thanks to an IP65 water and dustproof rating, Beosound A5 can also be taken outside. It has more than 12 hours of playtime and a wireless phone charger integrated into the top panel of the speaker.
Beosound A5 has been modularly designed so that it can be easily serviced and repaired to extend its lifetime if needed, instead of being replaced by a new speaker. B&O has also stated that it will continue to produce the easily exchangeable front covers in new materials and colourways so that Beosound A5 can evolve with a customer's style and identity. These design elements ensure a long lifetime. However, once a Beosound A5 does reach its end-of-life point, the ease of disassembly and use of high-quality materials for structural components supports circular solutions.
Thanks to B&O's Mozart software platform, the longevity of Beosound A5 goes beyond physical craftsmanship and modular design. Mozart provides the most up-to-date features across audio, connectivity, and software design, further ensuring that a Beosound A5 has the capacity and capability to evolve with new technologies.
The Mozart platform also allows two Beosound A5s to connect with each other in a stereo system or any other Mozart-enabled speaker in Bang & Olufsen's portfolio. Furthermore, it can integrate smoothly into a Bang & Olufsen smart home system, creating an immersive multiroom experience at the tap of a button.
Mozart's future-gazing capabilities and the introduction of ultra-wide-band will, according to B&O, unlock new features over time. One such feature is Proximity Pairing, which will automatically connect two Beosound A5s when they are placed near each other.
Beosound A5 is compatible with Beolink Multiroom, Airplay 2, Chromecast, Spotify Connect, Bluetooth 5.2 and more.