Montblanc, the Maison that revolutionized the culture of writing in 1906, presents a historic 1920s Montblanc design, reimagined as a new collection (comprising two editions) that pairs the aesthetic appeal of vintage Montblanc writing instruments with a modern writing sensation.
With every one of its Heritage editions, Montblanc resurfaces historic editions from the maison's rich past and reimagines them for today's writing culture enthusiasts with new designs and technical innovations. One such writing instrument is the so-called Montblanc 'Egyptian Fountain Pen' from the 1920s.

During that decade, at the peak of archaeological adventures and discoveries, ancient Egypt captured the world's imagination when great treasures were excavated, including King Tutankhamen's tomb. A new era of "Egyptomania" – a fascination with all things linked to ancient Egyptian civilization – would have an unprecedented influence on the world of arts and intellectual life across Europe and beyond. This obsession for Egypt also infiltrated the world of Montblanc when the Maison released a fountain pen featuring an octagonal shape and Egyptian style engravings.

The cap of this new version is embellished with a set of authentic hieroglyphics that translate into the word "Montblanc". Created in partnership with an expert in Egyptology, the symbols mean "white stone mountain," effectively describing "Montblanc."
The hieroglyphics featured on the barrel of the Doué version are taken from a passage of the "Book of the Dead" of Hunefer, a royal scribe who lived during the 19th century (1300 B.C). It is one of the most important findings in Egyptology as it provides insight into the "trials" that needed to be completed for an individual to reach the afterlife during the "Judgment Scene". The scene depicts the weighing of the heart to determine if the deceased lived a respectable life, and whether they would gain access to the afterlife.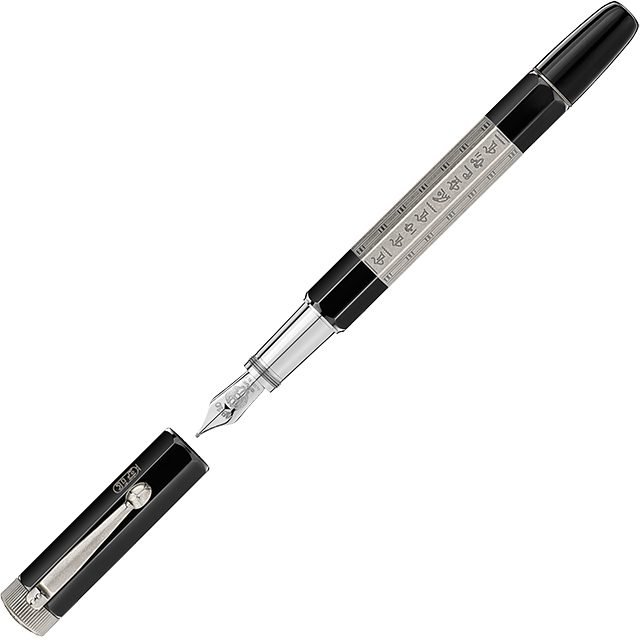 Beyond the aesthetic qualities of the collection, the nib on the fountain pen features a contemporary design with a triangular heart-hole that offers a softer writing style reminiscent of historical Montblanc fountain pens.
The collection is made up of two editions, each available as a fountain pen, ballpoint pen and rollerball pen:
Heritage Egyptomania Resin has an octagonal cap and barrel in precious black resin with authentic hieroglyphics, vintage gold-coated fittings and 14K gold nib with an embossed scarab.
Heritage Egyptomania Doué has an octagonal cap in precious black resin and a barrel with metal embellished with authentic hieroglyphics, vintage palladium-coated fittings and a 14K gold nib with an embossed scarab

Like one of the many breath-taking discoveries unearthed by the great archaeologists of the early 20th century, Montblanc brings back one of its own iconic treasures from the past. With vintage flair, the Heritage Egyptomania edition reignites a passion for ancient Egypt and the spirit of exploration that still fascinate today.
Montblanc Heritage Egyptomania Edition is now available at Montblanc boutiques worldwide and online.