Montblanc introduces a limited edition writing set inspired by and developed for the forthcoming release of the 20th Century Studios and MARV film, The King's Man by Matthew Vaughn; the latest instalment of the Kingsman movie series. Exclusive to Montblanc e-commerce channels from September through to the film's release in February 26th 2021, the special edition Montblanc writing set is part of the latest 'costume to collection' collaboration between Vaughn, Mr Porter and luxury brand Kingsman; an extensive collection of men's tailoring, luxury wear and accessories.
The King's Man is the third film in the hugely popular Kingsman film series and explores the origins of "the very first independent intelligence agency." It is thus, in terms of timeline, a prequel to the previous two films. The film series is loosely based on the comic book series Kingsman, created by Dave Gibbons and Mark Millar and published by Marvel's Icon Comics imprint. As with the previous two films, the third edition is also directed by Matthew Vaughn and features a stellar cast including Ralph Fiennes, Gemma Arterton, Rhys Ifans, Matthew Goode, Tom Hollander, Harris Dickinson, Daniel Brühl, with Djimon Hounsou, and Charles Dance.
The Kingsman luxury clothing brand was created in 2014 by Matthew Vaughn in tandem with the release of the first film in the series: Kingsman – The Secret Service. The brand has since established itself as a standalone lifestyle brand across multiple categories and partnerships, and is one of Mr Porter's best-performing luxury labels. The Kingsman 'costume to collection' incorporates the film's classic looks into stylish men's pieces, making them relevant for contemporary dress.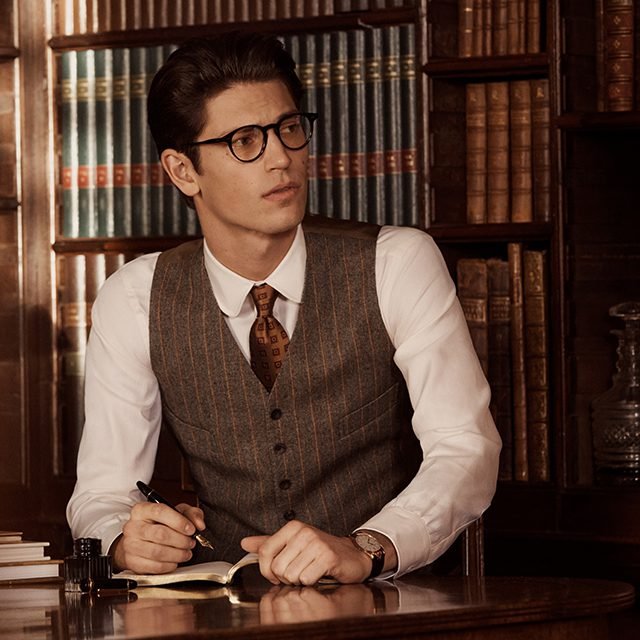 The special Montblanc set includes a 149 Meisterstück fountain pen, fine leather notebook and ink bottle, all inspired by the film's elegant and enduring designs. Launched in 1924, the Meisterstück 149 fountain pen has become a symbol of Montblanc's timeless writing culture heritage. In precious black resin with gold fittings, the new special edition features a handcrafted Au750/18K gold nib engraved with the Kingsman emblem. Manufactured in Italy, the accompanying notebook (only available as part of the set) is made of black calfskin leather digitally printed with the Kingsman emblem, and its pages watermarked with the Montblanc emblem. A royal blue ink completes the writing experience. Contained in a 30ml glass bottle, the blue pigment is inspired by the Kingsman's signature blue suit.