The fashion industry's image has taken something of a beating in recent years with some reports claiming that Fashion and its related industries are the second most polluting; second only to oil and its related industries. As the number and volume of critics voicing their concerns about the fashion industry's unsustainable practises and excessive consumption have increased, the industry has responded by switching to what they claim are more sustainable vegetable-based fibres. Some, however, have questioned the true "green" credentials of these claims.
The unsustainable practices in the industry start at the farms, fields or forests where the raw materials are produced. From the use of unsustainable crops to energy-intensive farming methods and the maltreatment of animals, the list is quite extensive. To it is added the waste, pollution and water depletion during the manufacturing process. Then there is the distribution of these manufactured goods across vast distances until it reaches the customer. The high rate of consumption, also known as fast-fashion, is the cause of high levels of waste-generation and thus a significant contributor to landfills.
According to a 2015 US-EPA report, the amount of "Clothing and Footwear" that was generated between 1960 and 2015 increased nearly nine-times from 1.3 to 11.94 million US tons, comprising mainly textiles, rubber and leather. Even though the amount of "Clothing and Footwear" being recycled in the same period had increased – from 50,000 to 3.7 million UST – it pales in comparison to the 8.2 million UST that ended up in landfills in 2015.
Back at the raw materials phase, the maltreatment of animals at industrial farms along with their contribution to methane emissions and pollution in general, has led fashion brands to shift towards using more plant-based materials. However, this does not necessarily mean they are sustainable by default, as the manufacturing process involves the use of harsh chemicals that lead to pollution and water depletion. As a discerning consumer, one must differentiate between a pretence at being "green" and those that are genuinely sustainable.
Any differentiation between sustainable and unsustainable fibres must begin with the raw materials used. The first degree of differentiation is whether the fibre was produced from a GMO or a natural variety of crop. GMO crops generally tend to have weak eco-friendly credentials, if not for anything else, because of the use of unnatural patented seeds and crops that tend to be very thirsty. Take GMO cotton for example, which in India, is being blamed for a large number of small-farmer suicides in the state of Maharashtra, and for its groundwater depletion. In the case of natural varieties, the obvious question is whether a crop was grown organically or by using pesticides; the effects of the latter are now well known.
Here are some vegetable-based fibres and materials that are being marketed as sustainable alternatives to the traditional ones.
Bamboo has emerged as a viable alternative to cultivated plant-based fibres. Its biggest advantage is that it is a rapidly growing plant in its natural environment without any human inputs; making its cultivation highly sustainable. The fabric it yields is highly versatile, breathes, has natural antibacterial properties and is mostly biodegradable. The problem lies in the process that transforms bamboo into a fibre, as it requires the use of chemicals. Manufacturers, however, have developed closed-loop systems in which as much as 50% of the hazardous waste is recaptured.
Hemp is one of the oldest cultivated super-plants. It was, along with cotton, the most important cash crop of the US until the middle of the last century. Like bamboo, hemp is a high-yield crop that can grow rapidly and naturally without human intervention. It even improves soil quality by returning most of the nutrients it uses back into the soil. The fibre, extracted from the stem of the plant, is strong, durable, highly UV-resistant and exceptionally soft. These qualities make hemp one of the most sustainable, versatile and practical fabric options. Since hemp fibre has been produced since ancient times, it is possible to produce it without using modern chemicals. Unfortunately, some manufacturers do use chemicals to reduce costs.
Tencel is a brand of Lyocell (a type of rayon) manufactured by the Lenzing group. It is made from Forest Stewardship Council-certified wood pulp using a closed-loop process which, the brand claims, captures 99.7% of the solvents used while reducing the use of water by 95%; when compared to the other lyocell fibres available in the market using traditional methods. Lyocell is soft to the touch, absorbent, strong, resistant to wrinkling, easy to dye, and has high colour retention. It is also biodegradable and can be upcycled.
Modal, a type of rayon closely related to Lyocell, is made from wood pulp and is often blended with cotton or other fibres, while 100% modal is mostly found in athletic wear. It has natural wicking abilities and insulating properties. Lenzing has also developed a closed-loop manufacturing process to produce Modal from beechwood pulp.
Cork is an unexpected newcomer to the fashion industry and is used for manufacturing shoes and bags. It is a durable, lightweight, water-resistant, completely recyclable and upgradable material. Cork is harvested from cork oak trees that keep regenerating if harvested once a decade. The increased use of cork has the potential to prevent the desertification of cork oak forests.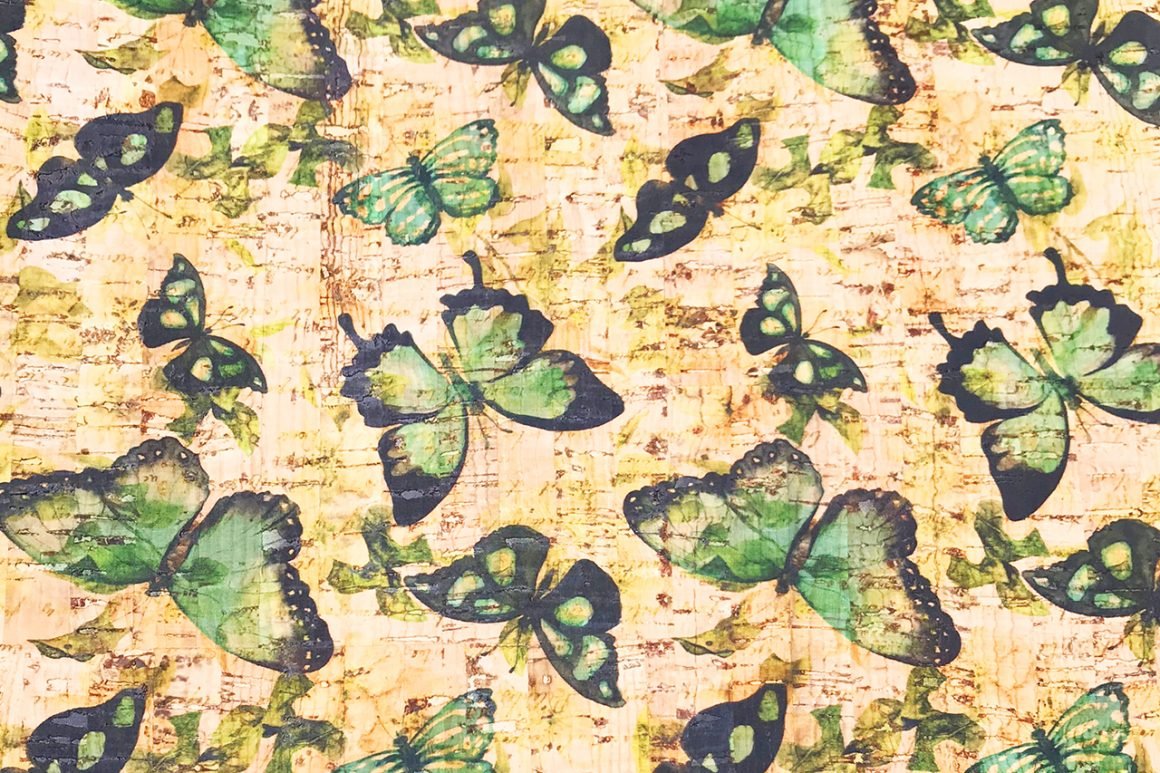 In addition to these new entrants to the fashion industry, there are organic variants of traditional fabrics. Organic cotton and linen produced using low impact manufacturing techniques and natural dyes. Organic soy protein fibre, leftover after processing soybeans into food, is being used to manufacture vegan-friendly "cashmere" and "silk." Then there are synthetic fibres that are the result of recycling and upcycling of materials such as polyester, PET bottles and other types of plastics.
For an eco-conscious consumer, particularly at the high end of the market, the options of sustainable materials are growing exponentially. One must certainly read the fine print in the labelling to discern the actual "green" products from the pretentious ones. However, conscious consumption must include the minimising or elimination of excessive consumption.