Guerlain has added three new perfumes to its flagship Aqua Allegoria collection: Nerolia Vetiver Harvest, Rosa Rossa Harvest and Mandarine Basilic Harvest. All three, conceived by Perfumer Delphine Jelk, are dazzling allegories of nature that showcase and enhance the scents of its natural raw materials. These three are also emblematic of the house's commitment to sustainability.
Guerlain has been creating exceptional fragrances and beauty products since 1828. In 1999, Guerlain unveiled its Aqua Allegoria collection. One of the signature collections of the house, its fragrances are loved for their simple yet beautifully refined set of olfactory codes. Avant-garde and ambitious at the time of its launch, Aqua Allegoria's elegantly joyful fragrances are woven from ingredients of natural origin, selected by Guerlain's perfumers from select gardens across the world.
In 2021, Guerlain became a member of the non-profit organization Union for Ethical BioTrade (UEBT) – an internationally recognized non-governmental organization which establishes ethical sourcing standards and practices. Through its UEBT membership, Guerlain has dedicated itself to evaluating the supply chains of its 40 most emblematic ingredients. The goal is to ensure "the most ethical and sustainable sourcing of natural materials, while respecting biodiversity and protecting the rights of workers and communities."
In 2022, Guerlain integrated the Aqua Allegoria collection into its sustainability and biodiversity commitment. However, the house was already set in that direction. The ingredients used in the three new additions to the collection stem from relationships that have been forged with sustainable and responsible suppliers over several generations.
From Calabria, where honey, mandarins and neroli is sourced, to Isparta in Turkey and Kazanlak in Bulgaria where beautiful Damask roses grow, Guerlain works with its suppliers to improve each sector of production. Through this approach, Guerlain aims to achieve "Sourcing with Respect" certification across all of the House's supply chains by 2026.
The Nerolia Vetiver Harvest Story
On Calabria's Ionian coastline, the springtime scent of orange hits the senses long before any groves come into view. As the small white neroli flowers dot the branches of orange trees, filling the air with their delicate fragrance, hundreds of bees begin to forage and transport the precious nectar to Guerlain's hives that sit among the citrus groves.
Using this exclusive honey, sourced from the same flowers that Guerlain's perfumers use to source their citrus essences, Neroli Vetiver Harvest weaves new interconnections with the neroli flower. In order to reveal this honey's elegantly floral and zesty orange blossom notes, for the first time, Guerlain has used resin columns to capture the scent molecules. Thanks to this innovative process, the resulting extract remains faithful to the subtle nuances of the source honey.
Perfumer Delphine Jelk has added this exceptional new honey note to Nerolia Vetiver Harvest in generous doses, along with neroli's floral notes. This results in an eau de toilette with a new-found roundness, and a subtle yet tempting facet. Throughout, the nectar creates crossovers between its ingredients to create a fragrance of imbued richness.
Nerolia Vetiver Harvest's top notes underscore the floral inflexions found in neroli. When enveloped with honey's sweetness, neroli fluctuates between the orange blossom's radiance and its soft sweetness. At the heart of the fragrance, fig accord appears fleshier and plumper. Meanwhile, honey and vetiver base notes meld with the grapefruit inflexions in the vetiver. Combined, they leave an irresistible fragrant impression.
The Rosa Rossa Harvest Story
Each morning, as the landscape turns pink with flowers that have bloomed overnight, expanses of roses glisten with the dew stretch out towards the horizon. As pickers enter the scene, roses expel their exquisite fragrance, creating a magical moment for the harvest to begin. Using techniques that have remained unchanged for centuries, pickers detach each head from its stem with a click. Tumbled into aprons and ready for the still, the roses are then whisked away in large canvas bags as speedily as possible so all their glorious freshness can be retained.
For Rosa Rossa Harvest, Delphine Jelk has added a new rose facet to the original Rosa Rossa eau de toilette – an exclusive organic rose water from Grasse made from distilled Centrifolia rose, the jewel of the Grasse region. Used to dilute the perfume concentrate instead of the standard purified water, this fresh rose water brings a new facet to Rosa Rossa's signature composition.
Rosa Rossa Harvest recreates the complex and delicate scent of a freshly picked rose. As the scent of rose gradually unfurls on the skin, the acidity of rose petals is revealed through the vegetal notes of blackcurrant, blackcurrant stem and lychee accords.
When warmed by the sun, rose fragrance becomes thicker and heavier. To express this rich characteristic, Delphine has combined the fruity, almond inflexions of Bulgarian rose essence with the honeyed accents of Turkish rose essence. Once accented with sandalwood, benzoin and musk, the rose embraces the skin with more splendour and facets than ever before.
The Mandarine Basilic Harvest Story
An iconic citrus fruit from the sunny landscapes of Calabria in southern Italy, the mandarin offers an unexpectedly nuanced palette. Unlike other mandarins, Marzolo mandarins ripen in March, so that in November their still-green zest gives off a slightly bitter fragrance. It's this precise scent that piqued Guerlain perfumers' interest.
Harvested by hand, Marzolo mandarins are sent straight from the tree to the machines used to extract the essential oil in its peel. By firstly pressing the mandarins between two rollers before crushing them, the resulting mandarin juice is centrifuged to create a pure essence.
This mandarin essence takes the dramatic lead among Mandarine Basilic's ingredients, while the fresh, green summeriness of basil essence creates a contrast to mandarin's zestiness. The result is a freshly dynamic and exhilarating reworking of the original eau de toilette's aromatic and citrus ingredients. As addictive as it is electrifying, Mandarine Basilic Harvest brings a brand new bittersweet flavour to the Aqua Allegoria collection.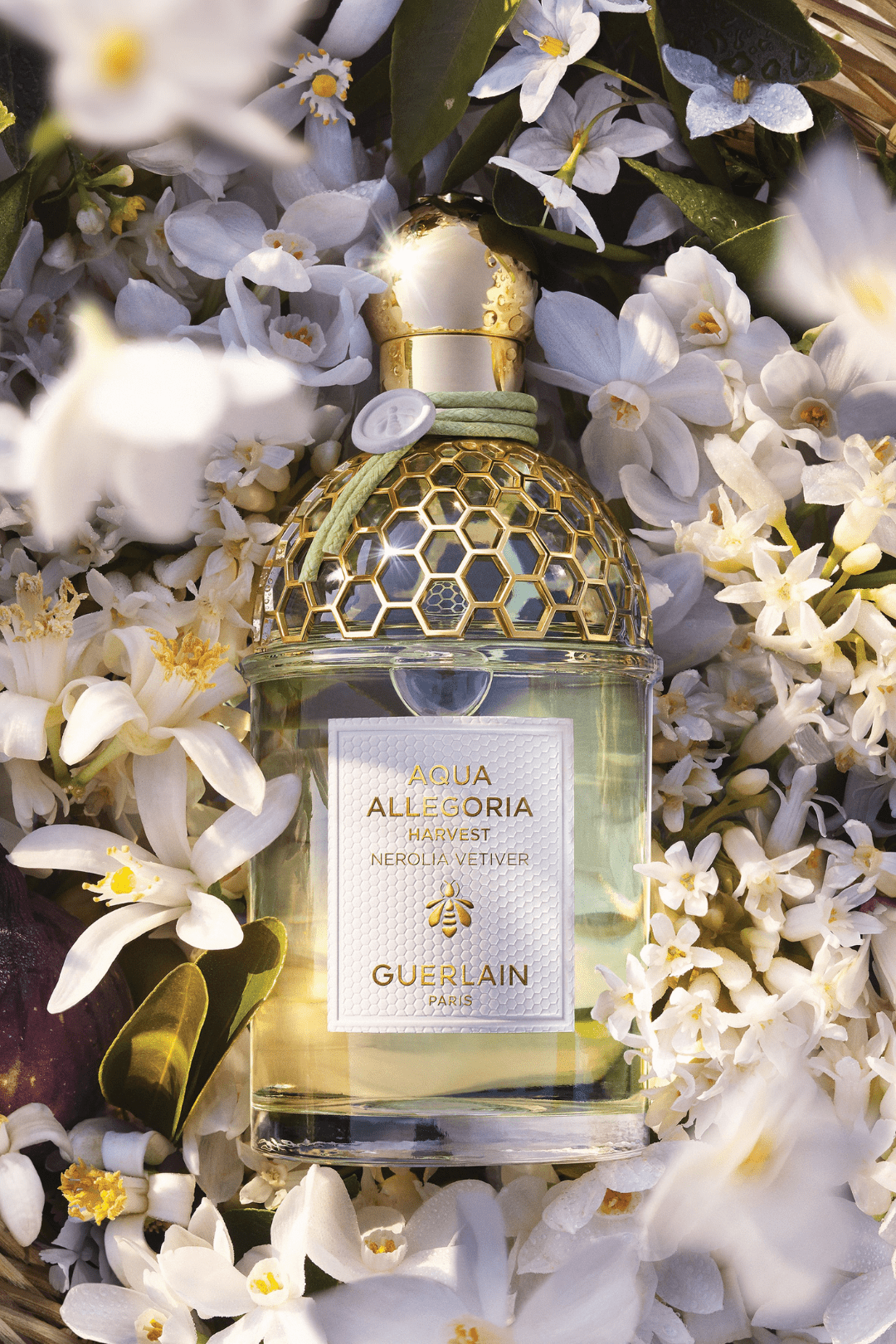 Inspired by Guerlain's iconic "Bee Bottle," the new Aqua Allegoria bottle is made in France from 15% recycled glass. For Aqua Allegoria Harvest, the Bee Bottle comes decorated with a colourful cotton cord and tassel seal echoing the three fragrances' original designs. These bottles are presented in 100% recyclable, plastic-free cellulose covers produced from natural virgin-wood fibres from eco-managed forests.
Featuring a decorative flower and wheat motif by artist Laura Gulshani, each packaging cover showcases a colourful harmony of three shades, which together evoke a floral watercolour. The joyful result makes for a sophisticated yet simple eco-friendly cover that remains faithful to the Aqua Allegoria spirit.