Level Shoes, at the Ground Floor of Dubai Mall, have unveiled The Personalisation Hub, a space offering bespoke techniques to customise one's shoes and accessories.
From quick makeovers to massive transformations, adding a personal touch to an otherwise generic pair, or getting your own version of a limited-edition shoe, the reasons may vary. However, it always ends up with the original model receiving a significant amount of upgrade.

Built on the idea of personal expression, the service allows customers to create a completely bespoke product by changing everything from the laces to the colour to the initials engraved on the shoe.
Here are some examples of the services on offer…
Hot Foil Stamping: choose to add initials, a nickname or a tongue-in-cheek motif, our skilled artisans will hand-stamp your items using gold, silver metallic foiling or blind embossing.
Laser Engraving: choose a symbol, a set of initials or any design to personalise your footwear and accessories with our creative engraving service.

Heat Press: give your items personality by including a print that's bound to make you stand out in a crowd.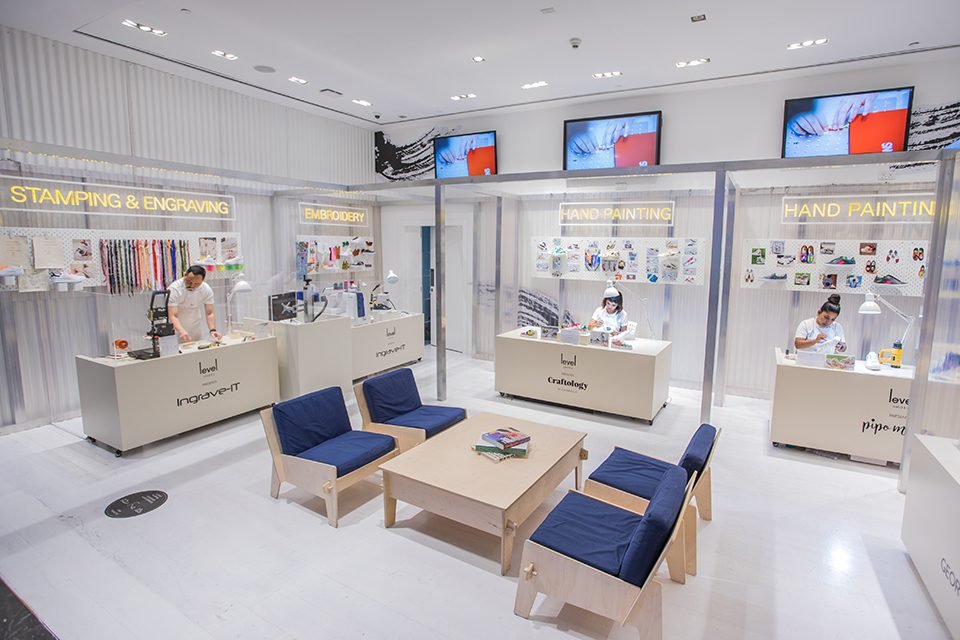 Meet the artists…
Ella Orencillo derives her design inspiration from the world of pop-surrealistic art, combining highly vivid colours and creativity with any design elements of your choice.
Pipo Moma has a loyal following from all over the world. Her set designs can be customised based on your request, and comes with a waterproofing finishing.

George Rollo work includes detailed designs on luxury goods, apparel, sneakers and canvases. His work has been commissioned by 50 Cent, Drake, Tyga and many more.
You can personalise any style purchased at Level Shoes, as well as non-store-bought items. The sales team can be contacted in-store (1 PM – 9 PM) or online for more information. You can also get in touch with our Guest Services Team directly by emailing guestservices@levelshoes.com or via WhatsApp on +971525383555.