A 1961 eight-seat Rolls-Royce Phantom V, a 1953 Jaguar XK120 and a 1956 Rolls-Royce Cloud, each an object of beauty when stationary, and mechanical poetry when in motion. Built not by robots that measured time in milliseconds, but sculpted by human hands with great patience. Built-in an era when oil was considered an infinite resource, these mechanical masterpieces of British engineering and craftsmanship face an uncertain future where zero-emission is set to be the law.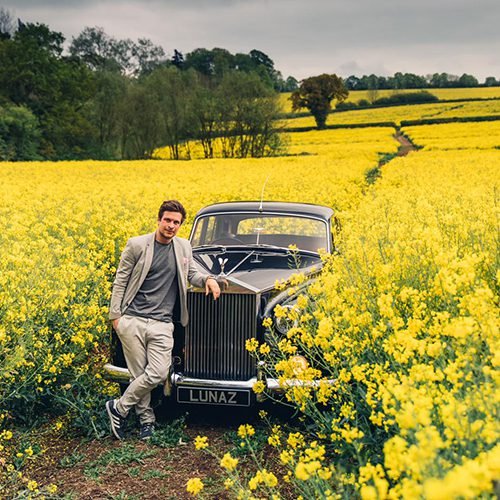 David Lorenz has had a lifelong love for classic cars and is a committed driver. One day, while waiting for mechanics at the side of a road to repair his classic car, he began to ponder on the questions of usability, reliability and sustainability of classic cars. The birth of his first child, Luna, brought these issues into sharper focus. Last year, what had begun as a postulate on a roadside became a reality when he founded Lunaz, named after his daughter.
"I wanted a car like a 1953 Jaguar to be my daily driver," says Lorenz. "Lunaz takes a history we all love and gives it a bright future. We are innovating to create cars that are usable, dynamic and stand as the ultimate drivers' classics. For Luna, my daughter, not to have access to a car like the Mercedes-Benz 190SL when she is of driving age would be a tragedy. Without building Lunaz, this is the reality she faces."
Headquartered in Silverstone Technology Park, England, Lunaz restores and electrifies premium classic cars. To achieve this, the firm has designed and engineered a proprietary electric powertrain which it manufactures in-house. It is flexible enough to be applied to a wide range of classics. Each conversion by Lunaz represents a one-of-a-kind expression of its breed.
"The Lunaz mission is to define the future of classics. We preserve the past by embracing the future, making the most beautiful cars in history a relevant proposition."

– David Lorenz, Founder, Lunaz
The three classics mentioned above are currently at different stages of conversion and will be the first electrified examples of their kind in the world. The Jaguar XK120 is presently in its final testing phase where it is being subjected to an extensive list of proving tests in "all conditions and road types." The Jaguar is fitted with an 80-kWh electric battery pack which powers its twin motors capable of producing 700NM from zero engine speed and 375bhp. The Rolls-Royce Phantom V is specified with a 120-kWh power unit. The two Rolls-Royces are nearing completion and will follow the Jaguar through a similar series of tests. All cars by Lunaz are engineered with fast charging capability, regenerative braking systems and integrate modern conveniences such as traction control and cruise control.
To achieve these feats of engineering marvels, Lunaz has handpicked some of the best engineering, design and manufacturing talent with additional input from the likes of Aston Martin, Ferrari, Ford, Formula 1, Jaguar, Volkswagen, McLaren and Rolls-Royce. The fact that the company's home at Silverstone is flanked by Virgin Racing's Formula E team and Ferrari's Corse Clienti race team, among others, has also given the company access to some exceptional engineering talents.
This talent pool is headed by Lunaz's Managing Director and Technical Lead, Jon Hilton, who began his career designing helicopter powertrains at Rolls-Royce PLC. He moved to Motorsports and built his reputation as the Technical Director for the Renault F1 team that took Fernando Alonso to two successive World Championships. He was instrumental in the development of Kinetic Recovery Systems (KERS). He was the technical director of Hope Polevision Racing team which introduced the first-ever hybrid Le Mans entry.
Each classic car conversion and restoration project undertaken by Hilton starts with an exhaustive inspection. Each corner is then weighed to understand the original weight distribution to the gram. This information is crucial for decisions on chassis setup, powertrain packaging and suspension. The internal combustion engine and associated systems are then removed, and 3D scanned to create detailed CAD models. This enables the team to achieve technical perfection in every step of the process.
The car is then stripped down to a bare metal shell. Traditional coachbuilding and restoration skills are employed to remove any body defects by hand before the surface finish process begins. The same approach extends to the interior. The in-house design team make subtle adaptations to integrate modern conveniences such as satellite telecommunications, WiFi, audiovisual entertainment and navigation aids.
The accessories associated with electric powertrains, including battery chargers and DC converters, are then integrated into the existing design of the car. The fuel filler cap is utilised for charging. The dials are adapted to provide appropriate read-outs for the electrical powertrain. New air conditioning and electronic heating systems are installed. The accelerator is converted to a throttle-by-wire system. The braking, suspension, steering and electronics systems are updated. Finally, every circuit is tested before the first start-up procedures begin, followed by on-road testing.
"The Lunaz solution takes cars that are under threat and gives them a new purpose. These cars will be true to the original in their aesthetic, peerless in their performance and effortless in their day-to-day use. To breathe new life into these classics represents vital engineering in the purest sense," says Hilton.