Rasasi Perfumes, or more formally, Rasasi Perfumes Industry LLC is a Dubai institution. It is one of the oldest and most prestigious fragrance houses to blossom in our region. This family-owned manufacturing and retail enterprise has many firsts to its credit, and is driven by global vision.
Rasasi was founded in 1979 by the late Abdul Razzak Kalsekar (d. 2015), a true visionary and philanthropist. A man of humble origins – from the Ratnagiri region of India's Maharashtra state – he donated generously to educational and charitable institutions, in addition to founding several orphanages, schools, colleges and hospitals.
Mr Kalsekar's entrepreneurial legacy is now being carried forward by his six sons, each of whom have taken on specialised tasks while working collectively to achieve the brand's core objectives: growth and innovation. Rasasi pioneered the concept of dedicated mono brand fragrance stores in the region soon after its establishment. Strategically located right in the heart of old-Dubai, the store showcased a wide range of products, and stood out for its ambience and service.
Supported by a state-of-the-art manufacturing facility in Jebel Ali Free Zone, Rasasi has been aggressively growing its geographical footprint, which now includes 165 elegantly-designed stores in leading malls and prime locations across the GCC region. The brand's products are also exported to more than 60 countries across the globe through a strong distribution network.
The one thing that has not changed at Rasasi, over the past four decades, is the committent to its raison d'être – elegance and quality. The brand has has created nearly 200 exceptional perfumes, each with distinct packaging. Rasasi's perfumes epitomize sophistication and demonstrate a mastery over the art of blending fragrances.
The range includes an array of classical and contemporary Arabian perfumes, opulent natural oils, bukhoor and agarwood products. The brand also offers a range of French fragrances, the flag bearer here is the highly popular maiden label 'Blue Lady.' We have compiled a selection of exceptional fragrances for men from five of Rasasi's collections.
La Yuqawam Collection
LaYuqawam in Arabic means Irresistible. This series extends a classic yet modern feel to oriental perfumery through elegance and refinement. The series, which includes a variety of fragrances, has become a classic that never goes out of fashion. The popularity of this series had grown beyond the originally targeted Arab nationalities to include international connoisseurs.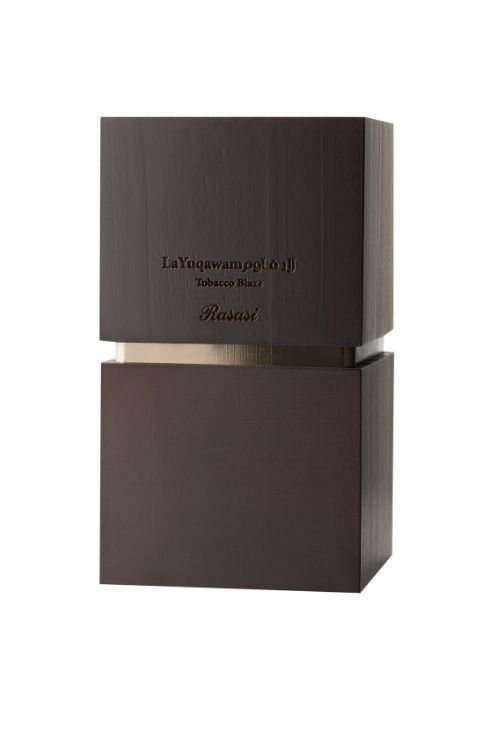 La Yuqawam Pour Homme – This fragrance opens with an earthy, spicy, bittersweet leathery note. Indian saffron inflects a soft and intimate note to the leathery opening, setting the tempo for a sensuous experience. It then meanders through the complex base notes of Italian leather and Indian oudh sweetened to a warm earthy and heady tenor by amber.
La Yuqawam Tobacco Blaze – Here the signature leather accord of the La Yuqawam masculine series melts with audacious aldehydic notes. The perfume opens on a light note that is citrusy and slightly bitter with hints of orange and honey blossom. The floral facets are inflected by neroli and bergamot. Indian Saffron adds the soft and intimate leathery undercurrent that surges into the deep woody facets of cedar wood. The soft, smooth, rich and lingering woodiness of sandalwood, with a hint of green notes, subdues the leather and Indian oudh.
Oudh Al Boruzz Collection
This collection explores "the majestic symphonies of timeless Arabian heritage." It is a collection of masterpieces by Rasasi, that takes one on "a mystifying voyage of east meets west, orchestrated to magnify your captivating luminosity." The richest traditional ingredients have been reimagined to create a timeless fragrance like no other; elevating the ritual of pure Oudh to a luxurious art.
Rooh Al Assam – Inspired by a fragrant journey through ancient Assam, this fragrance intoxicates the senses. The scent of a thousand roses give way to the deep richness of leather, mystery of Indian sandalwood and the most coveted Indian oudh. The sensual touch of the oriental is delightfully finished with a drop of golden saffron, which mellows the spicy note of Indian oudh.
Atheer Cambodia – Created as an ode to the finest and rarest natural ingredients, this fragrance "provides a fresh expression of the oriental alchemy that is a confluence of east and west." It opens with the seductive notes of baie rose, saffron and raspberry, followed by rose, leather and patchouli. Finally, it cascades to the world's most precious Cambodian oudh; tempered by cashemeran, cipriol and ambroxan.
Asrar Indonesia – A sophisticated and fresh interpretation of woody Indonesian oudh, this fragrance is an elegant blend of refreshing Mediterranean indulgence and precious Eastern aromas. The crisp freshness of sun-warmed Italian citrus notes leads to the dramatic deep woody tones "of an oriental forest at midnight," that reveal the rich splendor of unmistakable Indonesian oudh.
Abeer Malaysia – A decadent floral creation with a distinctive underlying smoky fusion of Haitian vetiver, tobacco and leather. The base notes introduce rare and precious aromatics that lead to a dramatic elixir of the finest Malaysian oudh and patchouli. This is a noble yet earthly scent that leaves a soft trail.
Attar Al Boruzz Collection
This collection has been composed to "evoke all that is rare and precious," by drawing inspiration from the fragrant walls of mosques in Persia's Tabriz, and its delightful parks. A regal bouquet of musk and noble rose combined with the heady aroma of the finest Oudh to create a family of modern yet enduring fragrances that are unmistakable.
Lamaat Musk Tabriz – A captivating fragrance "as pure and enduring as a desert sunrise." Harnessing only prized ingredients from around the world, this rich and potent blend of fruity accents and dry woody notes is warmed by soft spices radiating with an unmistakable intensity.
Jazeebiyat Musk Tabriz – Glamourous, intense and regal, this fragrance is a masterpiece that leaves a remarkable impression on those who encounter it. Inspired by the timeless scent of Golestan Park, this intense bouquet of Italian citrus, rich wild fruit and French cassis comes alive with a floral explosion followed by sensual notes of musk, Madagascan vanilla and the finest oudh.
Junoon Collection
This collection is comprised of a trilogy of niche fragrances "inspired by mankind's obsession for finesse and luxury." Incorporating the best of internationally trending niche notes, these pour homme scents are about power, strength and stature.
Junoon Satin – A voyage of refinement and subtlety through the middle ages. It meanders through the Chinese city of Quanzhou – which gave satin its name and a major shipping port along the famous Silk Road – to the boudoirs of the elite in Europe. The sparkling bergamont aloft a zesty lime note inflects a spicy floral heart to the fragrance with an assuring freshness. The dry down is a splendorous oriental bouquet of precious woods that is warm and mysterious.
Junoon Velvet – This fragrance is a throwback to the 13th century, wherein Kashmiri merchants introduced velvet to the world. The green note of tomato leaf inflects refinement into the softness of leathery notes. The deep, powerful leathery and ambery notes of labdanum are heightened by the clary sage, while precious galbanum adds a bitter green note braced by the powdery, rather starchy violets smelling orris root. The dry down is a supremely sensuous voyage through an oriental bouquet of Indian oudh and musk that is lulled to sweet warm perfection by the benzoin.
Junoon Leather – As its name suggests, this fragrance is inspired by the scent of leather. This intense masculine fragrance opens on a strong note of deep and smoky agarwood spiced with cardamon. This is lent a flirty flamboyance with the addition of floral scents. The warm amber at the heart of the perfume swells with wafts of spices that reinforce its raw, masculine undercurrents. It then meanders through the intensely sensuous and animalistic notes of musk and oud.
Qasamat Collection
A series of four unisex fragrances inspired by the rich perfumery traditions of the Middle East. The opulence and enigmatic mystique of oriental olfactory finds a contemporary expression in the four scent journeys. These perfumes "celebrate the love for bling as a language of self-expression in modern times, and revel in easy elegance and an irresistibly infectious joie de vivre."
Qasamat Rasana – An elegant modern oriental fragrance crafted to offer an enriching sensorial experience. The scent opens with fresh fruity notes of lemon, apple and bergamot. The middle notes of leather, sandalwood and cypriol is followed by the oriental base notes of rich musks, amber, cedarwood and agarwood.
Qasamat Bareeq – The fresh opening notes of bergamot, orange and green apple are overpowered by the sweet notes of caramel and saffron in the heart of the perfume. The jasmine and rose give this perfume an endearing oriental nuance. A powerful base of strong smoky woody notes held together by musk, and buttressed by the leather accord, lends this long-lasting perfume an aura of supreme confidence.
Qasamat Ebhar – A sublime fragrance with a dazzling blend that opens with a burst of fresh and fruity notes – green apple and sparkling lemon. Followed by a floral wave of lotus and damask rose which slowly divulges into the contrasting deep notes of addictive praline, vanilla and rich musks. This scent "celebrates avant-gardism, passion and vibrancy," making it a perfect choice for all occasions.
Qasamat Morhaf – This delicate yet powerful fragrance opens with the fresh and fruity nuances of raspberry and bergamot. The intoxicating heart with seductive damask roses and geranium rests on an oriental bed of precious woods, creamy sandalwood and vanilla with rich musk's that envelops the fragrance.