"Our mission is to revive and perpetuate what ended in 1917. Hence, we embrace our pre-1917 heritage, the ethos and philosophy of Peter Carl Fabergé and use it in promoting Fabergé – then and now;" reads a statement by Fabergé Limited.
The spirit of the House of Fabergé – which created, arguably, the greatest objet d'art the world has ever known – has risen from its historical ashes to become a creative force to be reckoned with once again in the world of exquisite jewellery, objet d'art and haute horlogerie.
Gustav Fabergé, a Russian Master Goldsmith with French ancestry, founded the House of Fabergé in 1842 in St Petersburg. However, it did not distinguish itself until Gustav's eldest son Peter Carl Fabergé took over as the business and creative head. Carl – educated at some of the best institutes and apprenticed with some of the best jewellers – took the bold decision to become a design-led artist-jeweller whose creations glistened with colour – through the use of gemstones and by reviving the lost art of guilloché enamelling. He also sought after and employed the finest craftsman to bring his designs to life.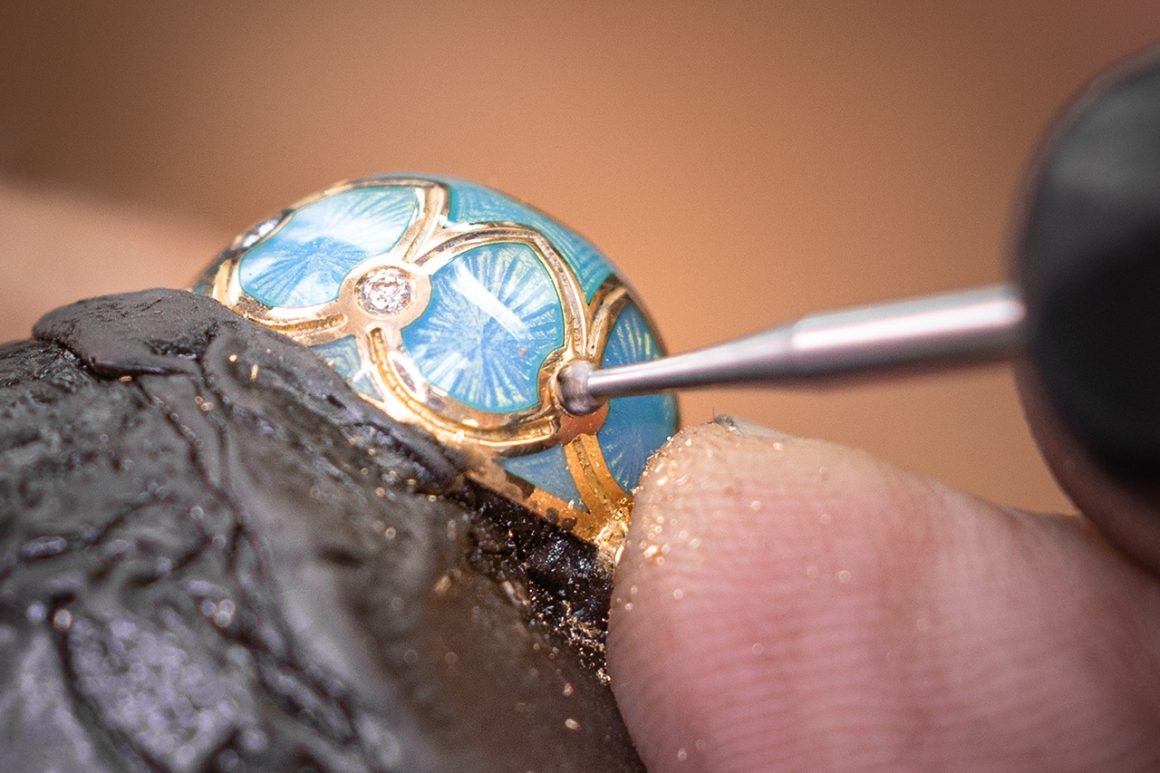 In 1885, Emperor Tsar Alexander III of Russia bestowed upon the House of Fabergé the prestigious title of "Goldsmith by special appointment to the Imperial Crown," after being impressed by some of Carl's creations. That year, the Emperor also commissioned the first Easter egg as a gift for his wife. By 1917, 52 Imperial Fabergé eggs had been commissioned, of which 50 were delivered and two were pending when the Bolshevik revolution broke out.
The House of Fabergé was seen as a Royalist and seized by the Bolsheviks. All but one member of the family managed to smuggle themselves out of the country. After Carl died in Lausanne in 1920, Alexander and Eugène, two of Carl's sons, opened Fabergé & Cie in Paris in 1924. It achieved moderate success and ceased to be in 2001.
Simultaneously, there was another US-registered company which eventually came to be known as Fabergé Inc., which marketed fragrances. Following the settlement of litigations between the two Fabergés over branding rights, Unilever acquired the global branding rights and used it to market a wide range of consumer goods.
In 2007, Fabergé Limited – a subsidiary of Pallinghurst Resources, a London based investment advisory firm – acquired Unilever's global rights to the Fabergé brand for US $38 million. Fabergé Limited terminated the branding licences and announced its intention to return Fabergé to its rightful place in world of luxury goods. It also announced that it would be reuniting the Fabergé brand with the founding family. Tatiana Fabergé and Sarah Fabergé, both great-granddaughters of Carl, became the founding members of the Fabergé Heritage Council – a four-member advisory division of Fabergé Limited.
Sarah, also Fabergé Director of Special Projects, honed her skills working with her father Theo on the Saint Petersburg Collection. Tatiana – who sadly passed away recently – studied jewellery design in Paris and co-authored several books on the House of Fabergé. The third member of the Heritage Council Géza von Habsburg, PhD, Fabergé Curatorial Director and a former chairman of Christie's Europe, has curated several high-profile exhibitions on the House of Fabergé. John Andrew, the fourth member, is a collector, member of several artists' guilds and author, including on the history of Fabergé.
In September 2009, Fabergé Limited debuted with 'Les Fabuleuses' high jewellery collection – the first to bear the Fabergé name since 1917 and to have a member of the Fabergé family involved in the creative process. The collection comprised three sub-sets: Les Fleurs de Fabergé, Les Fables de Fabergé and Les Fauves de Fabergé. The collection drew inspiration from the creations of the House of Fabergé. That year, Fabergé Limited also launched its first boutique in Geneva and its website. Gradually, nearly all the creative and manufacturing process have been brought in-house.
In 2011, in a symbolic homage to the Fabergé Imperial Eggs, as well as their lesser-known miniatures counterparts created by Carl, Fabergé Limited unveiled two collections of wearable high-jewellery egg pendants: Les Fameux De Fabergé and Les Favorites De Fabergé. The manufacture of each miniature requires a lengthy, exacting and, in several cases, pioneering fabrication processes while also incorporating such Fabergé signatures as the traditional Russian lacquer-work, rococo gold-work and pavé-set gems. In addition, the company has also created smaller, exclusive collections and bespoke personal commissions of the egg pendants.
In 2013, Pallinghurst sold Fabergé Limited to Gemfields Limited in exchange for $142 million in shares, followed by a complete buyout in 2017. Gemfields is a world-leading supplier of responsibly sourced coloured gemstones, specialising in the mining of emeralds and rubies from some of the finest sources in the world. As a result, Fabergé Limited is today a wholly owned subsidiary of Gemfields Limited, which in turn is a wholly owned subsidiary of Gemfields Group. The group also owns a minority stake in platinum-group metals producer Sedibelo.
Currently, Fabergé's products fall into three categories. The first and largest is high and fine jewellery, and includes bracelets, earrings, rings, brooches, cufflinks, and of course, miniature egg charms and pendants. Each of these falls into one of the seven current collections.
Emotion is a bold and expressive collection while Fabergé Imperial evokes the splendour of the Imperial Romanov court. The Colours of Love are for the special occasions. These collections feature objects encrusted with diamond, pearls and coloured gemstones. Fabergé Rococo is a sculptural collection which takes inspiration from the gold scrolls of 18th century Rocaille Egg. The 'Heritage' collection draws inspiration from Fabergé's historical masterpieces and includes such signatures as guilloché enamelling and hand-engraving. Treillage pays homage to the 1892 Fabergé Diamond Trellis Egg. It features tactile quilting on rose and white gold objects which are decorated with diamonds or coloured gemstones. The late Frédéric Zaavy, an exceptional Parisian jeweller, collaborated in the creation of the eponymous one-of-a-kind high jewellery collection.
Secret Garden is an exceptional high jewellery collection by Fabergé. An ode to the natural world, these feminine, asymmetrical and visually stunning floral jewels draw inspiration from the works of Russian artist Marc Chagall's depiction of flowers and lavish bouquets.
The second category comprises Fabergé's timepieces, some of which have been co-developed with Agenhor Manufacture. They made their debut in 2015 with Compliquée Peacock. It was greeted with high praise and awarded the Grand Prix d'Horlogerie de Genève. Its distinct dial features a hand-engraved peacock in 18 karats white gold as the centrepiece, along with diamonds, Paraiba tourmalines and tsavorites. The bezel is diamond-set. The minute and hour indicators are in mother of pearl. The hand-winding movement is encased in a 38mm platinum case, with alligator strap.
The Compliquée collection now has seven models which include the 'Winter Egg' variants. Dalliance is another high-jewellery collection, embellished with emeralds, diamonds and mother-of-pearl. In contrast, the Flirt collection offers minimalist, colourful designs with a two-tier lacquer dial encased in gold.
For gentlemen, Fabergé offers two collections. The Visionnaire collection has two variants – the DTZ which displays two timezones simultaneously and the Chronograph – both are masculine, bold, multi-faceted and standout timepieces. In contrast, Altruist is a collection of minimalist yet elegant timepieces with a hand-engraved guilloché enamel dial and an 18-carat white or rose gold case.
Without a doubt, the 'creme de la 'crème' of Fabergé's creations are its bespoke objet d'art creations. Special commissions and gift-giving are cherished traditions at the very heart of Carl's Fabergé. The Spirit of Ecstasy Fabergé Egg is the standout example here. As the name suggests, it was created in collaboration with Rolls-Royce in 2018.
Standing 160mm tall and weighing 400g, the egg rests on an engine-turned, hand-engraved, purple enamel guilloché base of 18 karat white gold. Emanating from the base are twelve arms which outlines the silhouette of the egg and forms a protective outer cover for the emblem within. The bottom half of the twelve vanes are in polished rose gold and embellished with nearly 10 carats of round white diamonds. This gives way to natural amethyst, weighing over 390 carats, and specially selected for its purple colour saturation. By moving a discreet lever at the base, a highly complex mechanism causes the arms to open like a blossoming flower to reveal the Spirit of Ecstasy hand-sculpted in frosted rock crystal.
The resurrection of the Fabergé brand, as promised in the mission statement, has gone from strength to strength over the past decade under the stewardship of CEO Sean Gilbertson. Now, with such a rich array of precious materials at its disposal, and with advisers so deeply entrenched in Fabergé's legacy, the outlook is positive indeed.