With just over a month to go before the start of the FIFA World Cup Qatar 2022, Hublot unveils the official "Hublot Loves Football" campaign. To illustrate the campaign, and the brand's commitment to "beauty in diversity," Hublot invited Lebanese fashion designer Mira Mikati to design a special, happy, colourful "Hublot Loves Football" campaign logo that brims with optimism. Her hand-drawn and painted design captures a youthful, hopeful enthusiasm and communicates a spirit of unity.
Hublot will serve as the tournament's Official Timekeeper, timing all 64 matches, right through to the final in Doha's Lusail Stadium on December 18. With more than one billion viewers, the FIFA World Cup tournament is the world's most-watched sports event.
Hublot also brought Mira together with 15 Hublot Ambassadors to create 15 unique designs to represent the "football of their dreams." Each is a one-off, a piece of art created to capture the themes of hope and universal respect, as well as the individual personalities of the football stars and their shared passion for football. Some are hand-drawn and painted, others crocheted, representing the human element in football.
"We've waited four years, the FIFA World Cup Qatar 2022 is coming!" exclaims Hublot CEO Ricardo Guadalupe. "Hublot has always been 'unique, first, different,'; becoming the first Fine Watchmaking brand in football in 2006. Today, Hublot is the first name in football timekeeping.
"For this year's tournament, we wanted to do something that expresses our belief in a free, diverse and unified world in a new and memorable way. Football is the world's game and has a unique power to carry a message of hope to every corner of the Earth, connecting us and showcasing everything that brings us together. Passion, fairness, family.
"We're so proud to be working with Mira Mikati and our Hublot Ambassadors and Friends of the Brand to tell this story. We're also thrilled to be the Official Timekeeper of the FIFA World Cup for a fourth time, going back to the South Africa tournament of 2010. We are so excited for this year's festival of football to begin and wish every participating team the very best of luck. Hublot Loves Football!"
During the design process, Mira met with each of the 15 stars and explored their passions and personalities to help her craft the final designs. "Play is at the heart of all my designs," explains Mira Mikati. "When I'm not playing with colour, I'm playing with words. Just as football sparks joy on the pitch, I want my work to be a constant supply of happiness.
"Dreams really can come true. Meeting Hublot's ambassadors and discussing their dreams, passions and how far these drivers can take you was very special. By interpreting every player's dream, with Hublot, we want to inspire others to dream just as big. Whether it's playing for your country or designing your own collection, we want to inspire the next generation to believe they can achieve anything."
Here are the 15 designs co-created with the 15 Hublot ambassadors.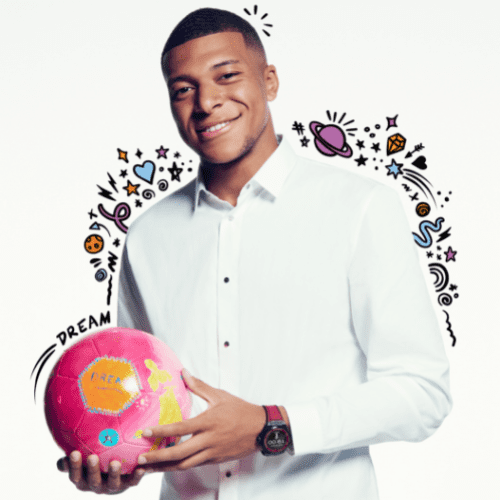 Kylian Mbappé
Mira described the challenge of designing a ball for talismanic French international striker Kylian Mbappé as one of the most exciting of her career. She wanted to capture the concepts of "dream" and "dedication" to illustrate how he has devoted himself to realising his wildest ambitions. The colours reflect his story. Pink, his favourite, for his first dream football boots. Orange for Inspired by KM, his children's foundation. And blue for France and the beauty of the sky.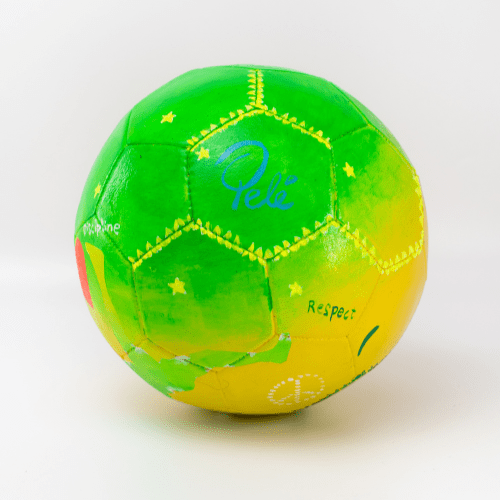 Pelé
Pelé, a football icon, and so much more. Mira drew inspiration from the Brazilian's energy, peace and humanity, and conceived the Pelé design around five characteristics she felt best described him: optimistic, disciplined, respectful, genuine and iconoclastic. She chose yellow to capture Pelé's sunny disposition, and added the famous silhouette of his overhead kick.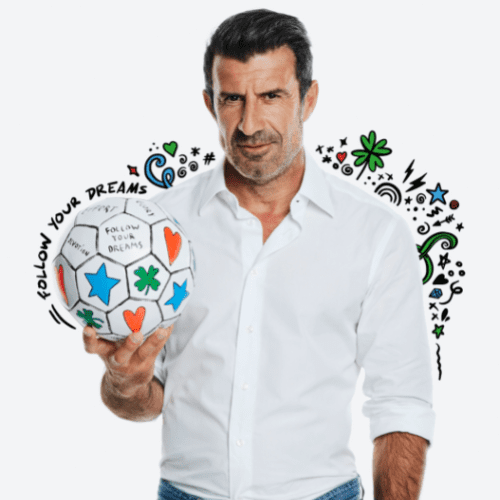 Luis Figo
In the creative session with Mira, former Portuguese international Luis drew a clover leaf on a football to bring luck to everyone he loves. Mira added stars and hearts to remind him of his many glorious victories and memories, and his mantra: "Follow your Dreams. Never Lose Faith." The dark green, blue and white colours are his son's favourites.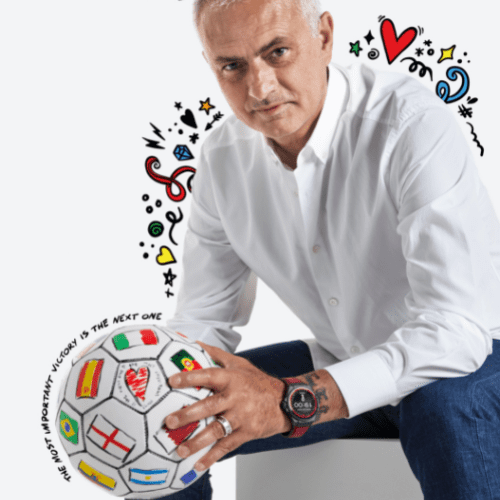 Jose Mourinho
Jose is one of football's greatest-ever managers, and is known for his pithy insights. He gave Mira two. First: "The World Cup ball must represent all the colours of the world." So Mira created cheerful, graphic interpretations of the competing nations' flags. And second, his secret motto: "The most important victory is the next one." She added these bright, forward-looking words to his design.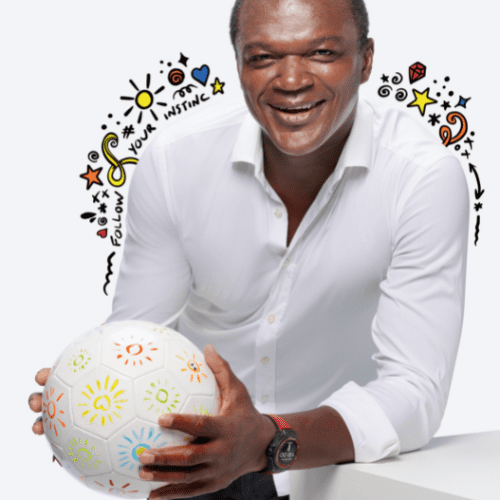 Marcel Desailly
In French FIFA World Cup winner Marcel, Mira saw wonderful, celebratory energy. She took the colours of the Ghanaian flag and Marcel's clubs to create a sunny, fresh ball design. The finishing touch is the date, 12 July 1998, the day Marcel lifted the FIFA World Cup with France.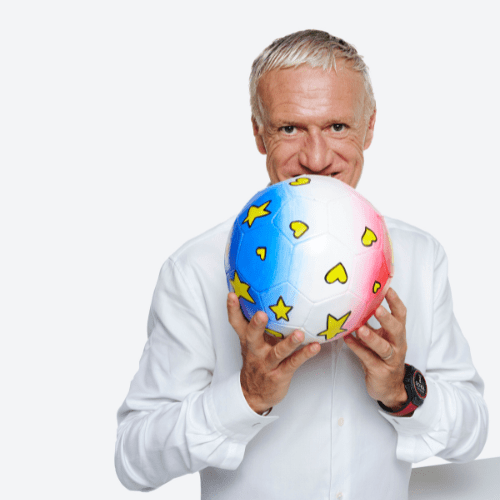 Didier Deschamps
Didier is one of only three men to win the FIFA World Cup as both player and manager, both for his native France. Mira wanted to honour his extraordinary career in his design, creating "the victory ball". It's decorated in the colours of the French Tricolore flag and with stars, hand-drawn and painted as if by a child to represent victories yet to come.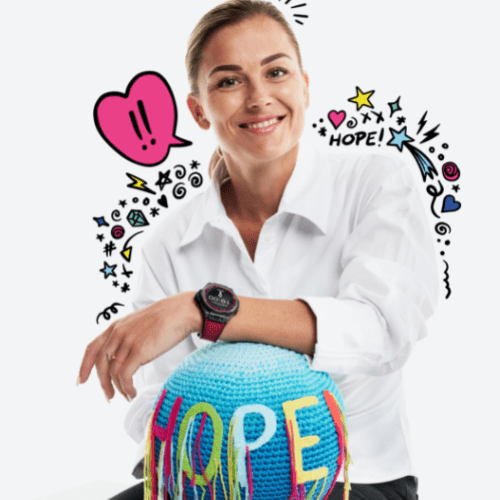 Laure Boulleau
Former French international Laure Boulleau explained to Mira how she uses pleasure to help her overcome life's challenges – to see and feel the good. Her ball is hand crocheted in rainbow blue tie-dye and embroidered with the word "hope". The "o" is heart-shaped to express Laure's love of taking on challenges.
Ada Hegerberg
Norwegian international Ada's motto is simple: "believe in yourself". In Ada, Mira found an incredibly dynamic personality, radiating energy, and so created a colourful, crocheted ball decorated with that same motto.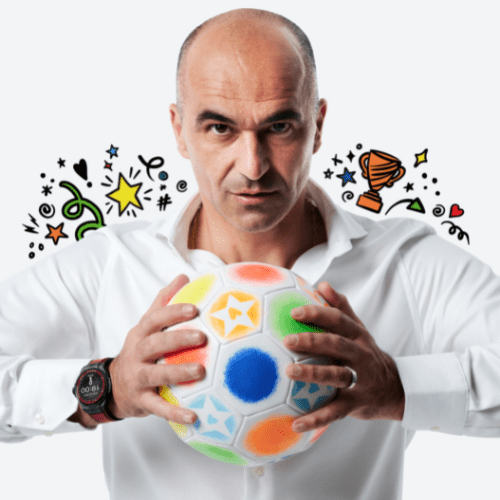 Roberto Martinez
Mira might have gone with the red, black and yellow of the Belgium team Roberto manages, but she felt these were too aggressive for his personality. Instead, the ball uses lighter, warmer colours that capture his kind, generous disposition. At his request, she attached an Apple AirTag to the ball–so that he would never lose it.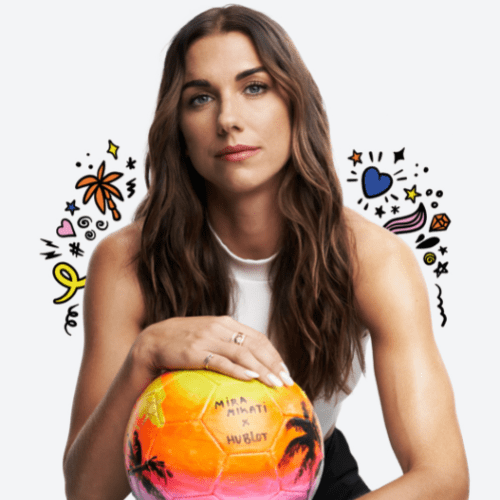 Alex Morgan
US international Alex Morgan plays her club football in California and is captain of the San Diego Wave FC. Mira captured the state's warmth with a California sunset in Alex's design, adding a palm tree motif and a horizon, a symbol of the limitless opportunities for women in football.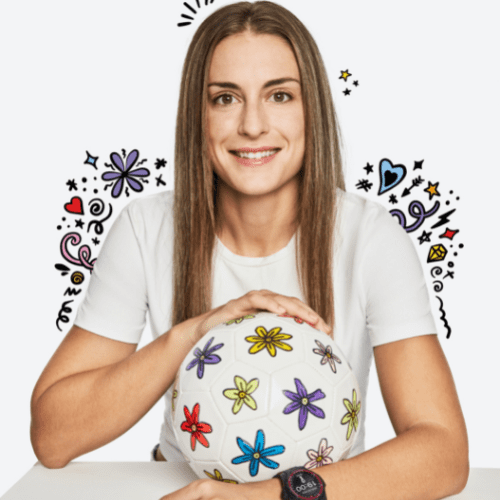 Alexia Putellas
Spanish international Alexia loves colour, flowers, the sea and spending time with her family. For her, Mira designed a happy, summery, colourful ball covered in floral motifs. The design also includes a heart, representing Alexia's sisters, the Barcelona coast and of course, her love of football.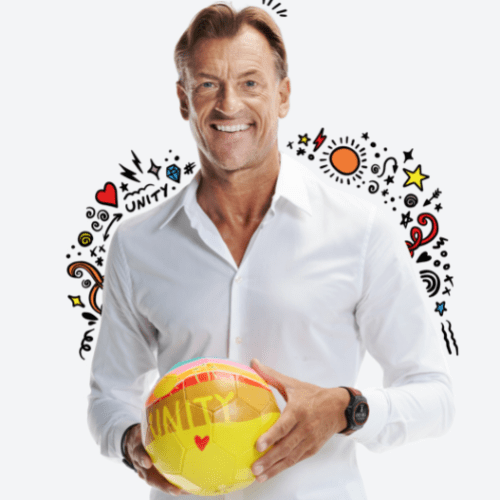 Hervé Renard
As manager of the Saudi Arabian national team, Frenchman Hervé told Mira he was inspired by the heat, blue sky and palm trees of the desert. She took this and created a scene full of colour and life, adding the word "unity" to capture Hervé's starting point as a coach: "the team before the player".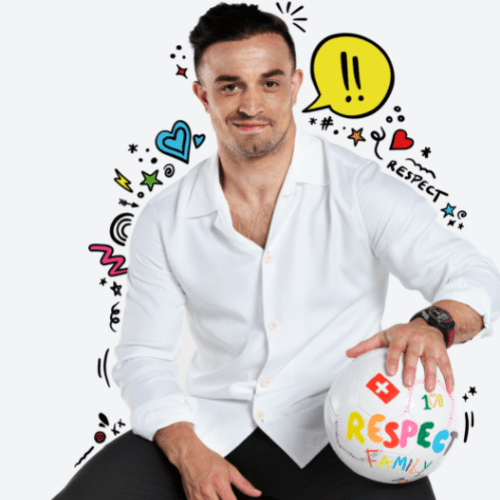 Xherdan Shaqiri
Xherdan is an icon of Swiss football. Mira designed a ball that celebrates his love of family and the value of respect that was passed down to him by his parents. She used hand-written, colourful typography to connect him to those values and give him energy.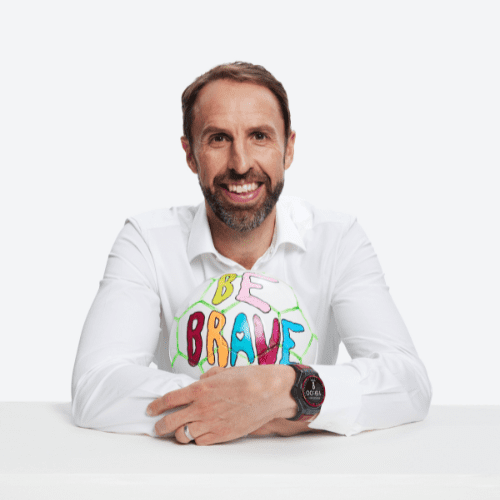 Gareth Southgate
Speaking with England manager Gareth, Mira said she developed a profound understanding of the power of human values in football. One of Gareth's maxims is "Be Brave, Be Kind and Follow Your Dreams!". The dominant colour is green, an emotional colour for Gareth inspired by football pitches.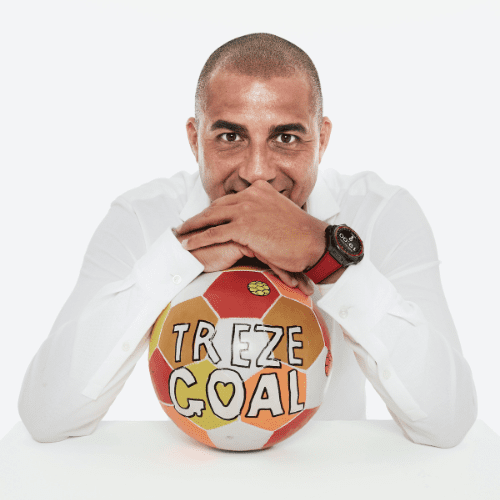 David Trezeguet
Goal machine David Trezeguet spearheaded France to FIFA World Cup glory in 1998. His passion and infectious energy prompted Mira to design a yellow, orange and red ball, finished with his nickname "Trezegoal".