The House of Guerlain, credited with inventing the modern perfumery in 1889, has been at the panicle of olfactory creations for nearly two centuries. Eau de Cologne Impériale, Shalimar, Habit Rouge, La Petite Robe Noire and L'Homme Idéal are just some of the timeless classics composed by the house's four generations of perfumers from the founding Guerlain family – Pierre-Francois-Pascal (1798-1864), Aimé (1834-1910), Jacques (1874-1963) and Jean-Paul (1937-). Each Guerlain fragrance contains within it, not just the finest and most exotic ingredients, but also the intrepid journeys that the Guerlain perfumers undertook to find each one of them.
One of these "les routes du parfumeur" reached the Calabria region in the southern tip of Italy. More specifically, it leads to a 1,500-hectare area where the house sources its share of bergamot; a precious citrus fruit dubbed the "Calabrian green gold." With its many sparkling, acidic, floral, green, aromatic and lavender inflexions, the Bergamot essence gives a lift to perfumes with a type of versatility one won't find with lemon. Without having too strong of a personality, it leads one into a quite marvellous and supple world.

Bergamot has been, for al long time, a Guerlain favourite and features in the majority of the house's formulas. Bergamot reigns supreme among the fresh facets found in Guerlinade and Shalimar, two timeless feminine fragrances created by Jacques Guerlain in the 1920s. It is also the foundational jewel in the entire Aqua Allegoria Collection.

Guerlain's current chief perfumer and globetrotter Thierry Wasser – a worthy successor to his predecessors – journeys every year to the beautiful Calabria region, to obtain the best quality bergamot possible. This delightful southern tip of Italy benefits from several different land orientations, winds and micro-climates.

In fact, Wasser spends a third of his time travelling to source raw ingredients. For him, gaining personal knowledge of the land is essential for creating responsible partnerships. While ensuring consistency in the quality of ingredients that are essential to the house, he also works to encourage producers to diversify and protect production.

"Above all, the perfumery profession is one of experience. Our language is that of scents. Raw materials are our words. By going in search of them yourself, you can control our vocabulary's elements. Every relationship with nature is through the people who take care of it. Above all, it's a human story, one of relationships. Without people's love and respect we can't do anything." says Wasse

Intent on being more than a passive acquirer of bergamot, Guerlain has been involved in a sustainability partnership with the producers and harvesters of the region – most notably with Gianfranco Capua. For three generations and close to 60 years, the house has worked loyally with Capua. Wisely protected from the wind, their preferred varietal, Fantastico Typico, boasts exceptional quality fruit in successful quantities.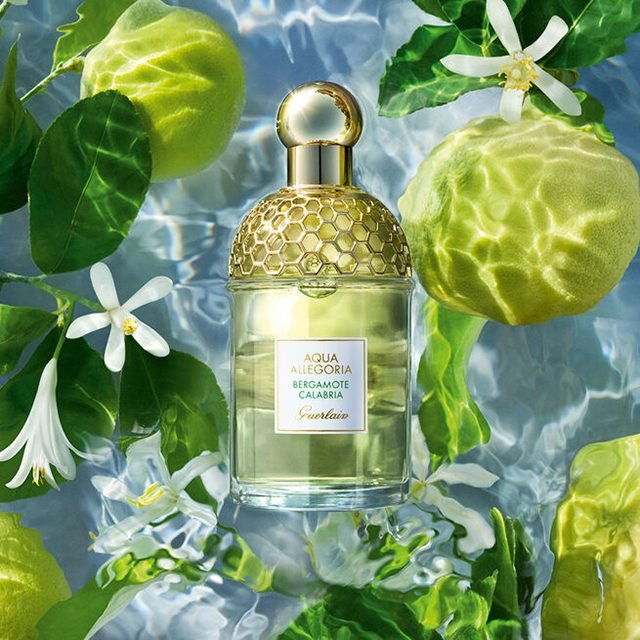 Gianfranco Capua has the gift of an engineer but shares the qualities of a perfumer: curiosity and the youthful enthusiasm that's needed to be able to remain captivated while always moving forward. Far from just being a producer, this farmer senses and smells his bergamot with palpable emotion.

"By just rubbing the ingredient on the hands and leaving the fragrance to evaporate against the warmth of the skin, you'll get the start of a Cologne." He states movingly. But while the material's quality is of prime importance, it takes a pure creative genius to create a fragrance. "Creation, the fruit of all creativity only happens in life when you stop dwelling on it. You can't consciously forget an experience. Creation starts with the memory of a moment," he adds.

Bloom begins in April, and the bergamot fruit goes into harvest between mid-November and mid-February. Once picked, each fruit is washed and placed into a large machine which scrubs the skin and collects the raw green essence. Two hundred kilogrammes of the fruit is required to produce one kilo of essence. Guerlain uses between six and seven tons of essence per year for its perfume.

The bergamot fruit is hand-picked from Gianfranco's trees become the signature ingredient in Bergamote Calabria, a fragrance launched in 2017 in its honour. It opens, appropriately, with the Calabrian bergamot accompanied by petitgrain. The middle notes comprise cardamom and ginger. The base notes are woody and fuse with white musk.

The fragrance, suitable for women and men, was created by Thierry Wasser and Delphine Jelk as an addition to the Aqua Allegoria collection. Beside having bergamot as a common thread, the collection created in 1999 was Guerlain's first to combine the freshness of a cologne with "the hold" of a Guerlain perfume.