Ex Nihilo Paris presents the Osmologue Experience, an exclusive personalisation ritual to create one's own Signature scent. The Bloomingdales boutique in The Dubai Mall is the only location in the Middle East region offering this rare experience.
For Ex Nihilo, the art of personalisation is at the heart of the brand's vision. In the Osmologue Experience's interactive ritual, each of the fragrances from Ex Nihilo's Initiale and Babylone collections can be personalised, using the highest quality ingredients. Sourced from all over the world, these ingredients include, among others, the absolutes of Iris Pallida, Vanilla Bourbon or Rose Centifolia from Grasse (France).
The raw materials have been chosen for their olfactory identity, their exceptional quality and their ability to marry in perfect harmony with the original creations. Made on-demand solely, and with its perfumers' expertise, these Signature fragrances allow customers to enjoy a scent that matches and reveals one's true personality.
The custom olfactory combinations are concocted using the Osmologue, a technology exclusive to Ex Nihilo. The word Osmologue is derived from the ancient Greek science of Osmology, or the science of scents. This technology allows the most accurate weighing and blending of the different ingredients contained in a fragrance.
Designed by Frenchman Christophe Pillet, the machine is a jewel of technology made of polished metal and glass and is installed in Paris. The compact version is available at very selective locations around the world – including the only one in the Middle East at Bloomingdales in The Dubai Mall.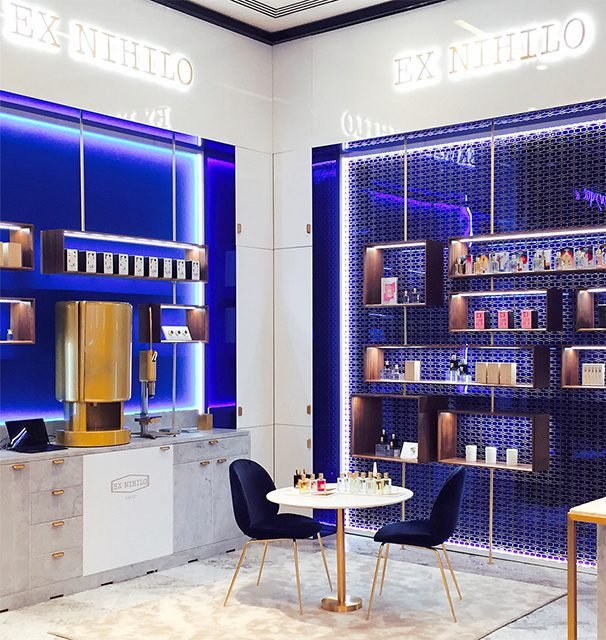 Defending a 'Techno Crafting' philosophy, the experience involves all the creations being weighed, filtered, bottled and perfected by hand, by one of the experts on-counter. The newly crafted fragrances will come with a numbered, stamped and signed certificate of authenticity.
Adding to the glass bottle, there is a selection of collectable engraved caps made of refined materials such as Mother of Pearl, Onyx and Buffalo Horn. The glass, upon demand, can also be personalised with a name, initials, a date, or a simple secret word.