Cole Haan, the American men's and women's high-end footwear and accessories brand has recently launched the Zerøgrand 48HR Backpack. As the name suggests, the bag is designed to be the ideal all-you-need companion for a two-day trip, be it a long weekend, or a mid-week business travel.
It is big enough to hold sufficient clothes plus a laptop and other essentials while being small enough to fit into overhead luggage compartments or under the seat; thus, eliminating the need for a second or oversized suitcase.
The bag has been designed with little details that make it practical while being constructed to be lightweight, durable and weatherproof.
The backpack opens fully, for effortless packing and access to the packed materials. There is an abundance of pockets throughout the backpack and are Neoprene-lined to securely house everything one may need, from keys to electronics and even size-ten shoes. Its interior is segregated into zippered, mesh zones to keep the clothes organized and to hold them securely in place during travel. There is a dedicated interior laptop sleeve big enough to fit a 17″ computer. Magnetic buckles keep things secure but within easy reach.
The backpack has anatomically mapped shoulder strap for a more comfortable fit. These straps can be stowed away and out of sight if one wishes to check-in the backpack as part of flight luggage. For further convenience, the backpack has a Pass-through sleeve which can be used slip the handle of a rolling suitcase through it, so that the backpack rests on top of the suitcase. This way, the backpack can be carried securely and conveniently along with the rolling suitcase as one unit.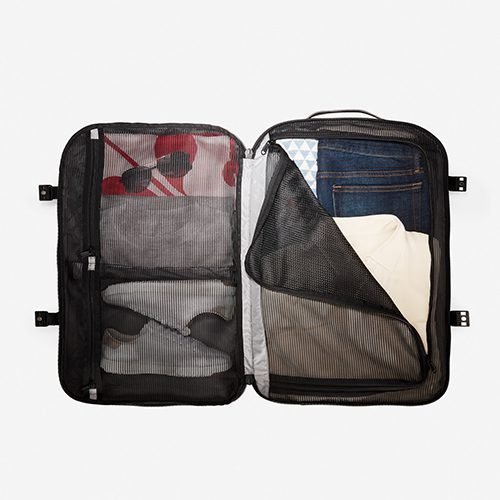 The backpack is made from a durable nylon material. The handles are made from leather and hardware are rubberized. The materials were selected and engineered, according to the brand, to keep the contents dry and secure in any weather conditions, be it sun, rain or snow. The exterior measurements of the backpack are: 33 x 56 x 24 cm.