1. Rent a whole private island in the Maldives with Crossroads.
The recently launched Crossroads Maldives is the Indian Ocean's first and only multi-island, integrated leisure destination. Its two award-winning resorts – SAii Lagoon Maldives, a Curio Collection by Hilton and Hard Rock Hotel Maldives – reopened their doors to guests on July 15, 2020, and have launched exclusive buy-out offers.

For ultimate privacy at both resorts, the entire island is now available for rent at USD 35,000 net per night inclusive of up to 50 rooms. With the Buy-Out Package, groups will be exclusively hosted on the entire island. The package includes breakfast, lunch and dinner in resort restaurants throughout the stay, non-alcoholic drinks during meals, exclusive return speedboat transfers from Velana International Airport and varieties of exciting signature group bonding activities with a private coach.

Hard Rock Hotel Maldives' safety and hygiene practices are amplified by the new SAFE+SOUND program from Hard Rock International in partnership with Ecolab and NSF that allows guest to discover Hard Rock's unique Authentic experiences that Rock.
SAii Lagoon Maldives follows Hilton CleanStay practices with experts from Mayo Clinic's Infection Prevention and Control team, and assisting in enhancing Hilton's cleaning and disinfection protocols.
2. Focus on physical health and wellbeing at your own SHA Wellness Clinic residence.
In the present circumstances, SHA Wellness Clinic's mission is more valid than ever, as they continue working to help people achieve health and wellbeing goals. These include strengthening the immune system, being in the best possible state of health to prevent disease, managing their weight, reducing stress and anxiety by rebalancing their emotional health, and getting into the habit of taking physical exercise to boost energy and performance.

SHA is characterized by its spaciousness, both in the public areas (over 36,000 square-metre distributed over six buildings that merge into the natural surroundings, and accessible to the privileged few), and private spaces. Peace and privacy are at the very heart of the guest experience, offering the perfect setting for guests to refocus on their wellbeing without worrying about close contact. Occupation capacity has also been limited in terms of both spaces and activities to far below their real capacity, in order to guarantee that each guest has the maximum amount of personal space and privacy.

SHA offers guests the opportunity to benefit from a good proportion of its wide range of treatments and services in the privacy and seclusion of their own residence. Everything from a massage, to a therapeutic treatment, a Vinyasa yoga lesson on their private terrace, or even a healthy cooking lesson. Ensuring even greater privacy, comfort and exclusivity, perfect for groups of friends, families or long-stay guests.
The residences are divided into three types (Garden, Premier and Penthouse), ranging from 300 square-metre to 500 square-metre and including facilities such as fitness rooms, treatment rooms, hammams or sauna. All the residences also boast spacious gardens and terraces with glass infinity pools, with a total of 82 metres of glass pools. The Penthouse residences feature a private Hammam, a cinema room and a spacious wellness room.

SHA has also implemented numerous measures to safeguard guests' health and wellbeing, whilst adhering to the standards of excellence and sustainability that inspire their brand. Among these includes the requirement of a PCR or IgM/igG test before arrival at SHA, a medical check-up upon arrival including an antibody test, heat-sensitive cameras throughout the facility and health kits for all the guests. The facility is now also offering medical and healthcare for guests during the stay, as well as full coverage of repatriation or medical transport of injured or sick patients and covering extended stay expenses due to medical quarantine. 


3. Stay in one of Verdura Resort's new private villas in Sicily this September
Taking advantage of the long Sicilian summer, Verdura Resort by Rocco Forte Hotels will launch eight beautiful new villas this September. Set on the estate's hillside that gently slopes towards the resort's private beach, the new villas will guarantee privacy and security for those who seek independent accommodation, but with the exclusive services that have made Verdura famous throughout the Mediterranean.
Guests of the new villas at Verdura Resort will be able to enjoy a series of services, including: private airport transfer, check-in at the villa, bicycles and golf buggies for exclusive use, and access to the golf courses and spa. Villa guests will also be able to speak with the dedicated concierge to unveil all the secrets of local life and select the best experiences on the island.
The resort has also announced a unique and restorative wellness programme this summer created by Dr Mosaraf Ali, an internationally renowned doctor and pioneer in integrated healthcare. The 10-day programme has been created to combat the physical and psychological issues developed during the COVID-19 lockdown. Dr Ali's 10-day programme will be available from 1-10 September 2020.

4. Experience the Prince Rainier III suite – one of the most exclusive suites in the French Riviera.
The 525 square-metre Suite Prince Rainier III includes two bedrooms, a large main lounge with a bar area, a smaller lounge and a library, a dining room and an office space. It can be extended to 600 square-metre with a third connecting room. Each bedroom has a private bathroom with a steam room shower, a blend of brightness, marble and transparency. The Suite also contains a glass-walled sauna that opens onto the Mediterranean sky.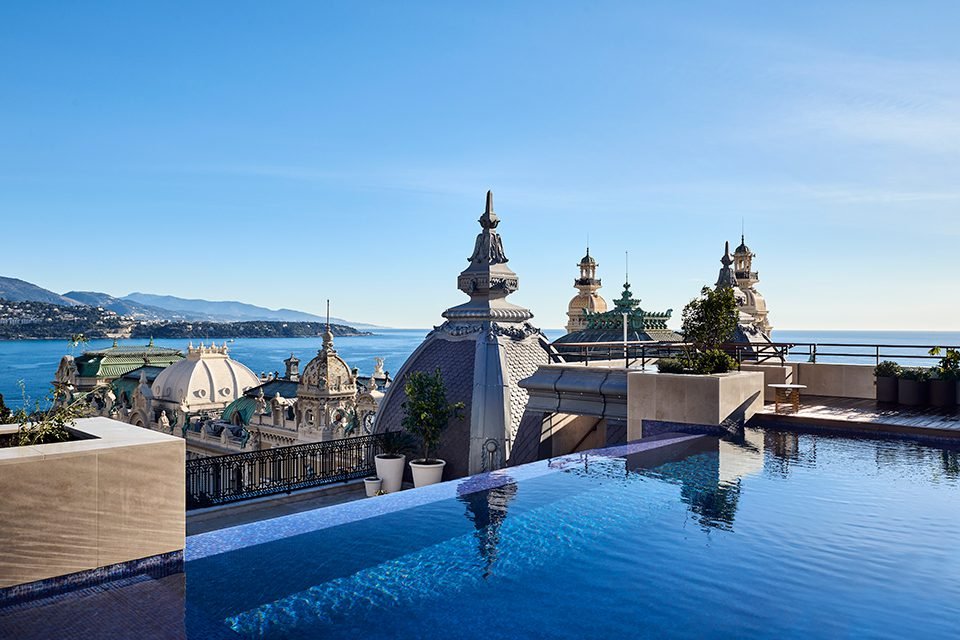 The Suite opens onto a superb 135 square-metre split-level terrace overlooking Place du Casino. The first level is home to a heated infinity-edge swimming pool measuring 10m x 3.70m. The pool is framed on either side by a staircase that leads to the lower level terrace offering unrivalled views over Place du Casino and from where guests can enjoy the beauty of Monaco… without being seen!

The Suite offers a set of tailor-made luxury services provided by a dedicated team of private Clefs d'Or concierges at the entire disposal of guests of the Suite. Valets, housekeepers, cooks, sommeliers and maîtres d'hôtel are also committed to making the Hôtel de Paris Monte-Carlo experience totally unforgettable. Each guest is welcomed at the airport or heliport, with welcome gifts and personalized touches. Guests also have access to bespoke treatments at the Thermes Marins Monte-Carlo in winter and a beachfront tent on Monte-Carlo Beach in summer.
Hôtel de Paris Monte-Carlo held a special place in the life of Prince Rainier III and Princess Grace. In 1956, their wedding breakfast was served at the hotel; 20 years later, they celebrated their wedding anniversary there; and in 1974, Prince Rainier celebrated the 25th year of his reign at the hotel with great pomp. Hôtel de Paris Monte-Carlo now pays tribute to Prince Rainier, giving his name to this new, exceptional Suite.
Monte-Carlo Société des Bains de Mer is following the Covid-19 epidemic very closely and is focused on ensuring the health and safety of employees and customers. For information on health & safety measures, please use the following link.