To perfect the journey, TUMI constantly pushes forward with elevated designs that combine luxurious materials and refined functionality to meet the evolving travel needs of travelers everywhere. In TUMI's latest campaign, the brand has collaborated with passionate traveler and popular Saudi Arabian influencer Dr. Hassan Ghoneim. He shares his favorite picks for his journeys all over the globe.
Dr. Hassan appreciates all the details that go into his many travels. In new imagery and video, Dr. Hassan is captured with the Alpha Bravo Sheppard Deluxe Brief Pack and TUMI Merge International Expandable Carry-On in Brushed Blue for an effortlessly laid-back look.
Featuring a wide paintbrush stroke on the front panel and bold blue details, the new seasonal Brushed Blue adds an artistic touch to the Alpha Bravo Sheppard Deluxe Brief Pack and TUMI Merge Carry-On. Exceptionally durable and organized, the Alpha Bravo Sheppard Deluxe Brief is the perfect backpack for everyday essentials and all your digital devices with thoughtful touches such as a waterproof pocket for a water bottle or umbrella. Lightweight with a more laid-back attitude, the TUMI Merge International Expandable Carry-On combines design and functionality in an expandable silhouette with convenient quick-grab top pocket and dual swivel wheels. Together, the pair form a striking combination for adventures near and far.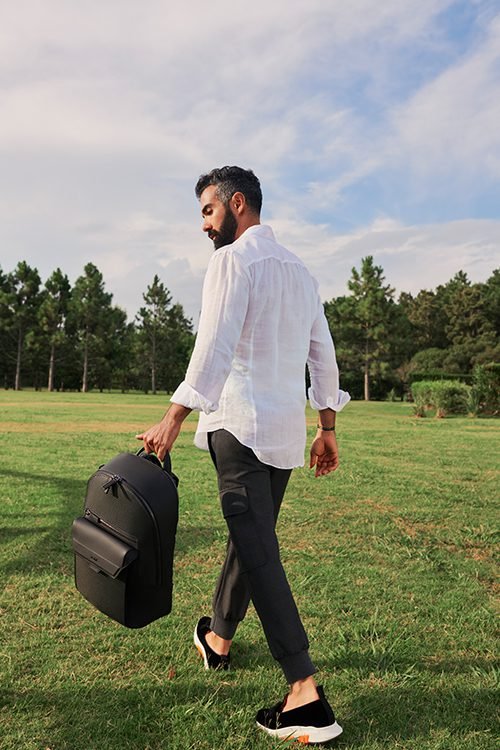 On Dr. Hassan's journeys, a sophisticated travel companion is a must. The Ashton Marlow Backpack in Carbondelivers relaxed luxury with a sporty and urban vibe that makes it perfect for work, weekends, and everywhere else. With a padded tablet pocket and media pocket with protective lining, the Marlow is a smart choice that delivers a sleek and stylish look.
For occasions that call for timeless style, Dr. Hassan turns to Alpha 3. In TUMI's signature FXT® ballistic nylon, the spacious, well-organized Alpha 3 Brief Pack is an iconic piece that features numerous interior and exterior pockets to ensure a seamless travel experience. Bringing together innovative design, superior performance, and best in class performance, the Alpha 3 Brief Pack in new Black Chrome has an understated luxury with features such as refined leather handles, an updated luggage tag with elegant chrome accents and chrome zippers.
When making a bold style statement, Dr. Hassan looks to the 19 Degree Aluminum in a modern newBanyon Leaf colorway. A true standout, the 19 Degree Aluminum in Banyon Leaf offers luxurious design that is sure to turn heads. The case's beautifully contoured angles are complemented with an elegantly appointed interior and elevated details including a custom-designed luggage tag and leather wrapped handles.
Dr. Hassan's favorite TUMI travel companions are available at TUMI stores and online at TUMI.com.