After New York and Geneva, Christie's regional watch team have announced The Dubai Edit, an online sale which will be replacing the traditional annual live Important Watches auctions. The sale will offer 161 lots and represents the most valuable online watch sale ever offered with a mid-estimate of US$5,000,000.
Watches will be available for viewing at Christie's Dubai office in DIFC by appointment only from the 15th to 29th of October from 10 am to 8 pm on weekdays and from 1 pm to 8 pm during the weekend.

Each specialist of the watch team will be presenting 2 to 3 watches, which in their views would correspond perfectly with the novice, advanced and mature collector.
For the novice collector, Mathieu Ruffat has selected two Rolex watches to have a closer look at. Matthieu joined the team in 2018 as an intern and holds today the position as a junior specialist. He gained some additional experience in Hong Kong, where he was based earlier this year.

LOT 23
ROLEX, GOLD DAY-DATE, REF. 18238 – MADE FOR THE UNITED ARAB EMIRATES ARMED FORCES, C. 1994
ESTIMATE: US$ 12,000-18,000
Vintage Rolex watches with original specially produced signed dials for Middle Eastern rulers are amongst the most desirable of all to collectors. A primordial region for fine watchmaking, the Middle-East has encouraged manufactures throughout the years to create special order timepieces for Royal families or wristwatches with characteristics tailored for the region. The present timepiece is a very rare example of a Rolex Day-Date model supplied to the United Arab Emirates armed forces. Its champagne dial features their emblem which consists of a golden falcon, the UAE flag, and seven stars representing the federation of seven emirates. When found in such remarkable overall condition, these very rare timepieces are considered by many as trophies of any important Day-Date collection.

LOT 154
ROLEX, STEEL SUBMARINER WITH POINTED CROWN GUARDS AND GILT DIAL, REF. 5512, C. 1961
ESTIMATE: US$30,000-50,000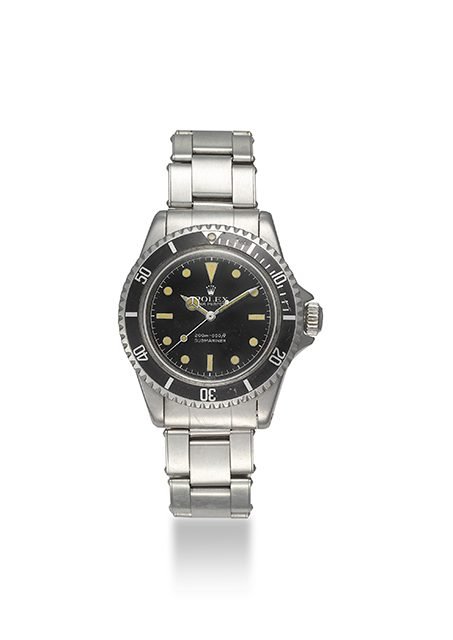 The present Submariner reference 5512 reveals the best of all ingredients this landmark model can possibly offer to the avid collector. Aside from the aesthetic appeal, the timepiece features the sought after Pointed Crown Guards also referred to as "cornino" by Italian Rolex enthusiasts and the rare and much sought after black gloss dial with two lines gilt printing. The watch features a perfectly glossy dial, like a mirror that in combination with a light tropicalization gives the watch a remarkable vintage look. For Rolex collectors, this is certainly one of the rarest and most desirable variations of the reference 5512.

For the advanced collector Bob Xue, Associate Specialist and for four years with Christie's, has selected a Patek Philippe Nautilus and another Rolex, this time reference 1802.

LOT 26.
PATEK PHILIPPE, STEEL AND GOLD NAUTILUS, REF. 3700, C. 1982
ESTIMATE: US$25,000-35,000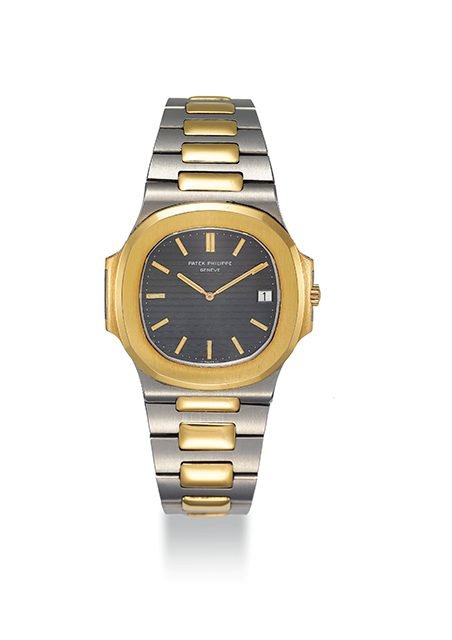 The Nautilus, designed by Gérald Genta, is one of Patek Philippe's most recognizable and most popular models in today's market. Its case shape has remained practically unchanged from its introduction in 1976 until today. In 2016 Christie's curated a special sale to mark the 40th anniversary of the model, by offering 10 Nautilus timepieces in each auction location, kickstarting with Dubai and followed by Hong Kong, New York and Geneva. The present Nautilus is an excellent representative of the exceedingly rare ref. 3700/11 AJ, launched in 1980 and produced in a very small series only. According to our research, less than 300 examples of the model were made, rendering it much rarer than its stainless-steel counterpart. To date, only around 20 Nautilus ref. 3700/11AJ have appeared in public.
LOT 91.
ROLEX, GOLD AND DIAMONDS DAY-DATE WITH YELLOW STELLA DIAL, REF. 1802, C. 1970.
ESTIMATE: $120,000-220,000
The present reference 1803 is an extremely well-preserved representative of the famous Rolex model and undoubtedly one of the most beautiful and desirable of all the Rolex Stella. The watch is enhanced by its magnificent intact and vibrant yellow coloured 'Lacquered Stella' dial enriched with 8 round cut diamonds indexes and two baguette-cut diamonds. The lacquer dial of the present watch is of the most vivid shade of yellow that can be imagined comparable to Chinese "Imperial Yellow". Furthermore, yellow is considered the most beautiful, prestigious and highly prized colour amongst stella dials of which no two are the same shade. Adding rarity, the present specimen is furthermore offered with its original Certificate of Guarantee stamped by the retailer Guillerro Tello R. of Samborns Madero.

For the mature collector Remy Julia, Director of the Dubai Watch department and responsible for the sale has selected a Rolex MILSUB submariner and 1 of 5 publicly known reference 902 by Patek Philippe.
LOT 155.
ROLEX, STEEL SUBMARINER "MILSUB", REF. 5513/17- MADE FOR THE BRITISH ROYAL NAVY, C. 1977.
ESTIMATE $140,000-240,000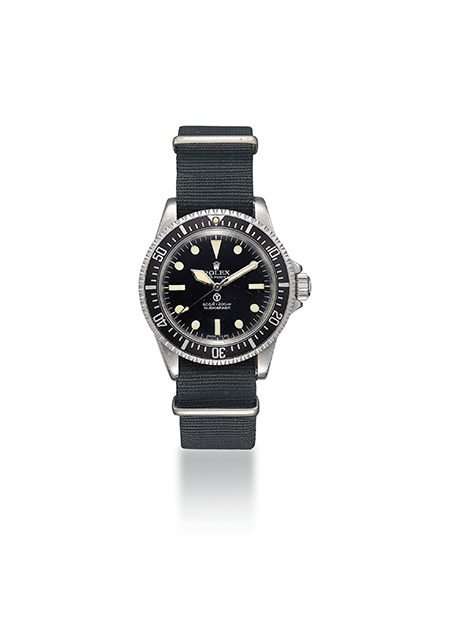 The present "Milsub" reference 5513 reveals the best of all ingredients this landmark model can possibly offer to the avid collector. The untouched dial is graced by the highly attractive discolouration of the luminous material to numerals and hands displaying a beautiful, uniform ivory tone. The Military version of the Submariner ref. 5513 was adapted following the specifications requested by the British Ministry of Defence. The watches had to be fitted with fixed bar lugs with a diameter of 2 mm. The dials had to be easily readable. They also had to show the international symbol for Tritium; the encircled "T". The outside of the case backs was marked with the military broad arrow sign, Ministry of Defence issue numbers and unit number.

LOT 90.
PATEK PHILIPPE, GOLD, DIAMOND, PEARL AND RUBY-SET SKELETONIZED KEYLESS WATCH, REF. 912, C. 1980.
ESTIMATE $35,000 – 50,000
This is one of the rarest and most desirable of all Patek Philippe's skeletonized watches. Stunningly proportioned and supremely elegant, this reference 912 is one of only five examples known publicly. A true masterpiece of both the watchmakers and jewellers art, the impressive 48 mm diameter case is set with diamonds and pearls, yet at the same time, it is incredibly thin. The entirely visible movement has been fully skeletonized and richly hand-engraved, to add to its delicacy and sophistication, it displays five-spoke wheels, and the Patek Philippe 'Calatrava' emblem forms the spring barrel casing. Undoubtedly one of the most precious and richly decorated of Patek Philippe's 'Haute Joaillerie' timepieces, this watch will impress even the most exacting and discerning of collectors.

DUBAI SALES CALENDAR AUTUMN 2020
| | | |
| --- | --- | --- |
| Title | Viewing period | Bidding period |
| Watches Online: The Dubai Edit | 10-14 October | 15 Oct – 29 Oct |
| We Are All Beirut | 4-10 November | 11-24 November |
| Middle Eastern Modern and CTA Art | 4-10 November | 11-24 November |
| Matters of Material | 4-10 November | 11-24 November |