"We need colour to live. It's an element as necessary as water and fire." So said legendary architect and colour theorist Le Corbusier. The Rado Golden Horse Automatic combines all three of these essential elements for an enduring piece that is guaranteed to stand the test of time.
The green dial is like a cool, refreshing pond or the dew on the grass in a garden on an autumn morning. The fire is represented by the bezel in polished plasma high-tech ceramic. Made by treating finished high-tech ceramic pieces in a special oven where a plasma column heats to 20,000°C, this pioneering process creates super scratch-resistant pieces with a warm metallic glow that will never fade.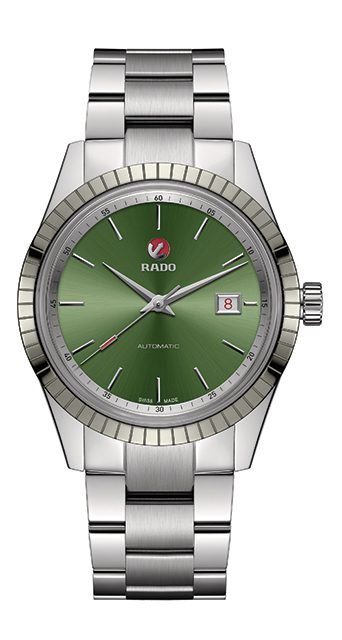 It's a contrast to the cool look and feel of the stainless steel case. It's a two-tone colour combination that is typically Rado.
The Golden Horse Automatic was inspired by the very first collection presented under the Rado name in 1957. It was an early demonstration of our leadership in presenting watches as personal style statements and, more than 60 years later is a demonstration in versatility. Thanks to our Easy Clip system, the three-link stainless steel bracelet can be changed quickly and easily with no need for tools.
Combining the three elements Le Corbusier identified as essential to life and the three elements – design, materials and technology – that are signature Rado, the Golden Horse Automatic combines the past, present and future of Rado. You can feel it!