Masterminds in freezing time, Berd Vay'e offers an exclusive look into the secret inner-workings of watchmaking through its newest, limited edition offering for 2019. Its newest creation – "Hallucination" – is quite literally a jaw-dropping skull sculpture psychedelically positioned within a secondary exterior sculpture – a formidable and translucent cube of precious Lucite®.
The production process for "Hallucination" expands upon Berd Vaye's signature artistic methodology, developing the brand's repertoire through the creation of this new "2 – in -1" sculpture. Within "Hallucination" the storied history of horology is both preserved and reimagined simultaneously. The imaginative minds of the Berd Vay'e artisans are perhaps best known for their signature sculpture, "Lost in Time" – a smooth Lucite® skull with watch parts within it to represent an active mind. "Hallucination" pushes this theme to the next level, convincing the eye to question what it sees within.
The production process for "Hallucination" takes double the time of any existing sculpture within the Berd Vay'e assortment of modern art – further exemplifying this new offering's stature as "2 sculptures in 1." The creation process takes a full 3-4 days with layers of Lucite® being carefully cast to ensure no air bubbles and providing a natural magnifying effect to better view the vintage watch parts within.
First, a mold of the skull is shaped in crystal clear Lucite® – but this time approximately 1,000-1,500 meticulously sourced vintage watch components are painstakingly hand-placed along the curvature of the exterior layer. The interior sculpture is then baked in highly pressurized 1,000° Oracle oven.
The complexity of the craftsmanship is then multiplied as the 3-D component covered skull is "frozen in time," submerged and baked within a 39 pound cube of Lucite®. Both the cube and skull within fuse together in crystal clear harmony to create an art-turned-conversation piece like nothing you've seen before. The large exterior cube appears to tumble through time, resting remarkably mid-air, showcasing a jawdropping, angular display of the watch component-encrusted skull within.
"Hallucination" is offered in one large size, measuring 9.5 inches x 9.5 inches x 9.5 inches – the same size as the large "Time Squared" sculpture for those already familiar with the Berd Vay'e collection. This limited-edition piece is reserved to 999 pieces and the retail value is $6,900 USD.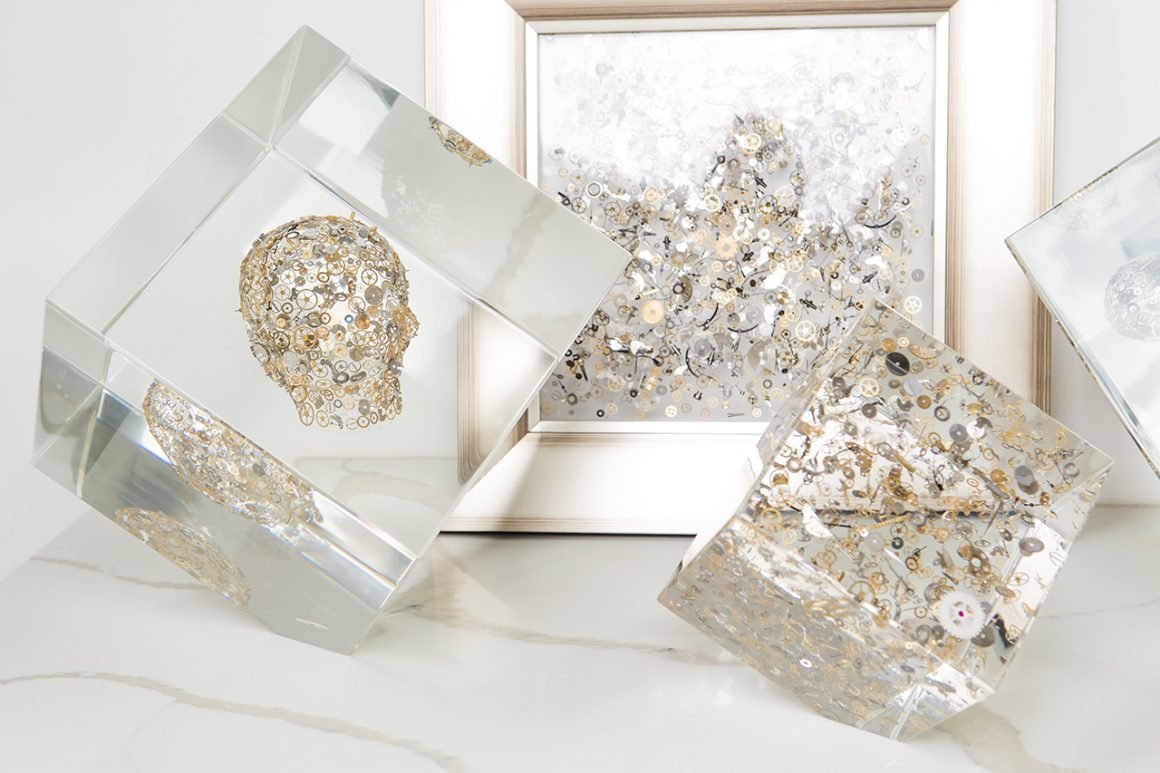 Each Berd Vay'e piece is numbered and features accompanying gloves and a .925 silver plaque a designed to depict a jewel from a mechanical watch gear. A Certificate of Authenticity bearing the sculpture's production number is included. Berd Vay'e sculptures are available from authorized dealers worldwide, including: Govberg, London Jewelers, Westime, and Cellini in the US, along with many more.