Davidoff Cigars has commissioned renowned French marquetry artist Rose Saneuil to produce two limited edition humidors as part of its Masterpiece collection.
Rose Saneuil trained at École Boulle, the renowned French School of Fine Arts and Crafts and Applied Arts. She is the only one to have mastered the craft of mixing different materials within one piece of marquetry, resulting in exceptional aesthetics. In addition to collaborating with numerous prestigious brands, including Swiss watch manufacturers, she has previously collaborated with Davidoff on two occasions: for the Masterpiece humidor Damajagua in 2017 and Terroirs in 2019.

"Collaborating with artisans and artists mastering unique skills is not only a cornerstone in our innovation strategy but always a possibility for us at Davidoff to learn, get inspired and expand our creative horizons," says Edward Simon, Chief Marketing Officer of Oettinger Davidoff AG.
Zino Davidoff, the brand's founder, pioneered the first humidor so that cigar-lovers could store their prized possessions safely and without compromising on their quality. Innovation in the craftsmanship and the science of humidors has gone hand-in-hand ever since.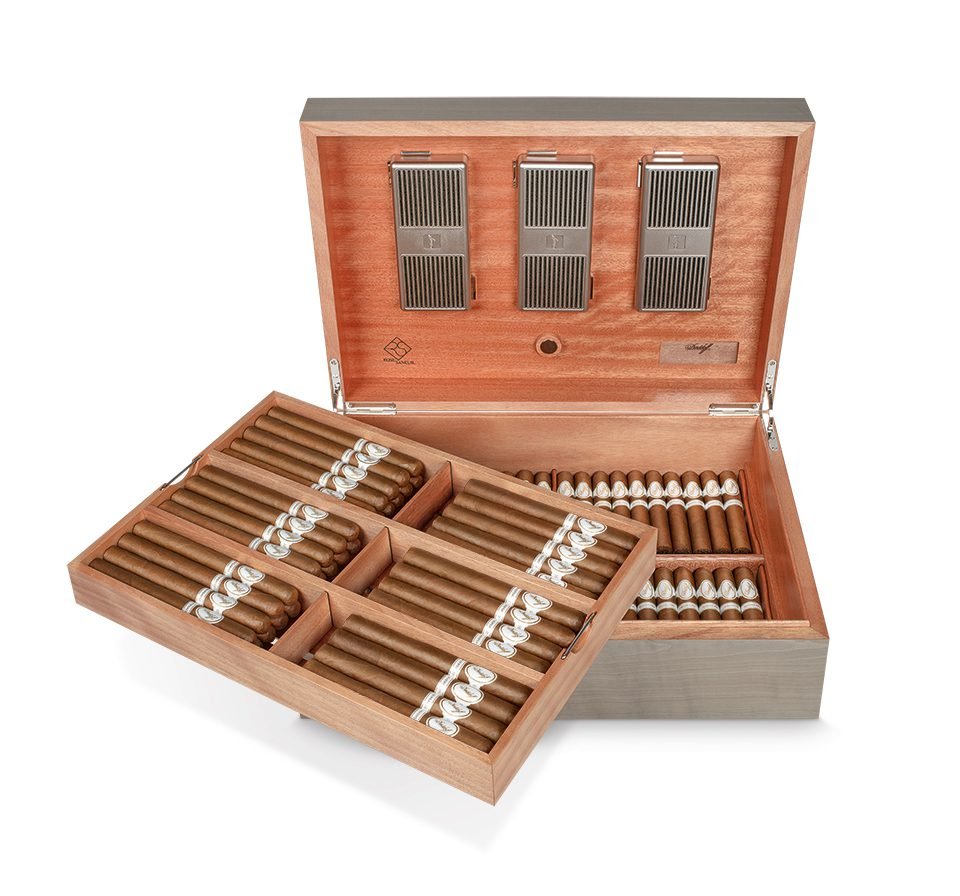 The Masterpiece humidor series I – scheduled for release in September and limited to eight pieces – presents an abstract representation of a sunset. For her design, Saneuil combines exclusive materials such as gold leaves, tobacco leaves, mother-of-pearl, parchment, along with woods from sycamore, walnut and wenge trees. The body of the humidor is crafted from pearwood in a grey tint.

The Masterpiece humidor series II – scheduled for release in November and limited to twelve pieces – is designed to produce a shimmering effect through a combination of the darker colours of tobacco with the vibrant golden hues that reflect warmth. The choice of materials include gold leaves, tobacco leaves, mother-of-pearl, parchment and woods from vavona burl and sycamore trees. The body of the humidor is from precious Macassar wood, treated to reflect a richer and more vibrant appearance.
The interior of both humidors, series I and II, are identical. They are made of Gabon wood, known as okoumé, from central West Africa. This wood was specifically selected because it is odourless and tasteless, and therefore, will not adulterate either the aroma or the flavour of the cigars. The okoumé is hand varnished to seal and regulate the humidity more effectively. Each humidor is equipped with three proprietary Davidoff De Luxe regulators which guarantee the stable humidification between 70 and 72%. With dimensions of 550 x 356 x 180 mm, each humidor can hold 190 to 250 cigars with one removable tray.

Each humidor is accompanied by 50 unique Davidoff Masterpiece Series I cigars, blended by Davidoff's Master Blender exclusively for this series. Each of these Toro cigars (15.2 cm x 2.1 cm) are wrapped in Habano Ecuador (5 years) while the binder is Davidoff 702 (7 years), also from Ecuador. The fillers are: San Vicente Ligero (6 years), San Vicente Seco (8 years), Piloto Ligero (7 years), Hybrid 192 Volado (8 years) and Yamasa Visus (13 years); all from Dominica. Strength: 3.5 out of 5.
The blend pleases with notes of spice, leather and wood deriving from the well-aged Dominican filler tobaccos. The aroma is on the sweeter end, with elegant notes of toffee and the retro-hale reinforces the woody and spicy notes. In the second third, the interaction between the Ecuadorian wrapper and binder delivers creaminess and black coffee notes with hints of prune. In the last third, the aroma becomes much creamier, still with notes of wood, spice and cacao.