There is no other way to explore nature better than being in one of the world's most exceptional natural locations. Cushioned in the foothills of the breathtaking Virunga volcano range, One&Only Gorilla's Nest offers an exclusive front-row seat to observe endangered mountain gorillas in the wild.
With the Government of Rwanda announcing that local residents are now able to trek to see the mountain gorillas at Volcanoes National Park again, GCC travelers can begin dreaming of the next encounter with the majestic mountain gorilla once borders are open. The park is home to the highest number of mountain gorillas, as well as five dormant volcanoes and, is categorized as a rainforest because of its montane ecosystem.
Located just two and a half hours from Kigali International Airport, guests can appreciate the scenic drive through rolling hills of the countryside and fascinating towns or be able to take a breath-taking 25-minute flight in a helicopter departing from the airport and landing at the resort's private helipad.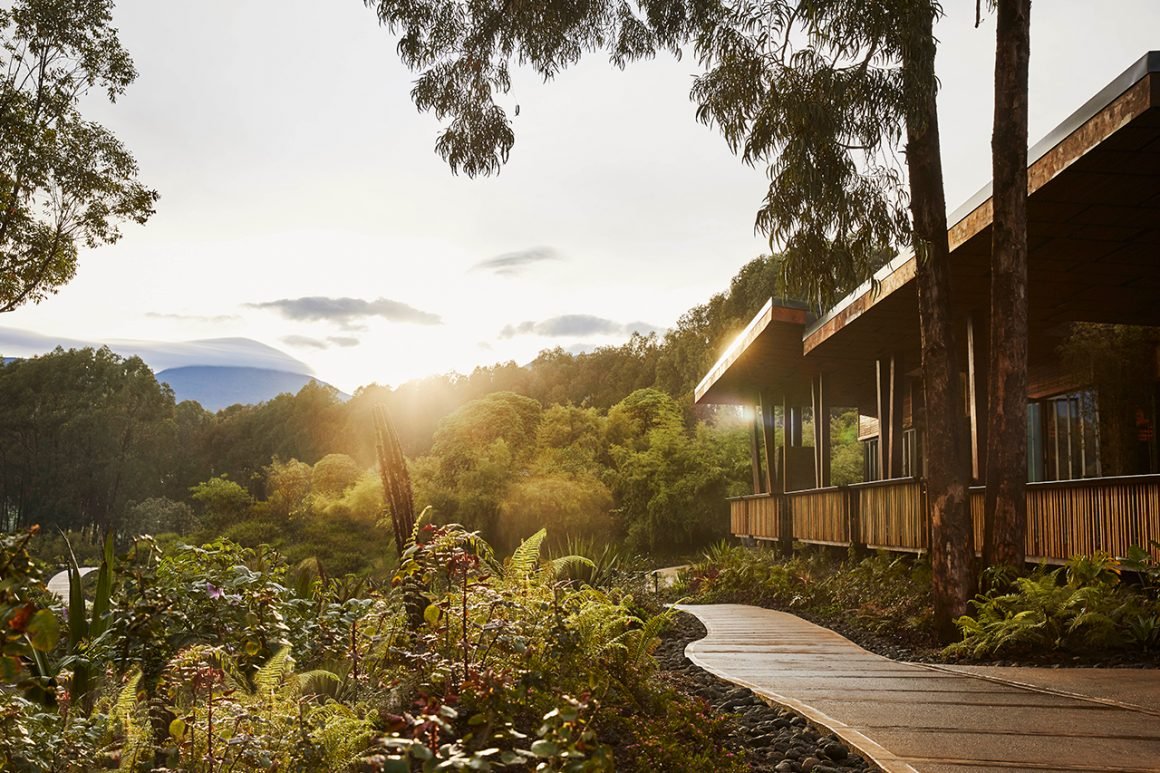 Beautifully designed private sanctuaries seamlessly blend with the location and offer an intimate collection of 21 jungle-chic havens. Featuring 10 Forest King Lodges, four Two-Bedroom Forest Lodges, five Virunga Suites, one Ingagi and Silverback Suite, each space is designed to frame nature, surrounded by Eucalyptus trees and strategically positioned on stilts. Private decks and in-room fireplaces provide guests the opportunity to live amongst the endless landscape, inviting the outside in, and allowing for a truly unforgettable African experience. Suites offer spacious living and dining areas, as well as a true natural experience with outdoor bathtubs high amongst the trees, offering ultimate privacy. Each lodge design is modern with an African contemporary feel, showcasing the hues of the surrounding vistas, and colours of the earth and natural, local volcanic rock, with touches of black and white Rwandan imigongo patterns.
Guests can enjoy meals in the main restaurant, Nest, offering dining both indoor and out, as well as offer a private dining area for up to 22 guests. Executive Chef Bryan English and his team focus on local and organic ingredients, making use of the abundant produce from local farmers as well as his own Chef's Garden. Similar to One&Only Nyungwe House, the culinary team develop new menus daily with a focus on Rwandan and African influences, based on guests' preferences and dietary needs. Private outdoor dining experiences, barbeques and picnics are also an option for guests, as well as at the Pool Bar throughout the day.
The One&Only Spa, in partnership with South African brand, Terres d'Afrique, offers guests holistic treatments using plant-based African ingredients and provides two treatment suites in a private building. Guests have the opportunity to select treatments tailored to a specific area of the body. Three signature treatments, only found at One&Only Gorilla's Nest, pay homage to the location, taking inspiration from the local community and surroundings. Guests also have access to Club One, offering a relaxation room, an open-air heated pool and plunge pool, as well as the Fitness Centre with steam room and sauna, and the Pool Bar offering healthy options with fruit juices evolving into evening cocktails.
In addition to the iconic gorilla trekking, guests of the resort can also immerse themselves in both the wildlife and the history and culture of Rwanda through a curated selection of unforgettable experiences such as – hiking to spot golden monkeys through the jungle canopy, birdwatching, traversing the ancient Mount Bisoke in a challenging 8-hour hike or being immersed in the colorful fragrant rose garden at the resort.
The resort also offers a wide range of complimentary activities, for guests to truly enjoy the outdoors, ranging from early morning trail runs to fascinating nature walks, calming yoga overlooking the wild vistas and outdoor movie screenings under the stars.