French Haute Parfumerie Henry Jacques officially opened its first boutique in the USA last month. Located on Beverly Hills' prestigious Rodeo Drive, the new boutique is the maison's seventh retail point, joining others in UAE, Qatar, Singapore, UK, Malaysia and France.
The bespoke house was founded nearly half a century ago, known among connoisseurs for its pure perfumes and essences hand-crafted exclusively with natural components. Still in the hands of its founding family, Henry Jacques is now pleased to share its creativity and savoir-faire with a new audience.
"For Henry Jacques, to arrive in Beverly Hills is like finally reaching a destination. Perfume lovers here have supported us for decades and were longing for this opening. It is a true achievement," says Anne-Lise Cremona, CEO of Henry Jacques and daughter of the founder. "On a personal level, it is a very powerful moment as I spent time in Beverly Hills as a young girl with my family; seeing such a magnificent Henry Jacques boutique here now is truly emotional."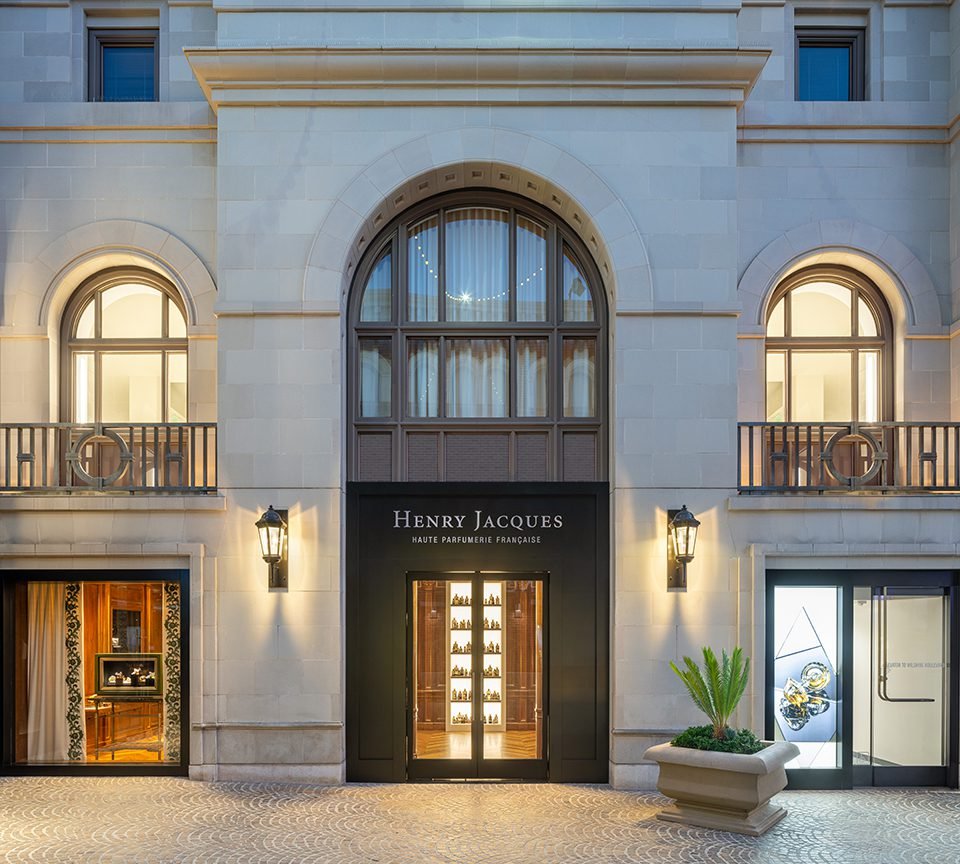 The Beverly Hills boutique is designed by Henry Jacques Artistic Director Christophe Tollemer in the spirit of a classical 19th-century French apartment. Like the perfumes themselves, the boutique's décor combines traditional with thoroughly modern elements, resulting in a timeless appeal.
The boutique fronts the pedestrian-only cobblestone courtyard of Two Rodeo, on Rodeo Drive. It is fronted by large windows, offering visitors a generous glimpse of the tranquil atmosphere inside. Upon entering the boutique's reception room, one is greeted by solid old oak wood walls and cabinets. The flooring, in a chevron pattern, provides the first sense of being transported to a refined residence. The embellished matte gold ceiling features a Corian "catwalk" that draws all eyes to the beating heart of the boutique: the illuminated Corian perfume organ. Flanking this wall of flasks, beakers and containers are symmetrical Corian niches that house hand-blown crystal flacons filled with Henry Jacques' "Les Classiques" fragrances.
A VIP room features more of the soft comforts of a luxurious residence. This intimate and relaxed setting is elegant, comfortable and discrete, allowing clients to discover the perfumes at their own pace. The space, in general, is designed to reveal more over time; hidden cabinets or secret drawers. A prominent double-sided leather display chest protects the precious Masterpiece perfumes, historic flacons and collectors' accessories.
Henry Jacques, USA, is located at 204 North Rodeo Drive, Beverly Hills, California. Further boutiques are set to open in 2021, with planning currently underway for Hong Kong and a new UAE project in the pipeline.