Max Poglia is a designer who has managed to carve out a niche for himself. His handcrafted products are of such a high quality that his customers, distinguished in their own right, are willing to wait for up to three months or more to get their hands on one of them. They are willing to wait because, according to Max, they "value the craftsmanship" and "the story" behind each piece.
Offered under the Poglia brand, Max handcrafts knives, vegetable-tanned leather bags, loom-woven blankets and accessories such as corkscrews, bottle openers and candles, among others. In addition to his own designs, Max entertains bespoke commissions for discerning clients, which sometimes comprise entire sets for restaurants or homes.
Born and raised in Southern Brazil with Italian heritage, Max's creations have an intentional focus on his heritage, and to "simpler times." It all began soon after Max and his wife, model Cecilia Timm, moved from Milan to New York in 2008. He had earned a degree in advertising and was searching for a suitable position.
While on vacation in his native region of Southern Brazil, he decided to design the "perfect" picnic accessories – a bag to carry the meal, a blanket to spread on the grass, and a knife. Max credits his know-how to his grandfather, who owned a hardware store for more than 50 years. Among Max's proud possessions are the knives his grandfather made for his store's 35th anniversary. Back in New York, when Max presented his picnic-themed set to friends, the word got around, and he started receiving requests.
Every piece created by Max is unique. They embody his love for "imperfect beauty," and are based on his principle of "ethics and aesthetics."
Max does not draw inspiration from what's popular but by letting his mind and hands wander over a sheet of paper. He brings his designs to life based on whatever martial is available at hand. Any imperfections are not brushed over but highlighted. If a blade breaks, rather than being discarded, it is turned into a pocket knife. The idea behind Max's "imperfect beauty" is to keep things as simple and organic as possible.
This leads naturally to Max's principle of "ethics and aesthetics." He uses only recycled or organic materials sourced from local farms in the South of Brazil. Steel reclaimed from abandoned agricultural tools like plough disks is Max's primary source of old carbon steel. This material offers better strength, durability and a unique blade finish that is impossible to replicate. For the knife handles and other decorative elements, Max uses reclaimed Brazilian hickory wood as wells as the horn and bone from buffaloes and cows reared in the traditional Gaucho farms.
Each knife is handcrafted in Brazil. The knife blade is cut and forged from the reclaimed steel by a second-generation master blacksmith. It is then worked on by a small team of local artisans. Max oversees the entire process before applying the final finishing touches himself in his workshop in New York.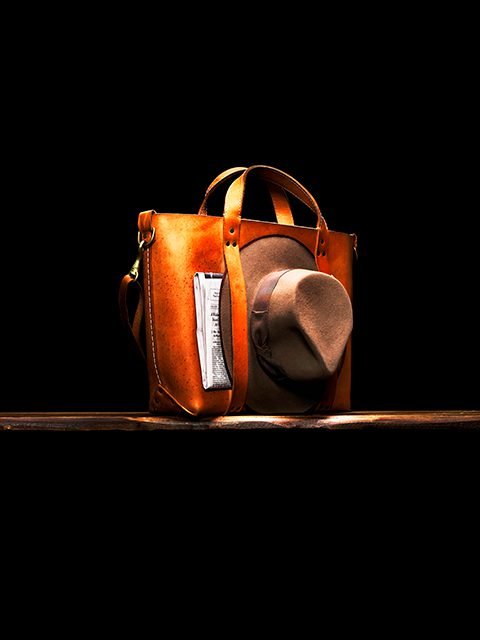 Poglia bags are handmade by a family-owned workshop in the South of Brazil. Each bag is made with one-half of a vegetable tanned cow-hide leather. That means fewer seams and improved overall durability. The leather is designed to develop its unique patina and finish as it ages. However, this process can be expedited if required through a signature weather-ageing process. Poglia's vegetable-tanned leather is certified by LWG GOLD, which assesses the environmental compliance of leather manufacturers and promotes sustainable environmental practices.
As with the other Poglia products, all original markings and natural imperfections in the leather are preserved to highlight its uniqueness and integrity. Any leftover leather scraps are used to make leather sheaths for the Poglia knives or small accessories with near-zero waste.
Max primarily sells his products through online channels. He unveiled his first collection under the Poglia brand at Buvette, the acclaimed restaurant with locations in New York and Paris. He also designed the restaurant's visual identity in collaboration with its founder and Chef Jody Williams. In 2013, Max produced a Poglia collection exclusively for the two restaurants of BedfordPost, a charming inn owned by Richard Gere. Max has since collaborated with Clos19 of the LVMH Group, Barneys New York, and The Explorers Club, along with accruing high-praise from critics.