Imagine going on a holiday in the Arctic circle and staying in the only accommodation for miles around. One would imagine absolute isolation, miles from anywhere. One would expect a bare-bones rustic accommodation, having to do basic cuisine, and lacking any of the conveniences of the modern world. That is what one would imagine. However, at the newly completed Octola Private Wilderness, reality defies one's imagination. With a list of high-profile guests, including members of European Royal families, with two years of bookings already logged and a rigorous "guest selection" process, Octola is not your typical Arctic getaway.
Octola is a super exclusive, ten-suite eco-luxury chalet nestled in the middle of a 300-plus hectare private wilderness reserve in the Finnish part of Lapland; above the Arctic Circle at 66-degrees latitude. Despite its remote location, the hotel is just 20-minutes from Rovaniemi International Airport and has a private helipad. Rovaniemi airport is six-and-a-half-hours of direct flying time from Dubai and within three-hours from London, Paris or any of the other major northern European towns. Octola was conceived to offer the ultimate combination of seclusion and tailored luxury services.
"Part of my philosophy of luxury in Lapland is to be secluded, far from the crowds, and to be at one with nature, but with access to every conceivable private service and comfort." – Janne Honkanen, Founder of Octola.
The resort comprises just one self-contained building. It was, says Honkanen, "passionately conceived and realised according to the style of Lapp and Sámi tradition. From the beginning, I wanted the contribution of a Sámi architect, who understood my philosophy of "new luxury." Octola's shape is derived from traditional Lapp 'laavu' buildings, that in the past used to provide shelter for the people living the nomadic lifestyle."
At Octola, one does not book a suite but a wing or the whole chalet. The building has two wings, one with four-suites and another with six-suites. In the centre is a common area which includes the lounge, dining area and other amenities. Irrespective of whether one books the entire chalet, or either of the wings, the rates are all-inclusive. Guests are taken care of by a team of discreet local staff trained to fulfill every need, and includes a private butler and a wilderness guide.
A private gym, fitness centre, unique hand-carved wood-burning sauna are among the indoor facilities. Outdoor activities are headlined by guided snowshoe excursions in search of the Northern Lights – the best periods for viewing is between September and April. Other outdoor activities include cross-country skiing, tobogganing, husky sledging, snowmobiling, winter ice driving and even private visits to Santa Claus.
Guests are served the freshest food cooked to one's liking. The ingredients are sourced locally according to the eight-Arctic seasons of Lapland and consist mainly of game, wild plants, berries, mushrooms and fish. All ingredients are ecologically gathered from nature and served at the table by Octola's own Michelin star Chef. Every dining experience is complemented by wines chosen by one of the top sommeliers in Finland.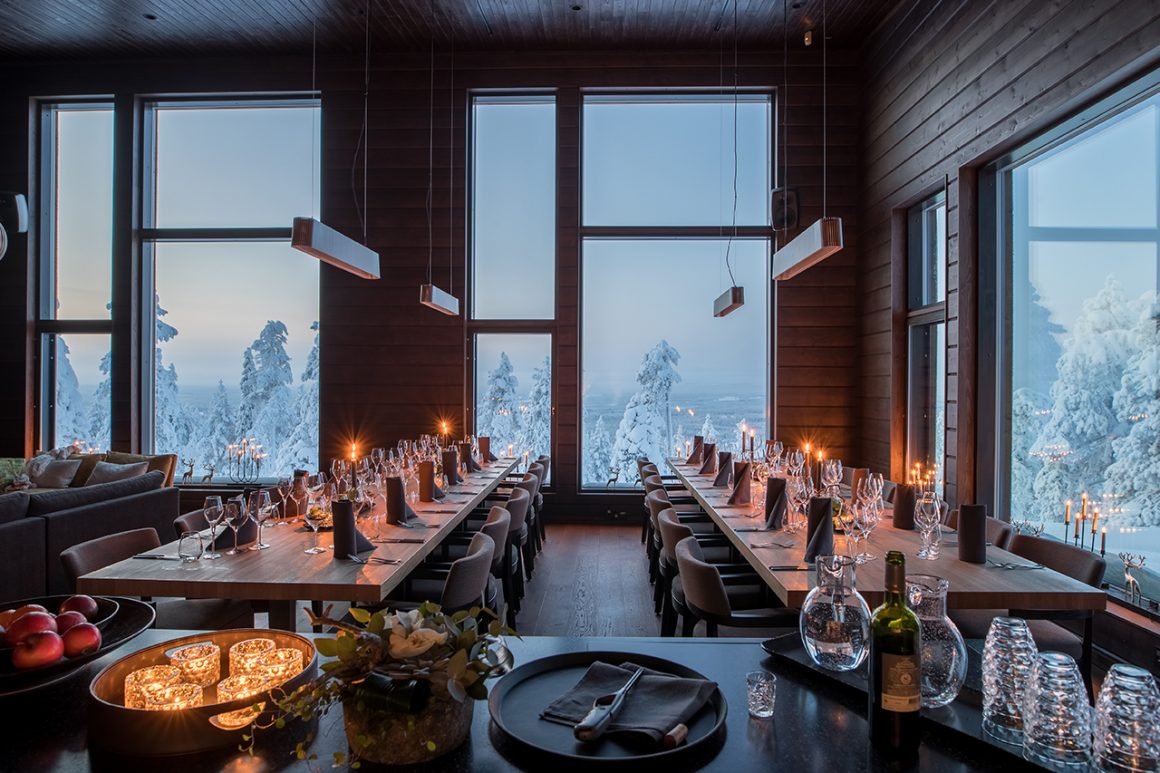 Honkanen, the resort's founder, built his reputation in the tourism and hospitality industry as the founder and CEO of Luxury Action – a pioneer and specialist in high-end, experiential travel experiences within the Arctic Circle. As a result, he is well versed with the special needs of travellers from this region and has, therefore, implemented the appropriate measures when designing the cabin. "I am extremely grateful and happy for our returning Middle East guests, because without them, we would not have built Octola. The entire Private Wilderness is designed to meet the needs of our most discerning guests who require the utmost privacy," he said.
Joonas Halla from Visit Finland added, "Our Finnish wilderness, within the Arctic Circle, provides an escape from everyday life, an oasis of peace and tranquillity and an opportunity to connect with nature in a very special way; a passion we share with the Arab way of connecting to the desert."
Sharing his experience on what led him to realise Octola, Honkanen states, "Having hunted for the right place to accommodate the discerning guests of our Luxury Action travel company, I eventually realised the right property did not exist in the right location. That's when I decided the only option was to build our very own log chalet."
"Traditionally, we have managed or rented private chalets in various locations around Lapland, then refurnished them to meet the individual standards of our guests. As fun and instructive as this concept has been, implementing the interior design on a one-by-one basis is costly and time-consuming. In addition, regardless of our efforts to upgrade the existing chalets in Lapland, although of excellent quality, tend to have very small rooms and only a few properties have en-suite bedrooms with shower and toilet. I felt it was time for a revolutionary change to provide exclusive accommodation in the Arctic that meets the needs of our experiential guests."