Pestle & Mortar is an Irish skincare brand which has experienced phenomenal growth in the highly competitive global skincare market in the past few years. All of its products are cruelty-free, free from parabens, mineral oil, silicones, sulphates and is 100% vegan.
The band is built around its "less is more" philosophy: "High-performance active ingredients blended with natural extracts and nothing harmful." In other words: "We take ingredients from Nature, never compromising on quality, and marry them with technological actives at the most beneficial concentrations and the most complimentary pH levels… concentration and texture to suit all skin types."
Sonia Deasy, an Indian-Irish woman and mother-of-five, founded the brand along with husband and biochemist sister.
"Fuelled by a desire to simplify multi-step skincare routines and frustrated by the lack of affordable skincare solutions which produced the desired results, I decided to create my own," says Sonia, the Irish born daughter of Indian immigrants.
"My immediate family ancestry of six generations of Indian medicine was instrumental in creating shaping my vision for Pestle & Mortar. I fused nature with science to create a range of skincare products that provide simple solutions for beautiful skin. My formulation mantra is 'simple, natural, effective and suitable for all'. I believe that daily skincare routines should be simple and provide cumulative benefits with consistent use. The Pestle & Mortar's less-is-more philosophy extends throughout every aspect of the brand, from product formulation through to packaging and dispensing mechanisms."
There are currently eight products in the fast-growing Pestle & Mortar range, each the recipient of numerous beauty awards. Four of them are Cleansing and Toning products.
PESTLE & MORTAR ERASE BALM CLEANSER

Erase is a lightly scented balm cleanser formulated with hydrating, cleansing and skin-soothing natural oils that removes all traces of make-up and grime from the skin.
Pestle & Mortar Renew Gel Cleanser
Renew is an all-natural illuminating gel cleanser formulated with fruit enzymes and superoxide dismutase. It tightens and unblocks pores, improves skin tone and delivers a glowing complexion.
Pestle & Mortar Exfoliate
Exfoliate is a gentle glycolic acid toner which evens-out skin tone, brightens the complexion, tightens pores and promotes skin cell renewal. With a free acid-value of 6.8% and a pH of 3.8, it is suitable for all skin types.
Pestle & Mortar Balance Spritz
Balance is a fine misting facial spritz formulated to refresh, calm and clarify the skin. It improves hydration, skin health, balances sebum production and reduces skin pollution. Its formulation includes Irish deep-sea magnesium, amino acids and herbal extracts.
The brand offers two hydration products.
Pestle & Mortar Hydrate Moisturiser
Hydrate is a soft and lightweight skin moisturiser formulated with tri- and tetra-peptide technology, as well as natural moisturising factor squalene. It hydrates, soothes and softens the skin while providing anti-ageing benefits and stimulating collagen production.
Pestle & Mortar Recover Eye Cream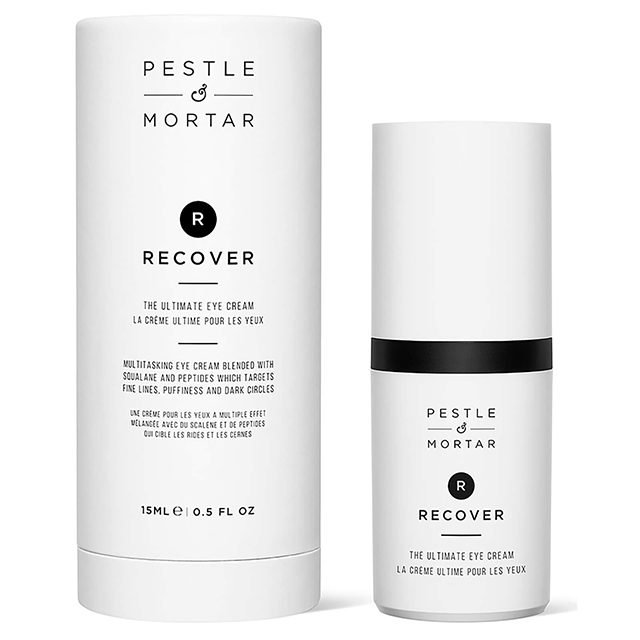 Recover is a soft and lightweight eye cream formulated with the active ingredient palmitoyl tripeptide-5. It readily absorbs into the skin to diminish fine lines, improve skin texture, reduce puffiness and reduce dark circles around the eye area.
There are two Anti-Ageing products.
Pestle & Mortar Pure Hyaluronic Serum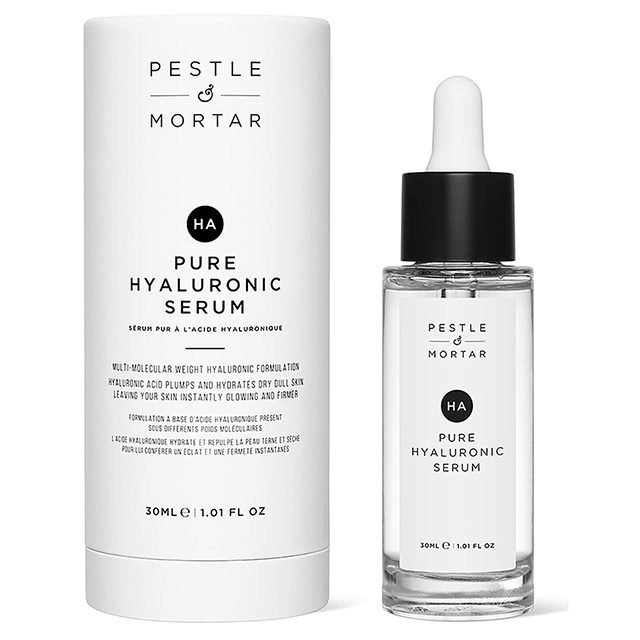 Pure Hyaluronic Serum is a lightweight, fragrance-free serum which is super-hydrating and anti-ageing. It combines multi-molecular weight hyaluronic acid with skin-softening panthenol in a formulation which reduces fine lines and wrinkles, provides superior hydration and delivers a firming effect.
Pestle & Mortar Superstar Night Oil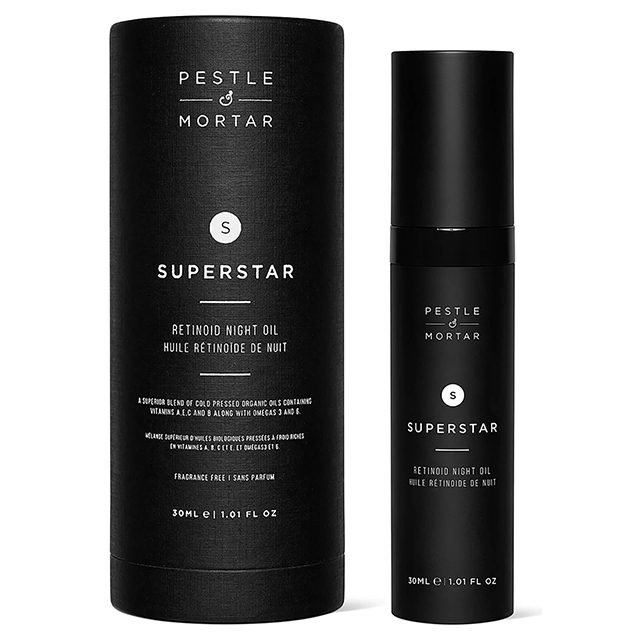 Superstar is a retinoid night oil which supercharges the skin during sleep. Formulated using two types of retinol in a base of cold-pressed, organic and steam distilled oils, Superstar balances oil production, stimulates collagen production and refines the skin's surface without causing irritation.
The full range is available to the residents of the UAE and the region at Faces, and online at beautysolutions-me.com. More retailers are to be announced soon.