Stephen Silver Fine Jewelry, Silicon Valley's leading luxury retailers of fine timepieces and extraordinary jewelry, announces a new collaboration with the world's most iconic spirits brand, LOUIS XIII Cognac. Joined by friends and clients, LOUIS XIII Cognac and Stephen Silver Fine Jewelry will toast at a red-carpet event on December 4 at Rosewood Sand Hill, where they will formally unveil North America's largest publicly displayed decanter of LOUIS XIII Cognac. The Silvers acquired the 6L "Le Mathusalem" hand-blown Baccarat crystal bottle to inaugurate a new tradition. Starting this December, Stephen Silver Fine Jewelry customers making purchases over $25,000 are invited to join the Silvers for a 'LOUIS XIII Moment,' a private presentation and tasting of the rare French cognac.
"I was so impressed with the Louis XIII presentation. For years, I have wanted to create a multi-sensory experience, something you could see, smell, feel, taste, and hear, in our store. After connecting with the Louis XIII team, and experiencing the cognac, I felt it was a perfect match. Now we will share a 'Louis XIII Moment' with our most dedicated clients as a permanent tradition. It's our way of honoring them and saying, 'thank you' for their support." – Jared Silver, President, Stephen Silver Fine Jewelry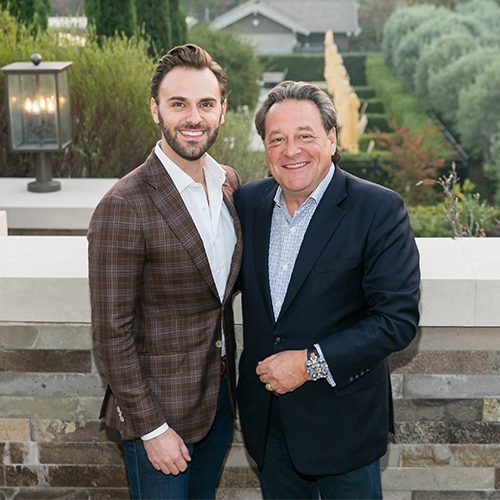 Stephen Silver, CEO, Stephen Silver Fine Jewelry: "Creating a masterpiece requires innate vision, expertise, the right conditions, and the mastery of time. I have worked on a single gemstone for years, sourcing it and taking it through laborious stages of design, cutting, refining, and setting to see it reach its full potential. Fine cognac is much the same. It takes over 100 years to produce a single drop of Louis XIII, with multiple cellar masters overseeing its journey from grape to cask to bottle. Our values align with the Louis XIII brand. We share a dedication to superior quality, meticulous craft, an emphasis on education, and the preservation of expertise spanning generations."
With this new LOUIS XIII display, Stephen Silver Fine Jewelry will also be featured in an exclusive roster of LOUIS XIII exclusive experiences available only to the most dedicated LOUIS XIII customers worldwide. VIP LOUIS XIII customers visiting the San Francisco Bay area can schedule a tour of the Silvers' extensive vaults, where they will gain access to some of the world's greatest jewelry treasures and loose gemstones valued in the hundreds of millions of dollars. Each multi-sensory tour will conclude with a tasting presentation and 'LOUIS XIII Moment.'
The limited-edition, numbered "Le Mathusalem" crystal decanter housed in the Stephen Silver Fine Jewelry boutique, starting this December 4, is filled with the exquisite blend of up to 1,200 grapes eaux-de-vie sourced 100% from Grande Champagne matured slowly inside an oak cask. Each individually numbered decanter is designed after an original 16th century metal flask, discovered on the site of the battle of Jarnac in France. The "Le Mathusalem" 6L bottle is made from fine crystal weighing 17 kilos, mouth-blown by 20 highly skilled master craftsmen of La Maison Baccarat. LOUIS XIII is the life achievement of four generations of cellar masters.
The Silvers' LOUIS XIII "Le Mathusalem" decanter will remain on permanent public display at the Stephen Silver Fine Jewelry boutique alongside its dedicated case, in honor of the ancestral tasting and serving rituals of the LOUIS XIII cellar masters, featuring eight crystal glasses, a serving platter, and a pipette. At the December 4 launch event at Rosewood Sand Hill, intimate groups of Stephen Silver Fine Jewelry friends and clients will be treated to an exclusive LOUIS XIII tasting experience.