Situated in Botswana's Okavango Delta, Xigera Safari Lodge is a bold new statement set to pioneer a new era of safari lodges, illuminating Africa's hottest young artists in a new design direction for Red Carnation Hotels. Xigera will be a legacy project of the Tollman family – the renowned South African born hoteliers. The Tollman's began their career in the hotel and hospitality business in Africa and are creating their first pure safari experience with the launch of Xigera.
Opening on the western side of the Moremi Game Reserve in the heart of the Okavango Delta in June 2020, Xigera ("Kee-jera") will feature 12 individually designed suites, including one two bedroom family suite situated on two islands, bridged together with an extraordinary bronze lily centrepiece designed by Anton de Kock and created by Otto du Plessis.
Each suite will float delicately above the water, allowing wildlife to pass uninterruptedly beneath, innovatively created without the use of any concrete. Guests will arrive by light aircraft either from Maun or Kasane, and approach the lodge by road or boat via an elevated bridge.
Inspired by a sighting on his first visit to the site, architect Anton de Kock conceptualised each suite as a Pel's Fishing Owl in flight– one of Africa's most sought-after and elusive birds. The whole lodge is surrounded by a canopy of magnificent trees and all structures are hidden into the bush.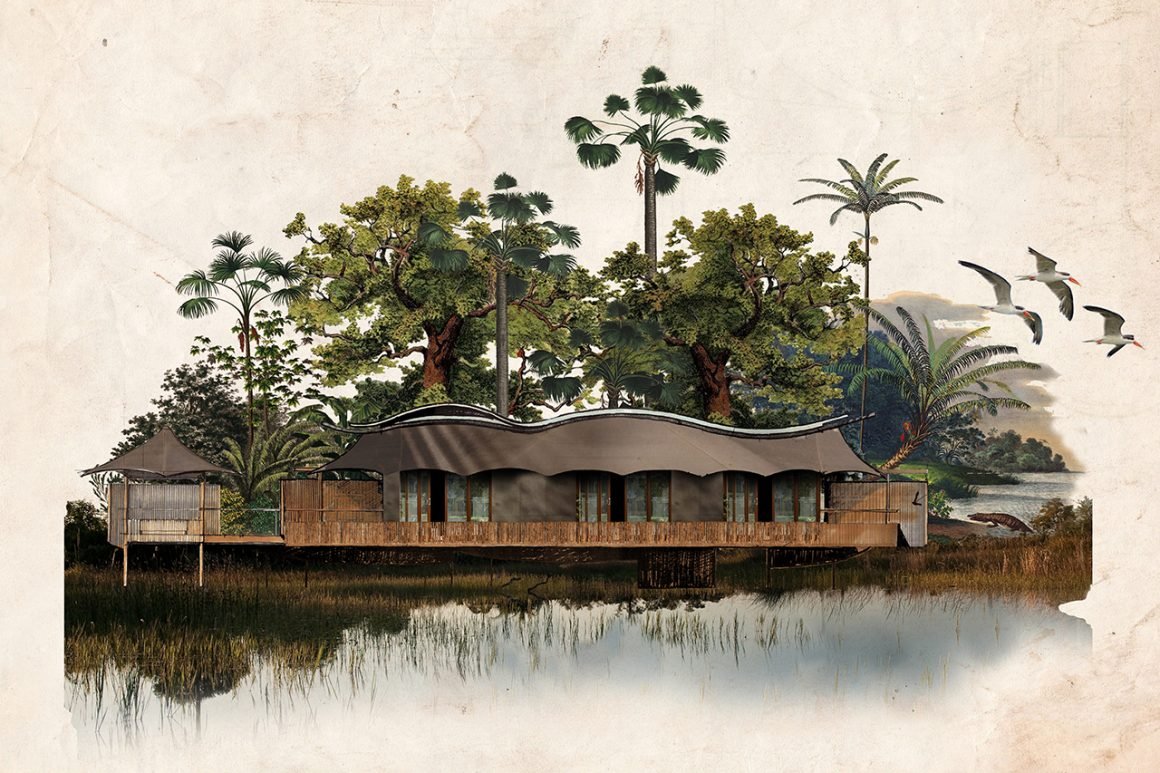 The soul stirring spa will feature two treatment rooms offering a diverse range of holistic and restorative healing. There will be an extensive spa programme with guest practitioners focusing on mindfulness, wellness and holistic healing, which tap into the natural healing powers of the peace and tranquility of the bush. Other wellness areas include a state-of-the-art gym and a swimming pool gazing directly over the river.
The lodge's design has been conceptualised by Toni Tollman, Philip Fourie and Anton de Kock, who have collaborated with Southern Guild in a gamechanging design partnership. Based in Cape Town, Southern Guild commissions, produces and exhibits contemporary collectible design by the most compelling talents in South Africa. Owners Trevyn and Julian McGowan have worked meticulously with Toni Tollman to commission more than 30 African artists and craftsmen to design Xigeria – including David Krynauw, Porky Hefer, Madoda Fani, Andile Dyalvane, Cheick Diallo, Zizipho Poswa, Gregor Jenkin, Laurie Wiid van Heerden, Jesse Ede, Dokter and Misses, Chuma Maweni, Rich Mnisi, Atang Tshikare and many more.
Xigera's intention is to showcase the very best of modern African design and talent, reflecting a new found confidence and appreciation for African design around the world. The design team has challenged these extraordinary artists to go beyond their natural comfort zones. Xigera's collection of design will elevate the guest experience far beyond the usual comforts and stylishness of other bush camps and add a new dimension to their stay. In each suite, design will exist cohesively in a jewel-like layering of materials and texture including timber, bronze and hand-carved wood. The bespoke assemblage of pieces is taking 18 months to produce with each item hand-made. Collectively, the artists will celebrate the role of craft, honouring the rich indigenous traditions of making by hand whilst seeking out bold new interpretations.
All of the furniture throughout each space will be unique and collectible, rich with narrative and site-specific relevance. Quietly surprising touches will be everywhere; from human-sized woven nests by renowned South African artist Porky Hefer resting on decks for guests to nestle in, to a life-changing sleep-out in a three-story steel baobab tree located 1km from the camp. The pièce de résistance will be a totemic firepit sculpture by blacksmith artist Conrad Hicks holding the fire as a boma centrepiece and offering a contemporary take on the traditional boma setting. Within the lounge, the fireplace will be made out of hand-beaten copper in the form of a lily – a recurring motif which represents Xigera.
Unlike other highly structured safaris, Xigera will offer guests total flexibility. Morning, afternoon and evening game drives are at guests' leisure, while they can also explore the Delta's waterways by traditional canoe, glass-bottom mokoro and motorboat – complete with 'feet-in-the-water' sundowners. Other highlight experiences include private walking safaris, catch-and-release fishing, photographic safaris and helicopter excursions over the Delta.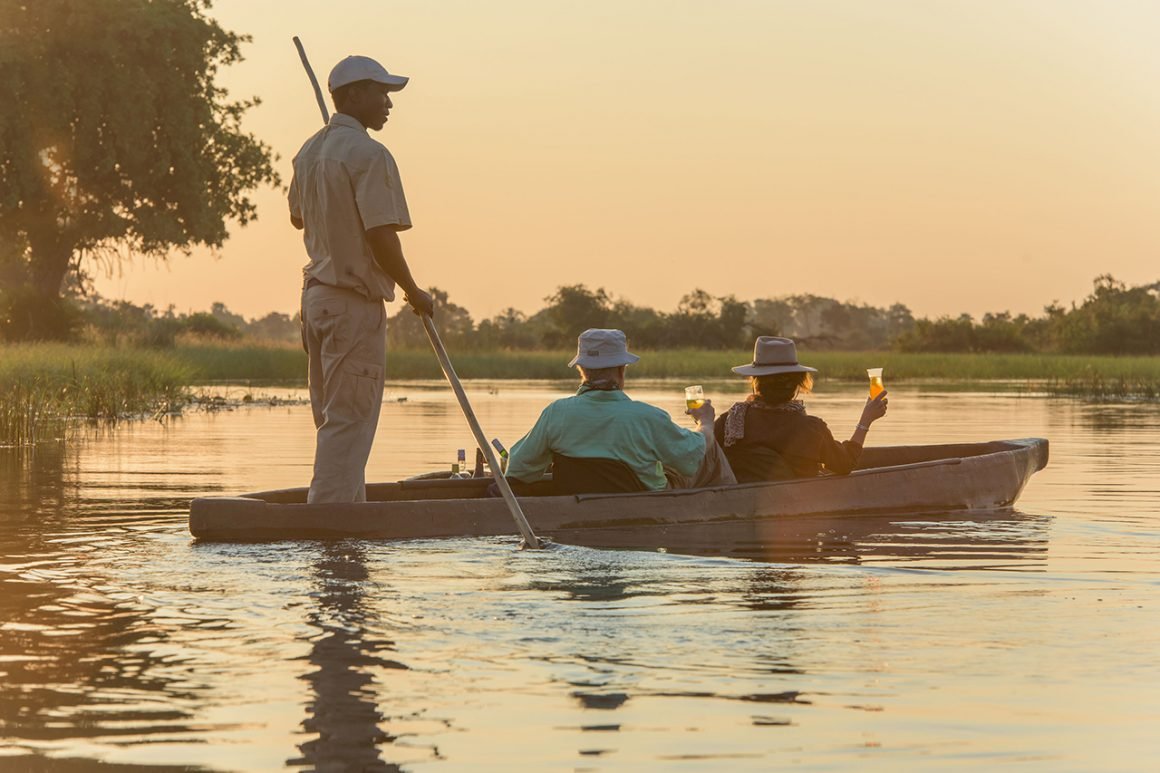 It is the people that will define Xigera, as you'd expect from a Red Carnation creation, with 105 exceptional staff looking after 24 guests. Xigera is proud to be locally managed, appointing Botswanan Question Maundo as Xigera's Lodge Manager while Mike and Marian Myers will lead the team as General Managers. Both born in Africa, Marian began her corporate career in Johannesburg, while Mike led mokoro and mobile camping safaris in Botswana, before becoming a renowned bush pilot and wildlife photographer. Mike and Marian spent five years travelling throughout the subregion together, photographing and documenting their journey and ultimately becoming destination specialists. Mike has been a safari guide for the Tollman family for over 20 years, and when Red Carnation Hotels asked Mike and Marian to take responsibility for the re-imagining of Xigera, their dream of creating a truly pioneering lodge became a reality.