The third-panel discussion at this year's Horology Forum titled is Means to the End of the World. It explores the relationship between environmental pollution and the luxury Industry. As one of the leading polluters, this market segment "can't afford is to stop talking about it."

"Often when this statement [about pollution] is made about luxury, it is actually about fashion, because we know that fashion is more about fast-fashion than in the case of horology," says Aline Sylla-Walbaum, Global Managing Director of Luxury at Christie's. She oversees the international Wine, Jewellery, Watch and Handbag teams.
Articulating the sentiments of the other three panellists, she continued: "I think about 7,000 litres of water is needed to bleach a pair of stonewashed jeans. For me, luxury is high-end horology, high-end jewellery, fine-wine and to some extent fashion accessories as well. These products are built to last a very long time. With reference to an advertisement campaign, that everyone here will recognise, which says; Yo don't own a high-end watch, you pass it on to the next generation."

Prion to joining Christie's, Aline worked as Director of External Affairs and Strategy at Unibail-Rodamco SE – one of the largest commercial real estate companies in Europe – where she sat on the Management Board. She served as cultural and communications advisor to the office of the French Prime Minister from 2007 to 2008. Between 2002 and 2007, she was Director of Cultural Development at the Louvre Museum.
Elaborating on Aline's point, Edouard Meylan, CEO of H. Moser & Cie., says, "all of us, whatever industry you work in, as soon as you drive, you fly, use a computer, you are polluting. At the same time, we are creating products that are not obsolete after two years. We make something that is hand-made and hand-finished, and it will remain for years and generations. So, to some extent, we are working in an industry whose products, in comparison with other industries, is not that polluting."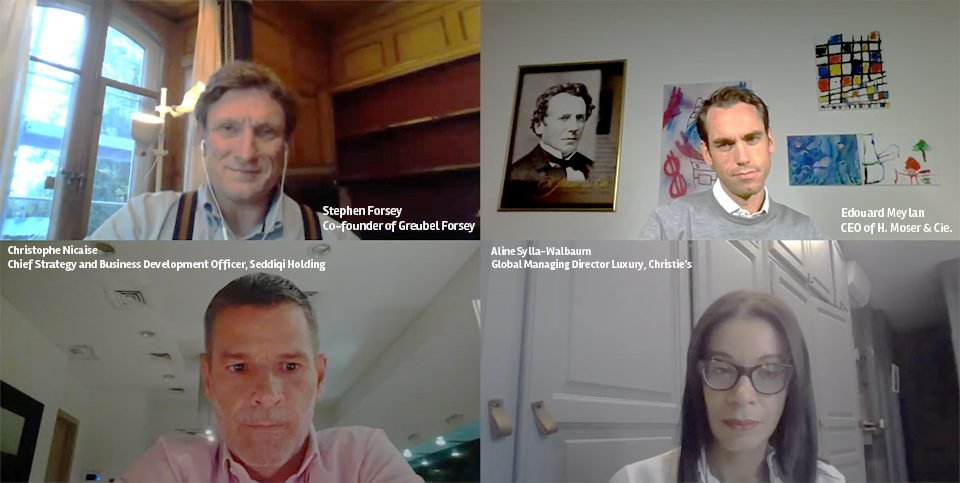 He added: "For the young team that we have here, the idea of sustainability and corporate social responsibility are extremely important. We started the RJC [Responsible Jewellery Council] certification three years ago. It is a long process, and we are being audited next week. I personally look at the entire supply chain and choose suppliers that are RJC certified… we have also been trying to reduce our carbon footprint for years by reducing travel as much as possible and switching more to digital technology."

Stephen Forsey, Co-founder of the highly acclaimed independent watchmaker Greubel Forsey, is of a similar mindset. "When we built our atelier in La Chaux-de-Fonds, which we completed in 2009 at a thousand metres above sea level, we opted for a building with a green roof which helps to reduce overheating and is a great insulation technique. The outer structures have what's called a double-skin facade. It was the first building with that technology. It was vastly more expensive because it was a prototype. For Robert and myself, our vision for Greubel Forsey is a long-term one."

In addition to the sustainability and traceability on the supply side of the business, touched upon by Meylan, Forsey adds: "For the technical raw materials we use in the manufacture of our movements, in Europe we have a program called REACH with the ECHA [European Chemicals Agency]. This is the commission set up to monitor and study the impact of using certain materials. Some alloys that we would have used in the past are no longer considered to be safe. You have to document and explain how your company is actually working with the materials and that all the safety precautions are met. This is something we are always conscious of and are looking to push further."

Christophe Nicaise, Chief Strategy and Business Development Officer at Seddiqi Holding, points out that more needs to be done in the region in terms of sustainability. "Uninformatively, we live in a region that is energy-hungry, especially during the summer months," he says. "For some reason, solar panels are not yet everywhere. It would be obvious that in a region where you have the sun almost 365-days a year, that you would see solar panels everywhere on the roofs. I think there is a technical issue because there is a lot of sand in the air, it settles down and reduces the efficiency of the solar panels. That could be one of the reasons solar panels have not made inroads yet. At the same time, the governments in the region are pushing for electricity to be produced by solar panels. So it is coming."

Christophe has played an instrumental role in transitioning the operations of Seddiqi's flagship business unit into an international corporate entity, whilst maintaining the vision and ethos of the late founder. He also represents Seddiqi Holding as a member of the Department of Tourism and Commerce Marketing's Retail Committee.
This insightful conversation on the relationship between luxury, horology in particular, and the subject of sustainability is about an hour-long and aired on Oct. 28. It is now available for viewing on the Dubai Watch Week YouTube Channel.