Ahead of the Geneva Watch Days 2020, we had a chance for an exclusive interview with Patrick Puniaux, CEO of Ulysse Nardin. Pruniaux became CEO of Ulysse Nardin in 2017 with a considerable track record in the watch industry behind him. At TAG Heuer, he held several responsibilities over a span of nine years. At Apple, he was part of the team that gave us the Apple Watch. Under his leadership, the brand has focused on the "Xploration" aspect of brand with new models, new campaigns, new partnerships and bringing in new brand ambassadors; all exceptional adventurers and explorers.
What is the new Ulysse Nardin Blast, and who is it for?

Blast is our interpretation of how to make a modern Tourbillon Skeleton movement. Blast is access to Haute Horlogerie. While developing this novelty, we kept in mind that we, at Ulysse Nardin, aim at creating "active" watches – meaning we want our watches to be worn every day and not kept in a safe at home.

I can only praise the quality of the movement and the finishes of the Blast. It has a lot of substance, both from the inside and from the outside, both in terms of technicity and in terms of design. I think Blast brings a certain level of disruption without bulkiness. It is different yet very elegant. This is not your first purchase. You got to know a little bit of watchmaking before you go for the Blast.
Give us some insight into the birth of the Blast – the creative processes and challenges involved.
It took us more than 18 months in the making because it is a totally new movement: The Ulysse Nardin UN-172 – which is automatic for the first time with three days power reserve; it's a very good performance for a tourbillon watch with one single barrel. We have integrated a micro-rotor made of platinum fixed on the barrel at 12 o'clock. And it also took months to develop the finishes on the horns to get this beautiful "tessellated" effect, you know, just like radar-dodging aircrafts. It's a mix of a satin finish, polish and sand-blasted, alternatively.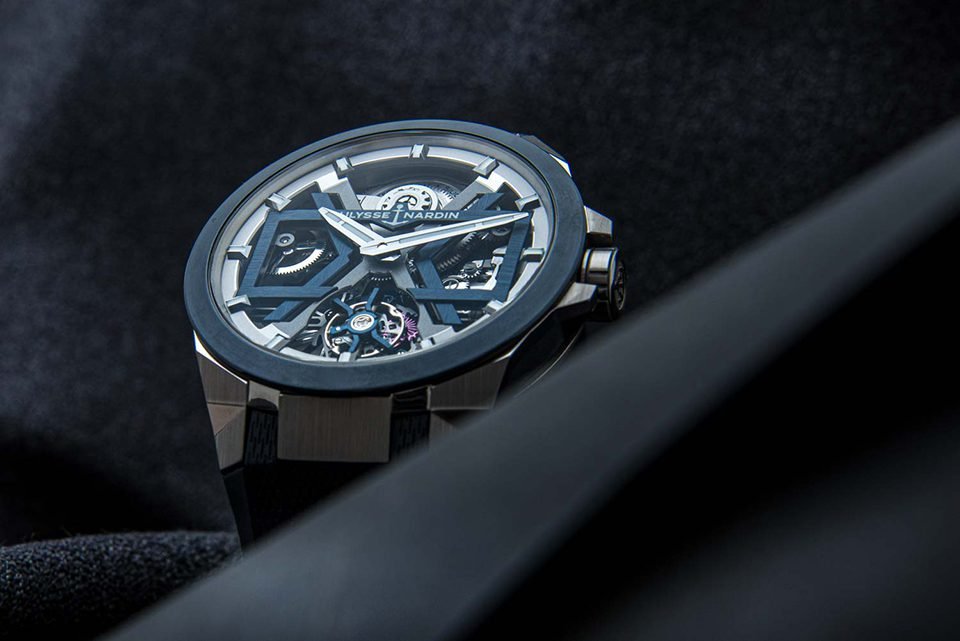 The letter "X" has centre stage on the dials of the Blast models. What does "X" represent?
In 2019, we introduced a new code: "X" – an important letter of the alphabet. It is ubiquitous, from the Xbox game to where you need to sign on the dotted line. X is a chromosome, a generation, a mathematical multiplication, a film classification, the spot where the treasure is hidden. X defines what is different, exciting, audacious. X is the unknown, a variable. It defines the forbidden, the hidden, the cryptic. X as in Xtraordinary, Xcessive, Xperience, Xtreme and compleX. But above all, X is Xploration. All of our timepieces born under the sign of "X," from the Diver to the Freak and, most recently, the Blast, have one common denominator: uniqueness. Born for those who dare. With the Blast, Ulysse Nardin has pushed the concept of exploration to its limit, notably regarding design. It has reached the Xtreme.

Your partnership with photographer Carsten Peter, how did it come about?
Carsten Peter is a German volcanologist. He is enthusiastically obsessed with devising innovative photographic techniques to capture never-before-seen images from some of the scariest environments on the planet. His many adventures include braving active volcanoes with turbulent lava lakes breaking altitude records. He is an Xplorer of the Xtremes, and he knows a lot about volcanic "Blasts"… So the connection between Carsten Peter and Ulysse Nardin was really organic to embody our message around Xploration.

How did you, as an organisation, cope with the global pandemic affect you, and how do you think it has affected consumer behaviour?

The emergency organisation was a challenge during the confinement, but I was delighted to note the agility and passion present within the teams at such a destabilising time. Think quickly; act fast. The level of engagement shown by the employees was extremely high during that period.

Talking about customers, I think people are more in a "carpe diem" attitude of enjoying life. This also reflects in the way they will be buying luxury goods in the coming months. I am super optimistic. I think there will be more dariness in the products they will choose. People are more grateful for what they have than before. And more audacious in their choices because they know "we only live once" and "we never know what will happen next".
As a founding partner of the Geneva Watch Days, what is the vision for this initiative going forward?

The industry would surely benefit from a unified trade show. Especially media and retailers, who would travel only once to Switzerland. Sure, there is a digital transition impacting our business model. However, human beings need at least once a year to meet. Look at the social distancing that happened due to the virus: we were all connected through digital devices, but we lacked this touch of humanity we get when we see each other. So, I think the Geneva Watch Days, the only watch gathering in 2020, is definitely a good opportunity for us to telling our story out loud to the world and create desirability and excitement. A product is nothing without a story. A story cannot be told digitally only.

Personally, I have always championed that the city of Geneva be utilised as a showcase for the best the watch industry has to offer. Geneva Watch Days is a moment of optimism for those who are passionate about Swiss watchmaking, while of course adapting to the new circumstances.