Concise and timeless with a captivating charisma: The Sky Chief Chronograph collection from the second oldest Swiss watch brand Favre-Leuba is back and more expressive than ever. Focusing on a versatile lifestyle, it is a symbol of Favre-Leuba's future and Trust Yourself philosophy – bold, urban, and yet true to its roots.
The repositioning of the Favre-Leuba watch brand under its new CEO Philippe Roten has delivered a new look and convenes all the activities under the philosophy of Trust Yourself. This new campaign embodies the brand's adventurous spirit and encourages the curiosity of a modern man and woman to trust him- or herself in making bold choices. And, of course, to trust Favre-Leuba and it's engineering excellence.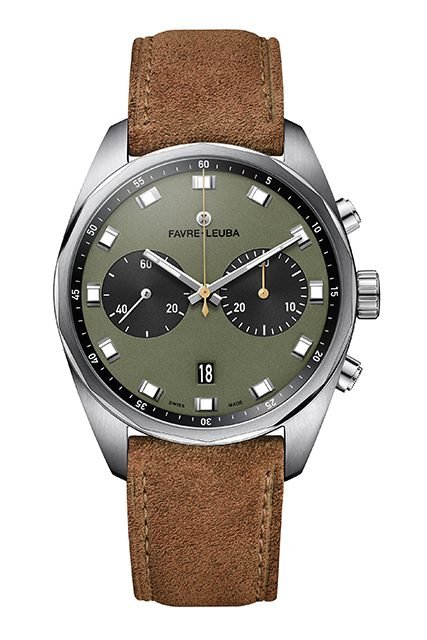 Under this new philosophy, Favre-Leuba presents its revamped Sky Chief Chronographs. The fresh design of the timepiece is surprising in two ways: on the one hand, with four different dial colours and on the other, with interchangeable suede straps. With this collection, the traditional company is breaking new ground.

The redesigned Automatic Chronograph in a 43 mm case combines classic Chronograph design with a new colour palette: a rich autumn green with black counters, a burgundy red with brown counters, velvet black with beige indexes, and a panda with a porcelain white dial, black counters and red cherry indexes. All dials can be combined with suede straps in oak brown, dark root brown, sand beige and khaki green. The design still impresses with its uniqueness. With the bridge, the tetradecagon in the bezel and the striking hour-markers, Favre-Leuba manages to highlight the brand's typical design elements in this collection as well.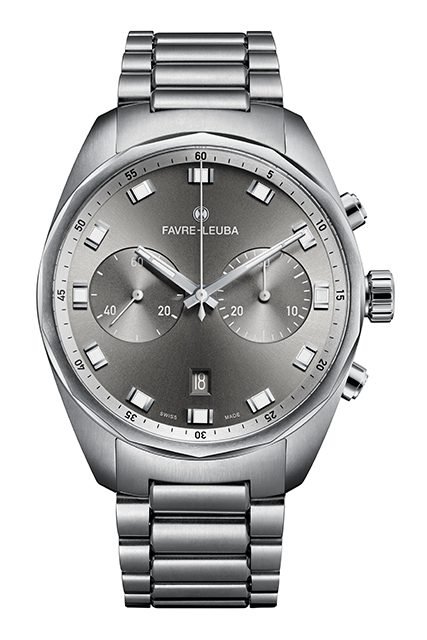 The strong tones evoke an autumnal drive in the country, a warming fire or a strong red wine. The combination of an expressive play of colours and traditional design has a revolutionary character and pursues the idea of a versatile lifestyle. It is precisely this lifestyle approach, which has been groundbreaking for Favre-Leuba.
Known above all for its sporty, high-performance watches, Favre-Leuba is opening up new possibilities for the trend-conscious city-dweller with the launch of the Sky Chief Chronograph. Whether as a stylish companion for a business dinner or as a colourful statement for a leisure outfit – the different colour combinations offer room for a variety of uses and personal style. Made for individualists, experimenters and innovators, Favre-Leuba wants to assert itself as a manufacturer of urban lifestyle watches in the future.
"The new Sky Chief Chrono models offer more colour and a more fashionable design. These watches thus symbolize a new chapter for the brand and have a very special emotional significance for me and the entire Favre-Leuba team. I am confident that this launch will be the first domino-stone in the company's new success story," says Philippe Roten, CEO of Favre-Leuba.
Nevertheless, Favre-Leuba remains faithful to its pioneering past and present in the field of innovative watchmaking. Thus, its classic diving and mountaineering watches, the Bivouac and Bathy, remain icons in the watchmaking world.
The new Sky Chief Chronograph collection will be available in Switzerland and other countries as of November.