The second panel at the Horology Forum 2020 is titled: Servants of Serpents – a discussion about "conspiracy and authenticity, and whether the heart of the luxury industry beats in an organic market or is wound-up and coerced into ticking by specific entities." Lasting about an hour and a half long, it aired on the 26th, between 09 and 10:25 PM on the Dubai Watch Week YouTube Channel.
The panel brought together four highly distinguished individuals from different backgrounds and life experiences to share their insights on a topic that is very much a hot one at the moment. To the surprise of the audience, as well as the panellists themselves, they were quite candid and forthright in sharing their opinions on some challenging questions posed to them. These question ranged from the motivation behind the buyers of collectables – be it watches, fine art or jewellery – to the types of buyers, how to assess collectables, and their own experiences and ethical dilemmas faced when promoting themselves or an artefact.

The first woman to appear at this year's forum is Marie-Cécile Cisamolo, the Jewellery Specialist at Christie's Geneva. She studied Art History at La Sorbonne in Paris before completing her Masters in Law, specialising in Contemporary Art and Family Law. She joined Christie's ten years ago, working at their Pall Mall, London, Head Quarters in the art department. A year later, when an opening in the jewellery department at Christie's South Kensington presented itself, she took up the challenge even though it was not her area of expertise.

"I am a learner, and I love to learn new things," she admitted to the panel when looking back at the move. For four years, she was in charge of the South Kensington office's catalogue and presented ten jewellery auctions per calendar year, each with approximately 300 lots. In that time she also became a graduate of the Gemmology Association of Britain. In 2015, Marie-Cécile joined the Geneva Jewellery department.

Two of the panellists have a shared association with Quill & Pad, a highly respected and authoritative blog devoted to high-end watchmaking and luxury. Ian Skellern is the Co-founder and Technical Editor of Quill & Pad, while Gary Getz is Quill & Pad's Resident Collector. Despite their shared association with Quill & Pad, they bring different perspectives to the panel.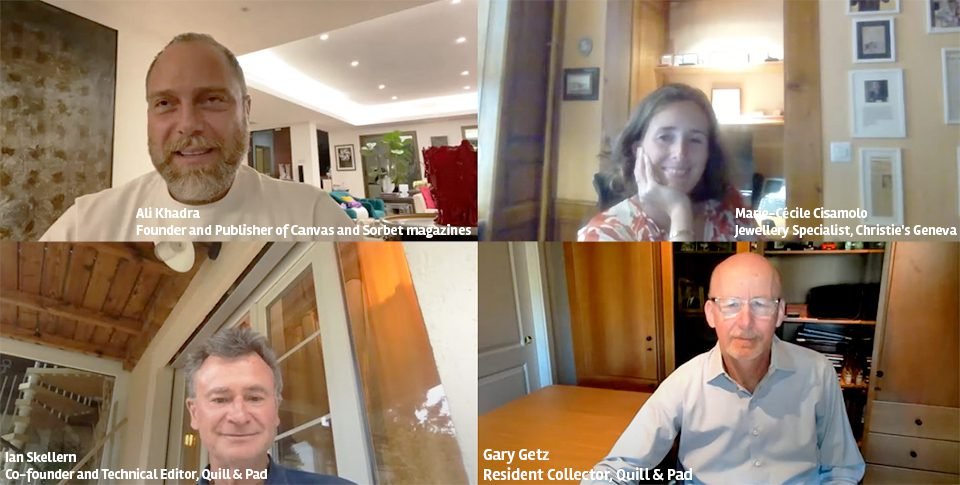 Skellern, an Australian who now resides in a small village outside Geneva, is a man driven by his passion for watches and watchmakers, especially the smaller and independent brands. "I don't consider myself a collector. I have a few nice watches, but I have no plans, no strategy. I buy a watch if I see something I like and I can afford it," says Skellern.

His relationship with the world of watchmaking is a journalistic one which began with posting articles and photos online at PuristS Pro. This led to his appointment as International Watch magazine's Swiss correspondent. A position he held for many years. Skellern has also written for the like of The Robb Report, Wynn Magazine, Revolution, Vanity Fair and QP. He co-authored The Hands of Time with Peter Speake-Marin, a book to commemorate the 25th anniversary of the Académie Horlogère des Créateurs Indépendants (AHCI) – a Swiss association that recognises and promotes independent watchmakers.

Getzl lives in Northern California with his wife, Lorrie. He is a member of the jury of the Grand Prix de Genève, and like Skellern, is dedicated to supporting the work of leading small independent watchmakers. He is a life-long watch enthusiast and a highly respected collector. He has a peculiar distinction among watch collectors – "There is a guy in New York, and he's got a lot of money. He has basically replicated my entire collection except for some unique pieces," Getzl revealed to the other panellists.

His "day job" is being the CEO of Strategos, an innovation and breakthrough business strategy consulting firm. He is also an extensively published business author. Besides being a regular columnist for Quill & Pad, he also posts on his Instagram page @garyg_1. As an accomplished photographer, he produces the visuals for his articles and his Instagram page. His other interests include Native American art, the Santa Fe Opera, and taking part in competitive dressage with Breezer and Charm, his two horses.
The fourth paternalist, French-Lebanese Ali Khadra, comes from the world of contemporary art. Besides being the founder and publisher of Canvas and Sorbet magazines, Khadra served as the regional consultant for Christie's, a patron of Tate Modern and sat on the committees of various art organisations, including Prix Pictet, Magic of Persia, Nuqat, the Beirut Art Residency and the V&A's Jameel Prize. He began his career in the Airline catering industry before turning his passion for collecting contemporary art into a profession.
The light-hearted and candid discussion presented by these four distinguished panellists is definitely worth the time of anyone interested in collecting watches, or art and jewellery for that matter.