The 6th edition of the Horology Forum, and the first one to be held entirely online due to the ongoing restriction, commenced with a hard-hitting and controversial topic that few dare to tackle head-on in the world of luxury watches – Pump & Dumping 24K: A panel about brands and retailers unofficially selling luxury on the grey market to recoup investments. A topic that has become even more relevant than usual, given the extraordinary challenges facing the entire luxury sector.

The grey market, in simple terms, maybe considered somewhere in between the legitimate market – comprising of manufacturers and their authorised dealers – and the black market – which encompasses a broad array of unauthorised, stolen or counterfeit goods where the manufactures or their authorised dealers play no part. The grey market is not illegal as there is some degree of participation, officially or unofficially, by the manufacturers or their official dealers. However, the practice may not be ethically or commercially sound as it is frowned upon by serious collectors, and thus, may pose a serious threat to a luxury watch brand's greatest intangible – its prestige.

The temptation to go the grey market route may be taken by a dealer who may have excess or non-moving stock as a convenient short-term fix to the problem. With the advent of online discount retailers – who can reach out to a global network of aspirational clients and offer discounts of 40% or more on premium brands – combined with the drastic slowdown of the global economy, the grey market has the potential to become a serious challenge for luxury watch brands.

"I have seen it done a long time ago at a company that I worked for and I have seen it pretty much destroy its reputation by doing it," said Jonathan Darracott, Bonhams Global Head of Watches, highlighting the real dangers posed by indulging in the grey market. He added "You are basically undercutting your own market and if you are not careful, you can destroy your whole brand. The brand that I worked for did it because they saw it as the only way to get out of a financial hole, and it just created a bigger one for them."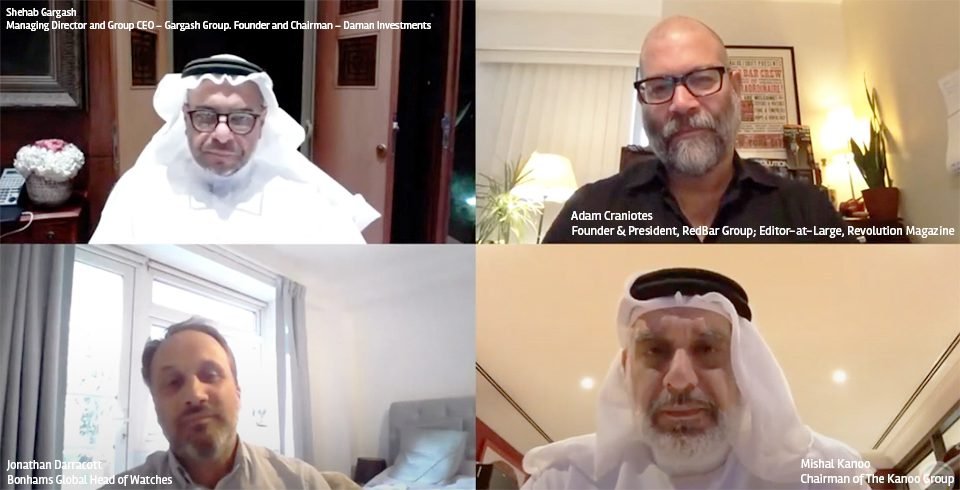 In the past five years at Bonhams – one of the world's oldest and largest auctioneers of fine art and antiques – Jonathan has overseen record-breaking watch auctions and the sale of a 2,000-strong private single-owner collection; one of the largest ever. He is also an accomplished watchmaker.
He was joined on the panel by Mishal Kanoo, Chairman of The Kanoo Group. He has earned a reputation as a futurist and strategist with a strong track record in forecasting economic developments in the region. He is also a motivational speaker, writes articles for local and regional media, and is published in business journals on a regular basis.
Shehab Gargash, the third member of the panel, is the Managing Director and Group CEO of the Gargash Group. He is also the Founder and Chairman of Daman Investments, a non-banking financial services company. Built on the foundations of an illustrious career in banking and finance, Shehab Gargash is a highly respected speaker and commentator on regional socio-economic issues and trends. He also founded the Daman Middle East Art Fund which invests in Middle Eastern contemporary art and supports regional artists.

The fourth panellist is the New York City-based lifelong watch collector Adam Craniotes. He is the Founder and President of RedBar Group – the world's largest collective of watch enthusiasts with 60 chapters spanning four continents. He is also the Editor-at-Large at Revolution Magazine, in addition to having articles published in leading newspapers and periodicals.
"Let's be honest," says Adam, taking a more sympathetic view towards the authorised dealers. They "have to buy the pieces they know they cannot move just to get the pieces their customers want. Then at the end of the year, they have to look at the numbers and the pieces that they simply cannot move. What do you do? In the past, it was a lot easier to get away with it [using the grey market], but nowadays, the brands are watching more closely. I don't think anyone is to blame, but the manufacturers have to look at what's going on. Are they making too many pieces? Maybe they have to look at buybacks."

Shehab Gargash, drawing on his experience with luxury cars, highlighted a peculiarity of the grey market. He says: "The grey market is, by definition, about inventory that appreciates. It is not about inventory that depreciates like a normal model car or watches that are not special or sought after. These have to be cleared. They are like a crate of fruit. After a while, it rots and never regains its value. However, when you go into supercars or rare cars, it a different story. If I wait long enough, it may become a classic and appreciate in value. Of course, I may be dead by then."

Mishal Kanoo highlighted the fact that "some watches, (unlike luxury cars), will not change designs year on year. So even if a dealer has a piece for a few years, I don't see any reason why you can't sell it, people's taste change. And because manufacturers often don't change models for several years, no one can tell which model year it is. So the dealer can keep it for a few years, unless their money is stuck in the watch and they cannot go out and buy new stock. That I can understand."
These pre-recorded exchanges – about an hour-long deeply insightful – was aired on the Dubai Watch Week YouTube platform on the 24th, between 09 and 10:10 PM. The full schedule of panel discussions, including more information on the panel topics and speakers, is available to view on the Dubai Watch Week website.