HYT, based in Neuchâtel, unites science, technology, philosophy, art and design. A team of 43 individuals convert the flow of liquid in the measurement of time. The concept is not new. In fact, it is over 3,400 years old. In ancient Egypt, the water-clocks of the Pharaohs transported H20 from one container to another to measure time. In 2012, HYT invented a wristwatch featuring a patented fluidic module of coloured liquid. HYT unveiled two new models this year.
HYT H0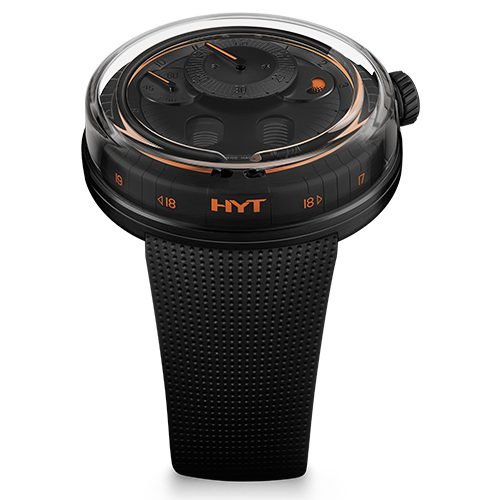 This new member of the Ho family uses the power of monochrome in black to present a distraction-free view of fluidic time. Any visual punctuation of the monochromatic is carefully considered, from the bright orange Super-Luminova touches on the flange numbers and hands, to the ultra-fine markers on the dial. The orange Super-Luminova underneath the capillary charts the flow of time.
HYT H5
The new H5, using a design language focused on three-dimensionality and transparency, reveals the passage of time in the form of a vivid azure liquid running steadily through a fine capillary. It combines an array of shades of grey – from anthracite on the hour ring and flange, to a gun-metal bridge – with dynamic coloured accents to accentuate the layered dial.