Phillips, the auction house specialising in 20th and 21st-century art and design, in Association with Bacs & Russo recently announced the Phillips Perpetual sale offering over £3 Million worth of exceptional timepieces. Phillips Perpetual is a first of its kind platform that combines private selling exhibitions, innovative partnerships, and a boutique experience in custom-built surroundings. Based at Phillips' European headquarters on Berkeley Square, London, the inaugural sale began on September 5 and included 40 timepieces, encompassing both vintage and modern watches.
"Phillips Perpetual will complement the core business, educating and enhancing clients who have not traditionally used the auction as a consignment or purchasing tool. We see this as the future for a number of our global locations, as a way of ensuring that we engage with our ever-expanding client base 365 days of the year. We are thrilled that the collector community has engaged so positively with the opening of Perpetual, with a number of high-profile consignments." – James Marks, Phillips' International Specialist and Director, Watches
Highlights including a Roger Smith Series 2 – "Edition 2, no.1" – in a 38mm pink gold case. One of just five "Edition 2" watches ever made – all in the less common 38mm case – this is one of the earliest known and historically significant examples of the Series 2.
An F. P. Journe Tourbillon 38mm Stainless Steel from a Coffret Set will also be available for sale. It is one of only 38 watches produced by F. P. Journe to commemorate the end of the 38mm production. The watch is fitted with a unique combination movement with the base plate and bridges in rose gold, but the mechanical operation is identical to the brass movement timepieces. This follows the successful sale of the Chronomètre Souverain from the same set during Phillips' Well-Suited private selling exhibition in London in March 2019.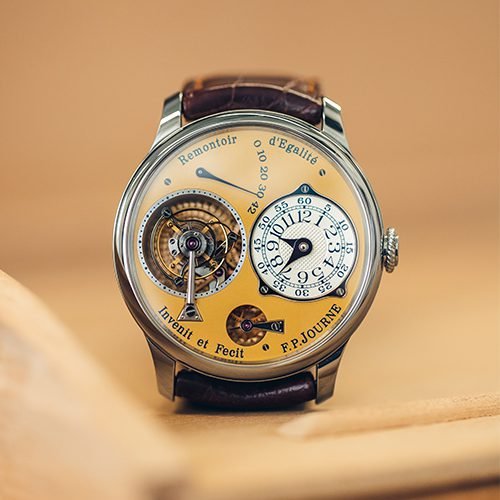 Another highlight includes an unworn Cartier Crash Radieuse, one of only 50 pieces produced by the manufacturer. The Radieuse reimagines the classic Cartier Crash by incorporating a radiating shockwave motif into the dial that continues onto the case.
Phillips Watches achieved a total sale of $108 million in 2018 – its third consecutive year as the worldwide market leader in watch auctions. Recent record-breakers include the Paul Newman's Rolex Daytona which fetched US$17,752,500 in New York in October 2017, the highest result ever achieved for any wristwatch at an auction. Another high achiever is the Patek Philippe reference 1518 in stainless steel, US$11,112,020 at the Geneva Watch Auction in November 2016, the highest result ever achieved for a Patek Philippe wristwatch at an auction.
The opening of Phillips Perpetual coincides with the launch of the Singer Track1 London Edition. This watch will be sold only at Phillips, the exclusive UK stockist of Singer Reimagined timepieces. A collection of chronographs by Singer Reimagined will be on permanent display within the gallery, following the confirmation of the Track1 as the winner of the Chronograph category at the Grand Prix d'Horlogerie de Genève awards in November 2018. MB&F have also nominated Phillips Perpetual as their only authorised UK dealer of clocks and pre-owned watches.
"We are delighted to be partnering with an award-winning and forward-thinking watch brand such as Singer Reimagined, following our successful collaboration in 2018, and equally delighted to have been appointed as the preferred UK dealer for pre-owned MB&F timepieces," added Marks.
Marco Borraccino, Managing Director, Singer Reimagined, said, "Singer has been guided for the last decade by the philosophy Everything is Important. For us, every detail is worthy of consideration in the pursuit of perfection. Following our successful collaboration in 2018, we know that the opportunity to partner with Phillips Perpetual to present our watches is beautifully aligned with that philosophy. We are delighted to honour that partnership with the launch of our Singer Track1 London Edition, available only at Phillips Perpetual."