Founded in 2004 and re-launched in 2018 under the creative direction of CEO Marco Tedeschi, RJ has made its own mark on modern watchmaking with its Collaboration watch series, which draws inspiration from icons of pop culture, from superheroes of DC Comics or Marvel, like Batman and Spider-Man, to beloved video game characters like Super Mario Bros., Space Invaders™, or Pac-Man™.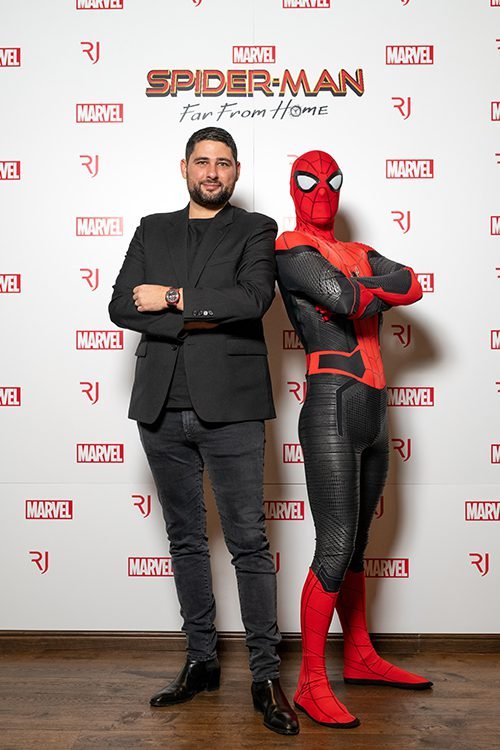 The Swiss watchmaker dropped its new ARRAW Spider-Man collection in the United States on October 18th at Watches of Switzerland Soho. The technically innovative collection, created in partnership with Disney and MARVEL, includes the ARRAW Spider-Man Tourbillon and the new skeletonized ARRAW Spider-Man mechanical timepiece, each fully integrating the essence of the MARVEL superhero down to every component.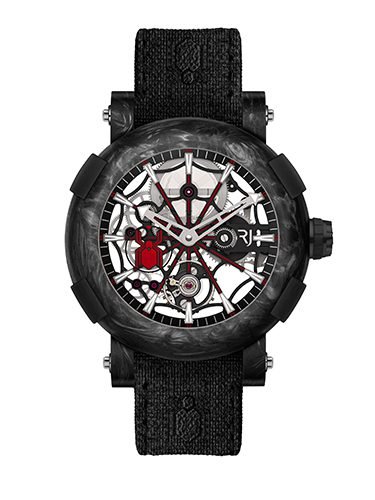 In an appearance endorsed by MARVEL, RJ CEO and Creative Director Marco Tedeschi was joined by the web-slinger himself to officially launch the collection in New York City.
"Eighteen months since establishing RJ Studio, we are proud to launch two innovative in-house movements inspired by Spider-Man here in New York City at Watches of Switzerland in Soho. These new calibers affirm RJ's mission to create innovative Haute Horlogerie watches that challenge traditional notions of what high end watchmaking is and to partner with like-minded innovators." – Marco Tedeschi, CEO and Creative Director, RJ
Since joining RJ in 2018 and leading a complete rebranding for the Swiss watchmaker, Marco Tedeschi has also, for the first time, created an in-house manufacture with the launch of the RJ Studio. The ARRAW Spider-Man Tourbillon marks the brand's exclusive tourbillon movement, the RJ-7000, designed and produced in-house by RJ Studio. The movement is also RJ's first complication to be produced entirely in-house.
The ARRAW Spider-Man Tourbillon features a fully coaxial construction, with a peripheral display of the hours and the minutes. This central tourbillon has been engineered by RJ Studio to increase the power reserve to 150 hours (more than six days).
In order to maintain perfect symmetry, the ARRAW Spider-Man Tourbillon case has no crown. Winding of the barrel's mainspring is done by lifting a hoop found on the case back, then turning it like a key, a faster winding method than a traditional crown provides. To set the time, a concealed push button under the strap at 6 o'clock must be pressed while turning the hoop in either direction.
The case back is finished using a high-tech cartridge engraving technique. The letters are polished and stand out from the surface of the micro-blasted back. Four sapphire crystals on the case back allow maximum visibility of the movement.
Made in a 45 mm case punctuated by RJ BUMPERS™ in rubber, the ARRAW Spider-Man tourbillon is available in two versions, the first in a black carbon and red fiberglass composite, and the second made entirely of black carbon. Each version is limited only to 10 pieces.
In addition to these innovative tourbillon watches, RJ also highlighted the openworked mechanical ARRAW Spider-Man watches in New York. For this 100-piece limited series, RJ applied their innovative watchmaking vision to create a unique openworked model that celebrates Spider-Man by integrating his visual cues from his universe, including a skeleton movement shaped like a spider web, a red lacquered spider as the small second, and a highly durable black carbon case. The timepiece comes paired with a high-tech black polyamide strap imprinted with the Spider icon, designed to emulate the famed web-slinger's stealth suit.