One week after the launch of the Blast collection at the Geneva Watch Days, Ulysse Nardin presents a stunning new Blast high jewellery timepiece, the Sparkling Blast – an open-worked automatic tourbillon embellished with what appears to be a mosaic of hundreds of shattered shards of mirror. Made from geometrically cut diamonds, each faceted stone is sculpted by hand.

Thre are two models on offer, and each is limited to just three pieces – three in white gold with a white rubber strap and three in white gold with a deep blue, alligator strap.

Imagine an eruption of light radiating from a sea of broken glass, the sun glinting in infinite rays emanating from the brilliance of the Sparkling Blast. The delicate movement of the watch is visible through the face, a tour de force of skeletonized handiwork perfected over a century and a half of master craftsmanship at Ulysse Nardin.
With 85 distinct and unique cuts of diamonds, this masterpiece is composed of a stunning 211 diamonds for a total weight of 13 carats. The symbolic "X" – a trademark of Ulysse Nardin – is also set with sparkling diamonds, embedded directly into the watch face. The self-deploying buckle is itself adorned with 1.22 carats of pure brilliance. The crown, bezel and index hands are also set with hand-faceted diamonds, each part an original work of art in and of itself. It is a treasure to be enjoyed up to 50 meters in depth.

All the same features of the original Blast can be found on this piece. Powered by the UN-172 movement, with a micro-rotor in platinum and a three-day power reserve, this 45 mm skeletonized timepiece is equipped with a 2.5 Hz Silicium flying automatic tourbillon.
The architecture of the watch horns lends itself perfectly to the diamonds set within it. Like a geometrical mind game, they come together to form a breathtaking mosaic. The designers at Ulysse Nardin fashioned the horns after a stealth aircraft, which has a sleek design conceived with stealth technology to avoid detection. These shapes lend themselves expertly to the "broken mirror effect" generated when they are faceted with diamonds. Angular, sharp, triangular and risqué, the idea for this new style grew quickly in the Ulysse Nardin workshops. The idea was to create an exceptional watch that was also a piece of jewellery on the wrist. This is the King of Blasts, a talking timepiece that lands into a conversation like an atomic bomb, creating shockwaves of cracked diamonds in its cosmic setting.

The gems are positioned in invisible settings to avoid marring the brilliance of their hand-cut majesty, and to best reflect the ambient light. Each gem is faceted in perfect harmony with the design of the watch. To make their dream vision into reality, the artisans at Ulysse Nardin used this "invisible setting" to show the diamonds in their most favourable light. A French process perfected approximately 200 years ago, and used when multiple diamonds are mounted in a row (or multiple rows), this marks the first time this noble craft has been used at Ulysse Nardin.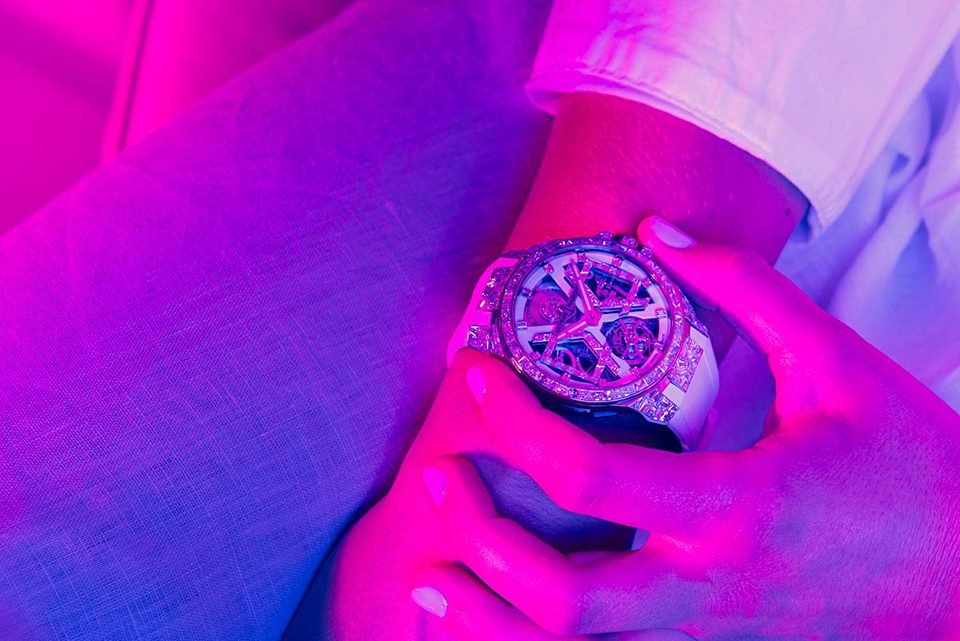 It is the most difficult manoeuvre for a jeweller to master because it uses no prongs or bezels, which could detract from the glimmer of the precious stones. The diamonds, held in place from below by a hidden structure, appear to be floating inside of the precious metal ring. This composition grips each diamond on a small groove cut into each base and fixed into the metal framework, invisible from the surface. Not used for round-cut diamonds or stones with rounded edges, the invisible setting requires that their "flat" sides are set side by side then fixed into the bedrock of the metal.

Ulysse Nardin applies and respects the controls implanted by the Kimberley Process, a system used to ensure that no "conflict diamonds" enter the supply chain. All diamonds acquired by Ulysse Nardin comply with the World Diamond Council System of Warranties, which is bound by the rules instated by the Kimberley Process. Strict requirements and official certificates are obligatory in the thorough verification of the provenance of rough diamonds. Once they have been cut, the diamonds are accompanied by a declaration from the World Diamond Council System of Warranties. This declaration states: "The diamonds herein invoiced have been purchased from legitimate sources not involved in funding conflict and in compliance with United Nations resolutions. The seller hereby guarantees that these diamonds are conflict-free, based on personal knowledge and/or written guarantees provided by the supplier of these diamonds."